BOURBON NEWS & NOTES – for 30 July 2021, by Susan Reigler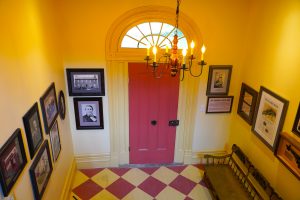 The Samuels House Set to Accommodate Overnight Guests Beginning This Fall
The Samuels family pioneered bourbon tourism decades ago by being the first Kentucky distillery to offer tours to the public at its picturesque Maker's Mark location near Loretto.  Starting in September, they will have another first. Last year Rob Samuels purchased the circa 1820 Georgian style house near Bardstown that had been built by his five times great grandfather John Samuels and that had been in the family until the 1950s. It will soon be open to overnight visitors.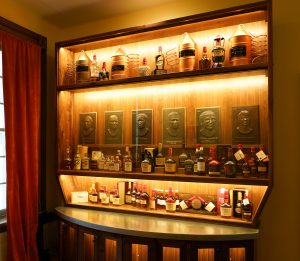 The Samuels House is part self-catered inn, part museum. The house is filled with Samuels family memorabilia preserved by Maker's Mark Chairman Emeritus Bill Samuels, Jr. It will be fascinating to bourbon enthusiasts seeking a base of operations for touring bourbon country. Among the highlights are the deep fryer, still splashed with red wax, in which Rob Samuels' grandmother, Margie Samuels experimented to create the iconic wax-dipped neck of the Maker's Mark bottle and a pistol once owned by outlaw Frank James, two members of whose gang married into the Samuels family. (It's a long story.)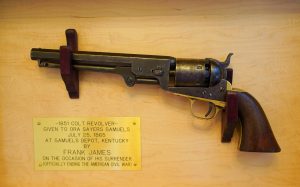 The Samuels House contains three suites and will sleep up to eight. Restoration included an updated kitchen and three and a half baths. Rates will be $1,200 per night during the week and $1,500 per night on weekends. Booking requests will be taken soon at https://www.thesamuelshouse.com, or call (502) 999-0203.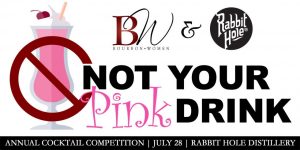 Winners of the 2021 Bourbon Women "Not Your Pink Drink" Cocktail Contest
The Louisville-based Bourbon Women Association, which has branches in 9 other major American cities including New York, Chicago, Atlanta, and Washington, D. C., is celebrating its 10th anniversary this year. And once again it has hosted its annual Not Your Pink Drink cocktail contest. The cardinal rule of the competition is that the bourbon cocktail created cannot be pink in color. (Think of it as an anti-Cosmo.)
On Wednesday evening, 28 July, a panel of expert judges, including yours truly, met for the taste-off at contest sponsor Rabbit Hole Distillery. The finalists consisted of five professional and five amateur mixologists selected from all the entries submitted. And the winners were…
The Pineapple Tattoo (professional) and The Bourbon Pêche Highball (amateur).
The former is the creation of Molly Hollar, the bar director at Cerulean in Winona Lake, Indiana. And Kendrick Pennington of Louisville was the first place finisher in the amateur division with his Bourbon Pêche Highball.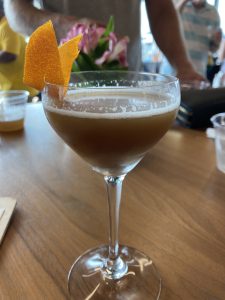 The Pineapple Tattoo
1½ ounces Rabbit Hole Rye
1½ ounces roasted pineapple juice
½ ounce miso syrup
¼ ounce lime juice
1 drop Chinese 5 spice bitters
Build all but bitters in a shaker tin, shake and strain into a Nick & Nora glass (aka a coupe glass). Drop bitters on top, garnish with orange zest.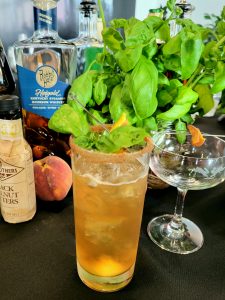 Bourbon Pêche Highball
2 ounces Rabbit Hole Heigold Bourbon
½ ounce Frangelico
2 dashes smoked cinnamon bitters
1 dash black walnut bitters
Lindeman's Pêche Lambic Ale
Basil and dehydrated peach slice dusted with grated cinnamon, nutmeg, and brown sugar to garnish
Rim a highball glass with the spice mix used on the peach. Fill with ice. In a mixing glass with ice, add bourbon, Frangelico, and bitters. Strain into the highball glass and top with the ale. Garnish with peach slice and basil leaf.
This week's photo credits: Samuels house photos are from Doe-Anderson. Also Bourbon Women (contest logo), Heather Wibbels (Bourbon Pêche Highball) and S. Reigler (Pineapple Tattoo).
******************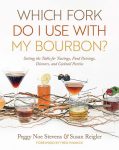 F&D Bourbon Columnist Susan Reigler is the author of several whiskey books, including Which Fork Do I Use with My Bourbon? –  Setting the Table for Tastings, Food Pairings, Dinners, and Cocktail Parties and Kentucky Bourbon Country: The Essential Travel Guide. Autographed copies are available from Carmichael's Bookstore. They can also be purchased on Amazon, or directly from the publisher: 
https://www.kentuckypress.com/9781949669091/which-fork-do-i-use-with-my-bourbon/
https://www.kentuckypress.com/9780813180311/kentucky-bourbon-country/