BOURBON NEWS & NOTES – 18 September, 2020, by Susan Reigler
O.Z. Tyler Distillery is Now Green River Distilling
One of the aspects bourbon enthusiasts find most compelling about the whiskey, aside from its delicious flavor profile, is the rich history of American distilling. The legacy distilleries of Kentucky take pride in and recount these histories during tours.
Founded in its current location in Owensboro in 1885, Green River Distilling has now, during National Bourbon Heritage Month, reclaimed that name having operated most recently as the O.Z. Tyler Distillery. Its history includes having its Green River brand once recognized as "the official whiskey of the U.S. Public Health and Marine Hospital Service." Its original slogan was "The Whiskey without a Headache." Post-Prohibition advertising laws necessitated a change to the almost equally appealing "The Whiskey without Regrets."
Green River Distilling is the westernmost stop on the Kentucky Bourbon Trail.  It has largely been producing whiskey for sourced brands, but next year it will release a Green River 4-Year Kentucky Straight Bourbon. For more about its tours and whiskeys, https://www.greenriverdistilling.com.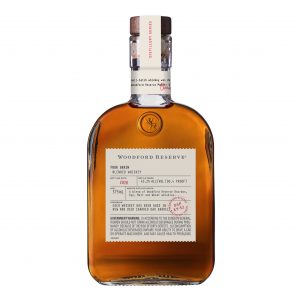 Woodford Reserve New Limited Edition Four-Grain Whiskey
In order to qualify as a bourbon, a whiskey's mashbill must contain at least 51% corn. To be a rye whiskey, the mashbill needs to be at least 51% rye. To be a wheat whiskey…. you get the idea. But what happens when a distillery makes a variety of whiskey styles and decides to mingle them all in one bottle? That's what Woodford Reserve has done with the release of Woodford reserve Four-Grain Whiskey, which is a blending of Woodford's Bourbon, Rye, Malt, and Wheat whiskeys.
Each was aged in the customary new charred oak barrels and it has been bottled at the favored Woodford proof of 90.4. Think of it as the Everything Bagel version of whiskey.
The limited edition is only available in 375 mL bottles, retailing for $49.99. A small number of retailers in Kentucky have it, but probably the best way to get one is to order online for curb side pickup at the distillery in Versailles: https://www.woodfordreserve.com/our-distillery/curbside-ordering/.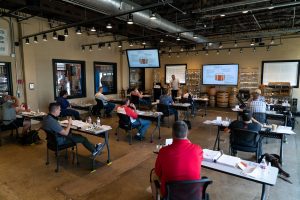 New Executive Bourbon Steward Classes Announced
If you are already a certified Bourbon Steward by the Stave & Thief Society but want to take your credential to the next level, new Executive Bourbon Steward classes have just been announced. Due to seating restrictions brought about by the realities of Covid-19, spaces are more limited than usual (to 12 openings each) so that proper distancing can be maintained in the classroom, demonstration distillery, and sensory lab. First of the day-long classes is 30 October with more offerings in December, January, February, and March. For all the details, go to https://staveandthief.com.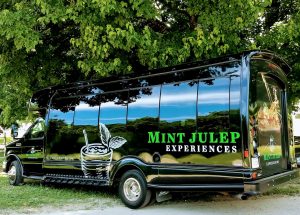 Recognition for Mint Julep Experiences
Louisville-based Mint Julep Experiences, which also has offices in Nashville, has been given TripAdvisor's 2020 Travelers' Choice Best of the Best award for Attractions/Tours. The honor is based on a full calendar year of TripAdvisor reviews. TripAdvisor is the world's largest online travel platform, and its Best of the Best Award is given to the top 1% of hospitality businesses around the globe named as travelers' favorites. Mint Julep provides curated tours of distilleries in Kentucky and Tennessee, as well as horse farm and food tours. Congratulations to owners Sean and Lisa Higgins and their staff! The company's website is https://mintjuleptours.com.
******************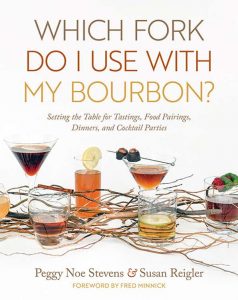 F&D Bourbon Columnist Susan Reigler is the author of several whiskey books, the most recent being Which Fork Do I Use with My Bourbon? Setting the Table for Tastings, Food Pairings, Dinner, and Cocktail Parties, co-written with Peggy Noe Stevens.
Autographed copies are available from Carmichael's Bookstore. It can also be purchased on Amazon, or directly from the publisher at https://www.kentuckypress.com/9781949669091/which-fork-do-i-use-with-my-bourbon/.
Photo credits: The distilleries and entities mentioned.