Back in May, we reported that the Old Stone Inn was closing and that another proprietor was interested in the property. We can finally announce that Churchill Downs Executive Chef David Danielson has signed the lease and plans for an early fall opening of his new take on the century-old restaurant, which will now be called the Old Stone Inn and Tavern.
Chef Danielson has over 20 years of experience, which includes co-authoring The Bourbon Country Cookbook and appearing as a celebrity Chef Judge on Top Chef in addition to many other television appearances on networks like the Travel Channel and ABC or in publications like People Magazine. He has served as Executive Chef at Rockefeller Center New York with Restaurant Associates, the United Nations Plaza Hotel, The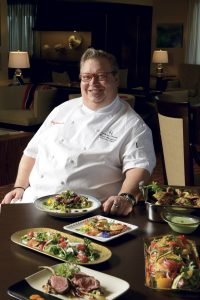 Palmer House Hilton Chicago, and he plans to remain at Churchill Downs.
"I've been at Churchill Downs for eight years, and one of the reasons for opening this restaurant for me was to be able to find a way to create an incubator kitchen where I can create dishes, get back into the kitchen cooking, developing local relationships with farmers and grow new ideas for different dishes and food," said Chef Danielson. "I've had my eye on this place for three years."
The restaurant was originally a stagecoach and tavern, and Danielson already has plans to revamp the menu, which will change seasonally. He says he looked at farm raised ingredients and local things that are happening around us for inspiration. Current plans include dishes like Louismill Grit Fritters, country ham, green goddess dipping sauce, a ham and cheese plate, a peach and tomato caprese salad, and a strawberry kale salad and entrees like pork tenderloin with corn pudding and blueberry mostarda, local trout with walnut parsley pistou, grated tomato and summer squash as well as traditional favorites like shrimp and grits or smoking goose tasso gravy. There will also be a bar menu with some of the favorites from the dining room alongside sandwiches and lighter fare.
Chef Danielson says the restaurant experience at the Inn will be completely different. He looked at the culture and history of the historical eatery and says he will bring in great staff, putting a good beverage and food program in place and really involving the community.
"I love churchill, and I still have a lot I want to accomplish there, but I felt there was a need to get outside of that into a micro community in a kitchen where I can just focus on cooking and developing dishes and ideas," he explained. "For many generations, the Old Stone Inn was a cornerstone community here; I saw an opportunity to bring that back and create the magic that once was here."