Two new breweries are coming to metropolitan Louisville: DO/LOVE/LIVE Taproom & Brewery in the Butchertown neighborhood and Our Lady of Perpetual Hops on New Albany's north side. They join more than 7,000 American craft breweries currently in operation, with as many as 2,000 in the planning stages.
DO/LOVE/LIVE Taproom & Brewery has a projected opening date of March, 2020. The 22,000-sq-ft beer, food and entertainment complex will occupy the familiar 1950s-vintage Dryden Provisions building at 1016 E. Washington Street, a short distance from the Louisville City FC Stadium currently under construction.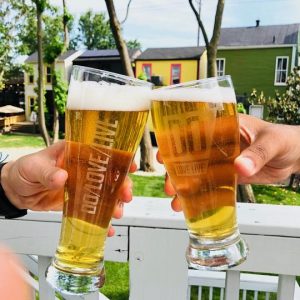 Prolific local developer Andy Blieden has been in negotiations with the city of Louisville about plans and permits at the site since purchasing the property late last year, but the first substantive preview of the brewery came at a press event on June 19.
DO/LOVE/LIVE co-founder Dave Childress stressed the brewery's commitment to outreach in support of non-profits with a widely quoted statement.
"We believe beer pairs perfectly with compassion. We believe beer pairs perfectly with community. We believe beer pairs perfectly with positivity."
Insider Louisville's reporter Kevin Gibson eyed the brewing plan at DO/LOVE/LIVE.
"Co-founder John Flodder said the DO/LOVE/LIVE — which stands for 'Do good, love big and live now' as part of its community focus — will house a 20-barrel brewhouse, and the plan is to start by brewing about 1,500 barrels of beer annually. Draft distribution will be part of the business model, which is to stay 'hyper local.' "
In addition to functioning as a brewery taproom with an emphasis on house beers, DO/LOVE/LIVE will have "multiple casual food options," a term suggesting food trucks or contracted purveyors. There'll be an outdoor beer garden and a rooftop patio.
Given Childress's previous connections with craft brewing as a founder of the Common Space Brewery in Los Angeles, it's not surprising that DO/LOVE/LIVE promises a focus on hops-forward West Coast IPAs.
---
---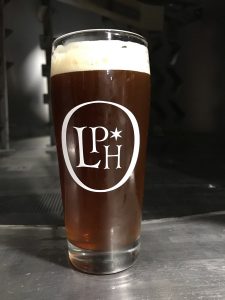 Across the Ohio River, hops figure prominently in both the name and brewhouse methodology at Our Lady of Perpetual Hops, which should begin brewing later this summer in an industrial park near Indiana University Southeast on New Albany's north side.
"Typically on a regular brew, you add hops at different intervals throughout the process," brewer Kyle Richmer told John Boyle of the News and Tribune. "Perpetual hopping is when you add hops continually throughout the entire boil to give it a unique flavor."
Richmer told Boyle that non-hoppy beers also will be available at Our Lady of Perpetual Hops, pointing to a mango blonde ale, while his co-proprietor Tanner Wortham described one innovative way to fashion an offbeat adjunct stout.
"We'll brew a batch, maybe 14 kegs, and take out four or five kegs and add an adjunct to it like Oreos. It'll be small quantities, like places who have one-offs. It'll be pretty unique."
Once business gets underway at the industrial park production facility, Our Lady of Perpetual Hops foresees an immediate expansion in the summer of 2020 with a 5,000-sq-ft building off Paoli Pike in Floyds Knobs housing a "destination" restaurant, brewing and entertainment location.