For two decades Buckhead Mountain Grill has been an anchor of Jeffersonville's "restaurant row," which comprises a couple of riverfront blocks wedged between the two I-65 bridges and the Clark Memorial Bridge, and offering fine views of downtown Louisville.
Buckhead Mountain Grill's sister restaurant business on the waterfront, the Italian-oriented Rocky's Sub Pub, closed suddenly in 2018. Its Bardstown Road location followed suit earlier this year, citing pandemic capacity restrictions.
Yesterday the management of Buckhead Mountain Grill took to Facebook to announce it will be ceasing operations at the Jeffersonville branch following service on Saturday, December 5.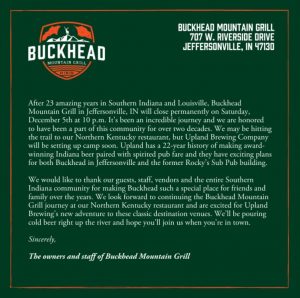 Please join us now through Saturday for a final family dinner, cold beer or order of cheese boulders at Buckhead on the river in Jeffersonville. We are going to miss being a part of this community and wish Upland Brewing all the best. Please join us at our Bellevue, KY location in #NorthernKentucky when you're in town. Thank you!
Longtime Buckhead patrons expressed understandable sadness on social media, but the announcement's reference that Bloomington's Upland Brewing Company would soon occupy the vacated waterfront was hailed as a win for downtown Jeffersonville.
The News and Tribune's Brooke McAfee spoke with Upland's president, David Bower.
"Our optimistic timeline is to open in the spring — it would be great to be open for patio season … We love the location, we love the community and just being right there on the river — it's aligned with our sense of adventure. It's going to be a great place to showcase all of our award-winning beers and our menu."
McAfee added an important addendum.
Some of the investors who own Upland Brewing Company will be taking over the former Rocky's Sub Pub location in Jeffersonville, but those plans are separate from the Upland Brewing Company operation in Jeffersonville, according to Bower.
As recently as September 2019, the moribund Rocky's building was included in a trial balloon of a very different sort involving the owners of both it and Buckhead, as reported by Marty Finley in Louisville Business First.
Wes Johnson and Mike Kapfhammer are moving ahead on a plan to build a 138-unit apartment complex on the site of the shuttered Rocky's Sub Pub in Jeffersonville, which suddenly closed its doors in April 2018. The project also takes in two parking lots across the street on Riverside Drive.
Three months later, Johnson's and Kapfhammer's names appeared again in conjunction with "food hall" service at Paristown Pointe in Louisville: It's a food hall: The Village Market, coming to Paristown Pointe in 2020.
COVID-19 subsequently upended the plans of many Americans, hence today's $25 million question (with an optional side of fries and a fat, cool mug of Champagne Velvet): Will the other Upland investors be partnering in, or reviving, the waterfront apartment project?