On Friday, October 25th at 11 a.m. chefs Bobby Benjamin and Barbara Turner will be joined by friends, family and local dignitaries to cut the ribbon to their new Butchertown Grocery Bakery at 729 East Main Street in downtown Louisville.
Butchertown Grocery Bakery's forthcoming location lies kitty-corner across Main Street from the Quills Coffee Firehouse and two blocks from Butchertown Grocery's digs in the former Blind Pig, where pastry chef Turner and her staff have been laboring since 2015 in cramped quarters upstairs baking baguettes, buns, focaccia, bialy, and other fresh breads.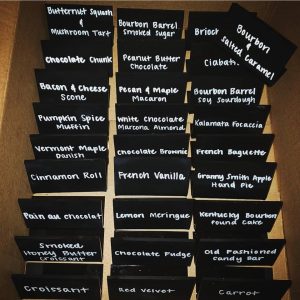 According to a news release, the Butchertown Grocery Bakery "will offer an impressive variety of food and beverage choices suited to all palates and times of day. The food menu will include both sweet and savory options: pastries, breads, chocolates, cookies, sandwiches, soups and take-home dinners. Partnering with Good Folks for the beverage menu, the Bakery will offer everything from fresh-squeezed juices and local kombuchas to beer, to Goodfolk's own coffee and espresso."
Louisvillians do not subsist on bread alone, and so "bottles of bourbon, sourced from Butchertown Grocery's barrel picks, will be for sale alongside the rest of the bakery's delectable confections. Hand-selected by Benjamin and his team, the picks offer unique flavor profiles that pair well with food. Bourbon and bourbon by-products will also be incorporated into many of the culinary offerings."
Butchertown Grocery Bakery's hours of operation will be seven days a week from 7:00 a.m. to 7:00 p.m.