The announcement that Butchertown Pizza Hall (1301 Story Avenue) would be closing came early Monday afternoon on Facebook.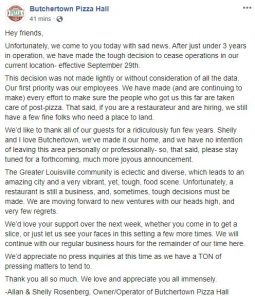 Here is the social media text by Allan and Shelly Rosenberg, owners and operators of Butchertown Pizza Hall.
"Unfortunately, we come to you today with sad news. After just under 3 years in operation, we have made the tough decision to cease operations in our current location- effective September 29th.
"This decision was not made lightly or without consideration of all the data. Our first priority was our employees. We have made (and are continuing to make) every effort to make sure the people who got us this far are taken care of post-pizza. That said, if you are a restaurateur and are hiring, we still have a few fine folks who need a place to land.
"We'd like to thank all of our guests for a ridiculously fun few years. Shelly and I love Butchertown, we've made it our home, and we have no intention of leaving this area personally or professionally- so, that said, please stay tuned for a forthcoming, much more joyous announcement.
"The Greater Louisville community is eclectic and diverse, which leads to an amazing city and a very vibrant, yet, tough, food scene. Unfortunately, a restaurant is still a business, and, sometimes, tough decisions must be made. We are moving forward to new ventures with our heads high, and very few regrets.
"We'd love your support over the next week, whether you come in to get a slice, or just let us see your faces in this setting a few more times. We will continue with our regular business hours for the remainder of our time here.
"We'd appreciate no press inquiries at this time as we have a TON of pressing matters to tend to.
"Thank you all so much. We love and appreciate you all immensely."
This story is developing, and if events dictate we'll be back with an update.