Recommended reading, pre-weekend brunch: Marty Rosen's profile of CC's Kitchen (formerly CC's Low Carb Kitchen; 800 S. 4th St.) in Food & Dining Magazine's Summer 2022 print edition (Vol. 74; June, July, August) which is out and about right now.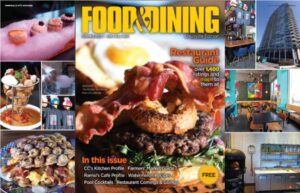 CC's is all about topsy and turvy and thwarting expectations taking the path less traveled by and creating a place for free-range humans to graze in an environment that feels like the kind of diner you might hope to find at a post-modern state fair—whimsical idiosyncratic, and just plain fun. And no matter whether you wander in at brunch time or dinner time, you won't encounter conventional boundaries.
Find copies, free of charge, in the metro's finest food and drink establishments. The CC's Kitchen feature can also be read at issuu, where we're pointing you today (see above).
advertising content
advertising content