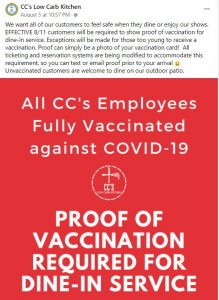 CC's Low Carb Kitchen has decided not to wait.
We want all of our customers to feel safe when they dine or enjoy our shows. EFFECTIVE 8/11 customers will be required to show proof of vaccination for dine-in service. Exceptions will be made for those too young to receive a vaccination. Proof can simply be a photo of your vaccination card! All ticketing and reservation systems are being modified to accommodate this requirement, so you can text or email proof prior to your arrival 🙂 Unvaccinated customers are welcome to dine on our outdoor patio.
Via e-mail, Food & Dining Magazine asked owner Corey Milliman to elaborate.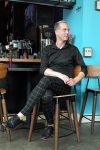 "Our COVID-19 vaccination and testing policies are being introduced to enhance the safety of our customers and staff. We want everyone to feel safe when enjoying our food or live entertainment. We have received positive and negative feedback on our new policies, with our customers being overwhelmingly supportive of this change. We absolutely love our CC's family and customers! We will continue to do whatever we can to keep that family safe and happy."
The new policy at CC's Low Carb Kitchen also caught the attention of local media.
This downtown Louisville restaurant will require COVID-19 vaccination proof, by Dahlia Ghabour (Courier Journal)
Owner Corey Milliman, who had COVID-19 last year and is still dealing with long-haul side effects, said the delta variant made him step back and think.
"I saw what they did in New York (requiring masks) and it seems New York has been a harbinger of what's to come," he said. "If a place like New York can do it, why can't I as a restaurant? I'd much rather take control of how the restaurant is evolving instead of waiting for a government mandate. I don't see being able to survive another shutdown."
Milliman said he hopes the city and state "own the responsibility of ensuring the underserved community is getting the vaccines they need" in order for people to be safe.
To those who are unvaccinated or are unable to get the vaccine, Milliman said he is making "reasonable accommodations" to serve them outdoors and all service is compliant with the Americans with Disabilities Act.
"That's the best we can do," he said.
CC's Low Carb Kitchen is "committed to creating elevated comfort foods with low sodium, low net carbohydrate and low glycemic index for dine-in, carryout, delivery, retail and meal preparation services," and recently participated in APRON Inc.'s Chef in a Box promotion.
Chef in a Box (July 7 & 8): CC's Low Carb Kitchen, featuring chef Casper Van Drongelen and owner Corey Milliman