[adrotate group="3"]
Charlestown Pizza Company (850 Main Cross) opened in 2007 during a transitional period in the small Southern Indiana city's history. Charlestown thrived during peak employment at the Indiana Army Ammunition Plant, which occupied 15 square miles and provided jobs for thousands. When the plant wound down after America's military presence in Vietnam came to close, Charlestown's economy contracted.
But by the time Shawn Vest and his wife Tajana "TJ" Johann began operations at CPC, River Ridge Commerce Center (occupying much of the ammo plant's acreage) was entering a phase of critical mass, which in turn has led to new jobs, homes and seekers of pizza, both in and near Charlestown.
The past decade has seen Charlestown garner a measure of regional renown for the city's family-friendly holiday activities, including annual animated light show on City Square, which runs annually from Thanksgiving through January 1, and is illuminated nightly from 6:00 p.m. until 11:00 p.m.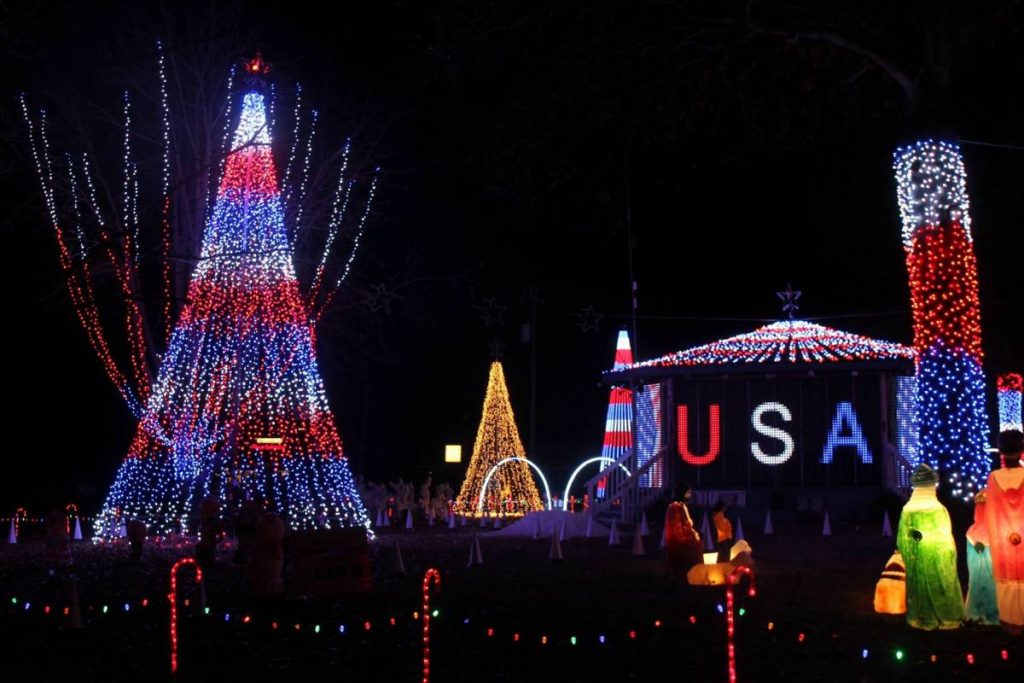 Visitors can park and watch the light show, or stroll the square; it's 2020, and the city advocates social distancing and face coverings when in close proximity to others.
Since the onslaught of the pandemic, Charlestown Pizza Company has embraced carryout to the exclusion of indoor seating, even though Indiana allows it. From the start, Vest and Johann have based their decisions on science and statistics as measures of safety, sadly not always hallmarks of the pandemic response in Southern Indiana.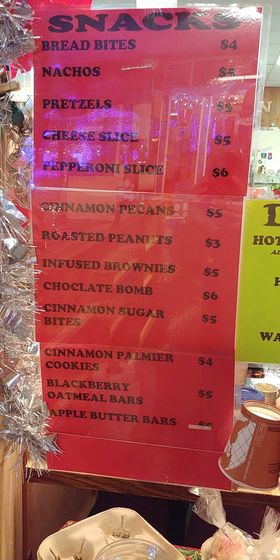 CPC directly faces City Square, and consequently in 2020 the pizzeria has been offered a unique opportunity to tailor its pandemic safety approach to the season by introducing a Holiday Concession Stand alongside the customary carryout menu. The concession stand began outdoors, then shifted inside when colder weather arrived, and will run one way or another through Christmas.
Among the available edibles are pizza slices (cheese and pepperoni), bread bites, nachos and pretzels, as well as a selection of holiday sweets: apple butter bars, cinnamon pecans, chocolate bombs and more. Beverages include hot chocolate and hot apple cider. COVID protocols are preserved; there's no loitering indoors, and everything is packaged to go.
Hours have varied, but both CPC take-away and its Holiday Concession Stand are open for business from around 4:00 p.m. – 5:00 p.m. through 7:30 p.m. – 9:00 p.m. (closed Sunday and Monday).
There are daily Facebook updates about the hours, and to be sure, you can call (812) 256-2699. Following is the plan for Saturday, 5 December. F&D's digital editor has rendered mask provisions in bold type, because after all, it IS a pandemic.
We'll be open from 4 – 7:30 today, carry out only
Wear a mask when you come inside.
If you do not want to wear a mask, call when you arrive and we will bring your order outside.
Mask are required to enter the building.
The Holiday Concession Stand will be operating from inside the restaurant and will open around 5 PM
Slices of pizza, hot chocolate, hot apple cider, roasted nuts, bread bites, chocolate bombs, and delicious desserts
Mask are required to enter the building.