According to Olivia Rose Griffin, owner of Riot Cafe in downtown Louisville, "APRON Inc. has been so crucial to helping the Louisville hospitality industry survive the pandemic."
"We are big fans, and our support doesn't stop with Chef in a Box. We would love to see and help organize industry job fairs, and help small bars and restaurants get access to health care plans for their employees."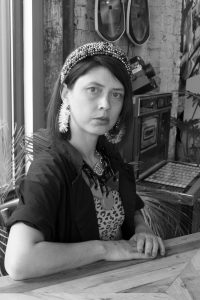 Griffin added, "Downtown has been hit hard, and we need our community to know what a great and unique business Riot Cafe is, not just for coffee and pastries, but locally made food by the BIPOC and under-appreciated communities, a curated selection of beer, wine, and spirits focusing on regional and women and Black-made and distilled products. We will be having monthly art openings on first Fridays, live music, and educational events that spotlight talented people in the community who don't have as much access to showcase their creativity as they should."
Griffin's eatery is next up for APRON Inc.'s Chef in a Box promotion, but first the bigger picture.
On Saturday mornings through May, Food & Dining Magazine will be previewing the coming week's Chef in a Box offering. It's a tasty fundraising project dating to the summer of 2020, which benefits APRON Inc.'s ongoing grant program.
APRON Inc. was created in 2011 to help provide financial relief to food and beverage industry workers in the Louisville, Kentucky metropolitan area who find themselves in need during times of crises. Because of the COVID-19 pandemic, APRON Inc. has stepped up with a far greater volume of assistance to local workers than ever before.
Here's how Chef in a Box works.
Each week up to fifty people can purchase a Chef in a Box for $50, which actually aren't boxes but reusable bags provided by APRON Inc. Participating eateries keep $25 toward expenses, while $25 goes to APRON Inc. toward its ongoing grant program.
The contents of Chef in a Bag vary according to the establishment's specialization and creativity, but you'll always be able to view the menu in advance and know what you're getting.
Typically there'll be tasting selections for two; perhaps a favorite dish of the chef's, or maybe a meal kit.  Participating eateries also are encouraged to include a gift certificate, coupon, or promotional materials.
Chef in the Box Q & A
How do I order the box? You contact the featured restaurant directly.
When do I call? You can place your order starting on Friday prior to the restaurant's featured week.
Is it pickup or delivery? Each restaurant makes that decision, but usually it's curbside pickup only.
How much are the boxes? $50.
How many boxes does each restaurant sell weekly? 50 boxes, although some have allotted more.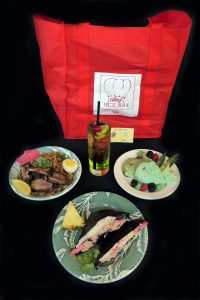 Here's the main attraction for the coming week.
CHEF IN A BOX for April 7 and 8, 2021: Riot Cafe
Riot Cafe
574 South 4th Street (Downtown)
Louisville KY 40202
Phone: (502) 709-5654
Chef in a Box Menu for Two (with Matching Cocktails!)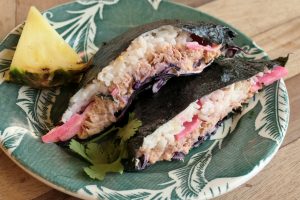 Appetizer: Onigirazu
Sushi sandwich with ginger rice, smoked salmon, sriracha chili aioli, spinach, cucumber & tuna salad with sriracha chili aioli & kimchi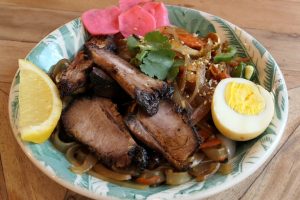 Main Course: Japchae
Stir fried noodles with Korean BBQ pork, mushroom, carrot, bell pepper, onion, along with kimchi, soy marinated egg, jalapeno, cilantro, pickled radish, furikake
Cocktail: The Melon Burst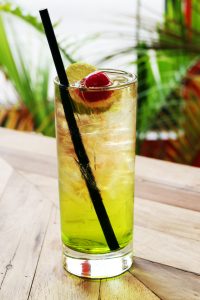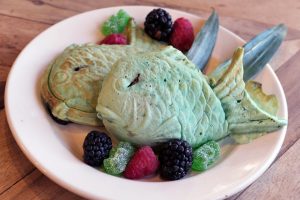 Dessert: Taiyaki
Sweet fish shaped pancakes stuffed with s'more & Nutella filling, with honey butter, 5 spice syrup, & berries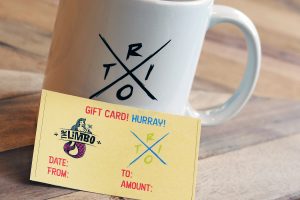 Plus, a $25 gift card to use at a later date (the mug is not included)
To order: Call or text Riot Cafe at 502-653-9440
Pick up: At Riot Cafe on Wednesday, April 7 & Thursday, April 8 from 3:00 p.m. – 5:30 p.m.
(Photo credits: All photos by Dan Dry)