We are so honored to be a part of Apron Inc. with their efforts to help rebuild and revitalize the community, and their generosity to help those who need it. Being a part of this initiative has encompassed everything we stand for to give back, as we have received so much support to help us through this pandemic. Apron Inc. has done so much for the restaurant families, and we are excited that we can be a small part in helping to make a difference through Chef in a Box. We are all family, and family helps family, so thank you Apron, for all you do! We hope we can continue this partnership in helping more of our families thrive!
— Paula and Anthony Hunter, The Black Italian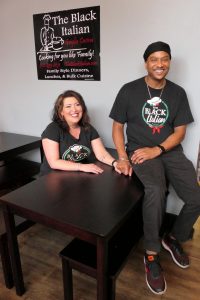 The Black Italian Griglia Cucina is next up for APRON Inc.'s Chef in a Box promotion, but first the bigger picture.
Food & Dining Magazine continues to preview the coming week's Chef in a Box offering. It's a tasty fundraising project dating to the summer of 2020, which benefits APRON Inc.'s ongoing grant program.
APRON Inc. was created in 2011 to help provide financial relief to food and beverage industry workers in the Louisville, Kentucky metropolitan area who find themselves in need during times of crises. Because of the COVID-19 pandemic, APRON Inc. has stepped up with a far greater volume of assistance to local workers than ever before.
Here's how Chef in a Box works.
Each week up to fifty people can purchase a Chef in a Box for $50, which actually aren't boxes but reusable bags provided by APRON Inc. Participating eateries keep $25 toward expenses, while $25 goes to APRON Inc. toward its ongoing grant program.
The contents of Chef in a Bag vary according to the establishment's specialization and creativity, but you'll always be able to view the menu in advance and know what you're getting.
Typically there'll be tasting selections for two; perhaps a favorite dish of the chef's, or maybe a meal kit.  Participating eateries also are encouraged to include a gift certificate, coupon, or promotional materials.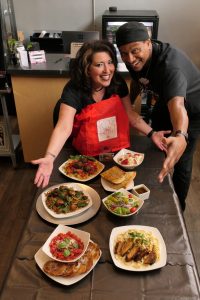 Chef in the Box Q & A
How do I order the box? You contact the featured restaurant directly.
When do I call? You can place your order starting on Friday prior to the restaurant's featured week.
Is it pickup or delivery? Each restaurant makes that decision, but usually it's curbside pickup only.
How much are the boxes? $50.
How many boxes does each restaurant sell weekly? 50 boxes, although some have allotted more.
And now, the main attraction for the coming week.
CHEF IN A BOX for TWO, $50, pickup June 9 and 10, 2021: The Black Italian Griglia Cucina, featuring Chefs/Owners Paula and Anthony Hunter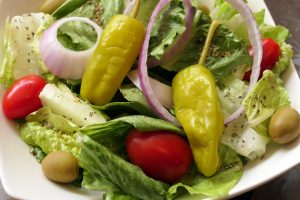 Starters for two:
Italian Salad with Homemade Italian Vinaigrette
Bruschetta with Crostini
Baked Garlic Bread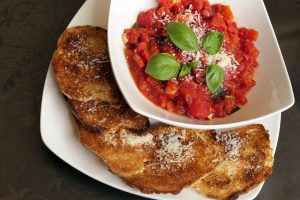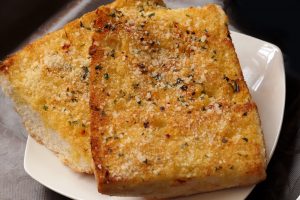 Entrees: Each person chooses one entree, for a total of two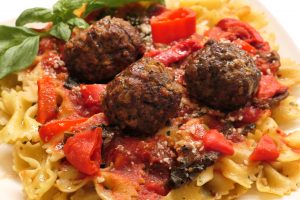 Red Pepper Tomato Basil Farfalle with Flame-Grilled Homemade Italian Meatballs
OR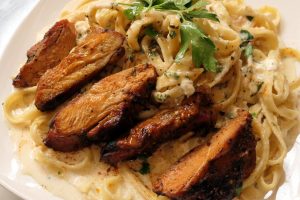 Creamy Garlic Formaggio Fettuccine with Flame-Grilled Marinated Chicken
OR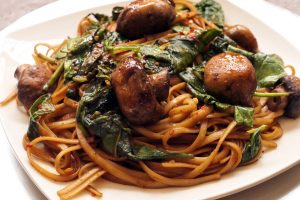 Smoked Marsala Mushroom and Spinach Pasta (vegan choice) with Linguine
Dessert for two: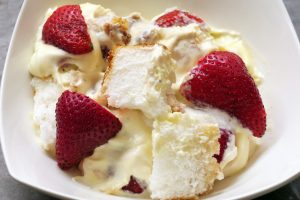 Strawberry Trifoil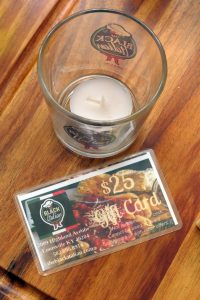 Bonus:
Recipients will also receive a $25 gift card for future use and an official Black Italian votive candle
To order:
On-line ordering only; order by clocking on this link: The Black Italian Chef in a Box Dinner for Two.
Pick up times for Chef in a Box:
Pick up at The Black Italian, 2009 Highland Avenue, between 4:00 p.m. and 7:00 p.m. on Wednesday 9 June and Thursday 10 June. Orders MUST BE PLACED by Tuesday 8 June, with dinner selection, and date and time of pick up. Once your order is made, we will send an invoice for payment, and will not make the package unless payment is received in advance. There are only 25 spots available per day, 25 for Wednesday and 25 for Thursday.
(All photos by Dan Dry)