Brooklyn and The Butcher went on hiatus March 17, with BRAND Hospitality Group choosing to concentrate its curbside carryout efforts three blocks away at The Exchange pub + kitchen (a third BRAND concept in downtown New Albany, Longboard's Taco & Tiki, closed permanently in January).
However, BRAND principals Ian and Nikki Hall are looking ahead to the post-pandemic restart, recently hiring new executive chefs at both their restaurants. Chef Ming Pu, formerly of The 502 Bar & Bistro, explained last week at his Facebook page:
"Ian Hall reached out and offered me a position with Brand Hospitality Group as the executive chef at Brooklyn & The Butcher. I'm happy to announce that I've accepted the position. I'm very thankful to be part of the team."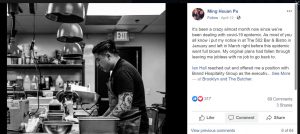 He added, "I'm excited to see what we can do once we are up and running. Zac Young also has accepted the executive chef job at The Exchange. It's great to have another Louisville chef join on the Indiana side of the river."
Young previously worked at Marketplace Restaurant.
Together with remaining staff at The Exchange, the new arrivals are offering online ordering for regular menus items and a series of weekend specials, as well as feeding first responders in the area through BRAND's community meals program.
https://www.facebook.com/exchangepubkitchen/videos/233379288014393/?__xts__%5B0%5D=68.ARCBR75b8b8iMM4RWy_q-S4tw7Q4Ix3IyTRMEVqrndmWIapLqfj8YyxlIo5lNfQb1PwzUV3eqS73XuicxErHEn9tjXOOU2e9NQyvQ6EDBzzcnqII1ngbsn32Urqfg5sF5-sTJfH8Xou1Jb0FfpOFdnjUwGGwQNsVZegoaXmMYqv-gqWVwikNVx0n8BDhNa-PJm3i29JcOQ4UtJ7jCWBQ70zfd10P6qXAPOUVJhrUM8TwXSF2lvTjmlMYz9eK_FDyjCmHfJ46FvD0Ow_MqeWguGTfbmpCy0YZxKhIps5aTaaNIJkh9eAvFla_xmbEBSRnNHIs4J7HI1UvH3wMcjIFjBaUO6VF2WRhXXm_HA&__tn__=-R