[Originally published in the F&D Fall 2015 issue]
Logan Sandoval doesn't look like your average chef. For one thing, he looks more like he should be running a Gold's Gym than a kitchen. Sandoval began lifting weights in high school in Los Angeles, where he was on the wrestling team, and it is still a daily ritual. The other thing that stands out about him are his tattoos, which are a homage to his chosen profession. The main image is an octopus holding a chef's knife and a lantern with "restaurant" written on it in Japanese. The Octopus is also wearing a traditional Japanese cooking bandana. Other images on his arms include a Chinese wok and two cocks fighting, one with a chef's knife. The inside of his arm reads, "Cook free or die."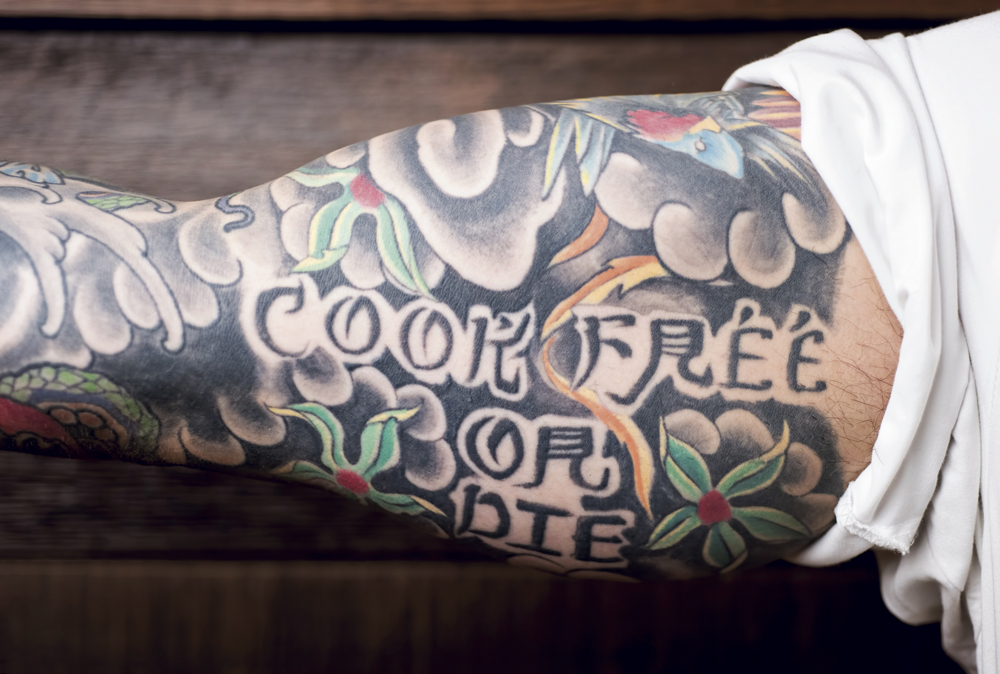 "Getting my forearm done was one of the biggest challenges of my life," Sandoval said. "It was one 11 hour sitting."
Despite the muscles and intimidating ink, Sandoval is pretty much a momma's boy. His mother, Natalie, raised two boys by herself. Sandoval, who is of Hawaiian descent, credits her with his love of Spam and his culinary career. It was Natalie who got him a job washing dishes at a sports bar and gave him Anthony Bourdain's Kitchen Confidential inspired him to go to culinary school. She also helped him get started with Hyatt Hotels Corporation, where he has spent his whole career. After working in Los Angeles moved on to stints at hotels in Charlotte and Columbus. Now, he is executive chef of Sway in the Hyatt in downtown Louisville. Sandoval expects to stay with the hotel chain until he's ready to open a restaurant of his own. "Hyatt is a great company if you like to move," Sandoval said. "I really get to show my creativity and individuality in the kitchen."
---
Name: Logan Sandoval
Age: 25
Current Restaurant: Sway
Previous Restaurants: Hyatt Regency restaurants in Charlotte and Columbus
Neighborhood (current): Old Louisville
Hometown: Los Angeles
Significant Other: None
Favorite Hobbies: Lifting weights
Favorite Cookbook: "Momofuku" by David Chang
Favorite Kitchen Gadget: Ricer
---
How did you get started with the Hyatt?
I actually started in Los Angeles when I was 19. My mother met this sous chef and told him she had a son in culinary school. He invited me to come in for an interview. That was back in 2011.
What culinary school did you attend?
The Art Institute of California, which is in Los Angeles.
So, you basically owe your whole career to your mother?
Cooking too. When I was younger we had little to no money, but she found a way to feed me and my brother. He is autistic so he had special dietary needs. That taught me to aim toward different dietary restrictions.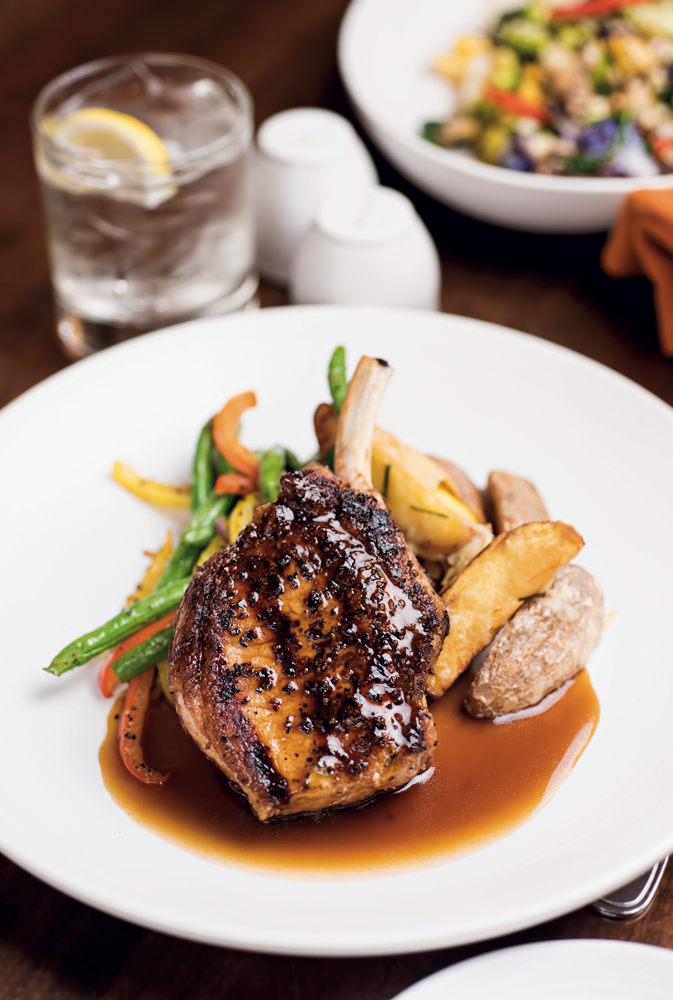 What is your first food memory?
When I was 7 or 8, we went on a cruise to Mexico. It was the first time I ever tried escargot and duck. I just wanted to be different.
Who has influenced your cooking the most?
Mainly my mother. She told me when I was little she would strap me into the little baby carriage and I would watch her cook.
Why did you become a chef?
It's the old cliché story. I started washing dishes at a sport bar called Cronies where my mom was the bartender. She got me the job and then I started cooking. Then culinary school came after high school and I went on from there.
What did you want to be when you grew up?
I wanted to be a vet but I couldn't handle putting animals down. After that I wanted to be a pro wrestler.
Fill in the blank: If I weren't a chef, I'd be…
I'd either own a gym or be a professional weight lifter.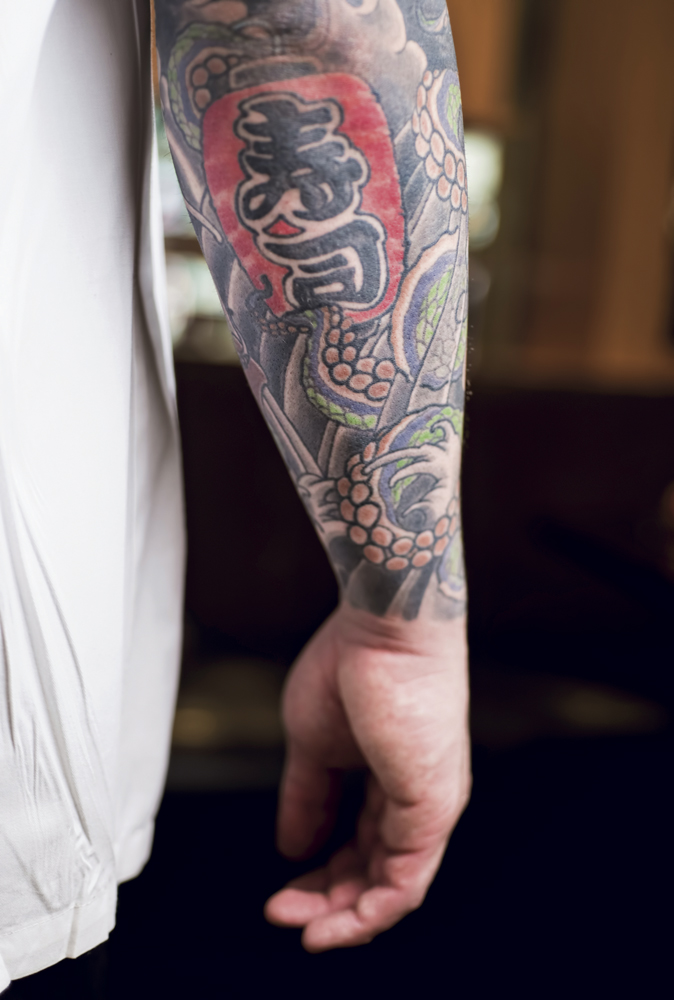 When did you get into lifting weights?
I started lifting for wrestling when I was in high school. Once I started culinary school I got out of wrestling but I still wanted competition, so I started getting into bodybuilding.
Who are your favorite chefs?
David Chang and Anthony Bourdain. Around Christmas 2002, after I showed interest in cooking, my mom gave me a copy of Bourdain's book "Kitchen Confidential." I read it and decided, "That's what my life will revolve around."
Besides Sway, what is your favorite restaurant in Louisville?
Number one is Hammerheads. They do good food that is not pretentious.
Which seasonings don't you respect?
Seasoned salt. If you are going to do seasoned salt, make your own.
Which are underrated?
Garlic powder or onion powder. I don't think people use them enough. We do our own smoked meats in house and I like to utilize both in the rub.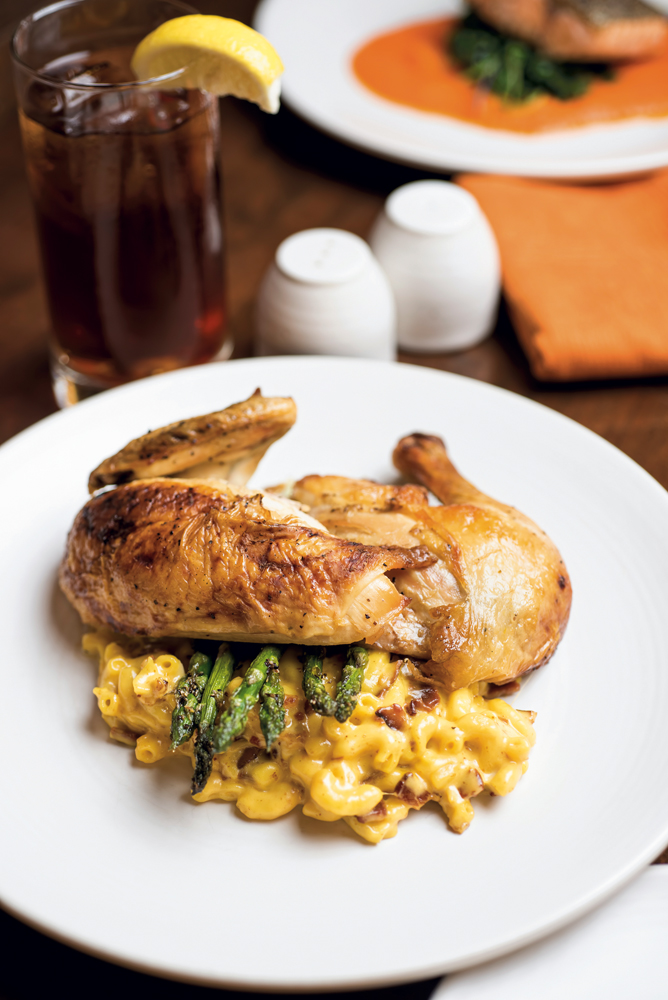 Do you have a go-to farmers market and what do you usually shop for there?
Not personally. We work pretty closely with Stone Cross Farms in Taylorville, Ky.
Are there any culinary trends you are wild about right now?
Southern food.  My background is fusion and Southern kind of challenges me in a way I didn't know it would.
Any trends you consider overrated?
I like the fact that people are moving away from the whole Micro Gastronomy thing and back towards mom and pop food. Here we do basic food but in a fine dining setting.
What's your greatest strength in the kitchen?
The relationship I have with my cooks and front-of-the-house managers. Communication is the key in this business.
You're pretty young. Are most of your cooks older than you?
It is about half and half. I have those older cooks that have been around forever.
Being so young, is there a process where you have to earn their respect?
There is always that process but ultimately I prove to them that I can be their leader.
What's your downfall?
I get a little temperamental sometimes.
What music was playing in the kitchen last night?
I am very big on having a quiet work environment. Obviously it gets hectic during service when you are calling out tickets. But even before that I want to be quiet and focused.
What's your favorite go-to ingredient?
Salt.
Is there a guilty-secret ingredient in your kitchen—something you'd rather not be spotted using?
In my home kitchen and my work kitchen is Spam. We do a breakfast platter with Spam and when I'm home I put Spam in everything. When I was little my mom would set me up on the counter and open the Spam. I would eat it cold.
What's in your fridge at home?
A lot of leftover Chinese food. I also pickle my own vegetables at home. That is something I'm trying to do here, but it is hard to do it on the scale that is needed. I have racks of mason jars in my fridge.
What food is your guilty pleasure?
Hot Cheetos.
Is there a food you can't bring yourself to eat?
I'm pretty open. I will try anything once. I've eaten bugs. I've eaten crocodile tail, pig tongue and fish eyes.
Your favorite quick meal to prepare at home?
Turkey sandwiches and hot Cheetos or chorizo and egg burrito. There is always chorizo in my fridge.
Your worst kitchen nightmare?
You always see on Facebook the really gnarly grease accidents. Whenever the cooks drop the grease I'm always concerned that I won't be here and something will go wrong. I don't want to get a call at midnight that someone has been burned.
Best cooking tip for a novice?
Season correctly and eat things medium-rare if not rare.
What's your last meal on earth, if you had the chance to choose?
My mother's tuna casserole. When I go home she makes me tuna casserole. Tuna casserole is nasty as hell but it takes me back to my childhood.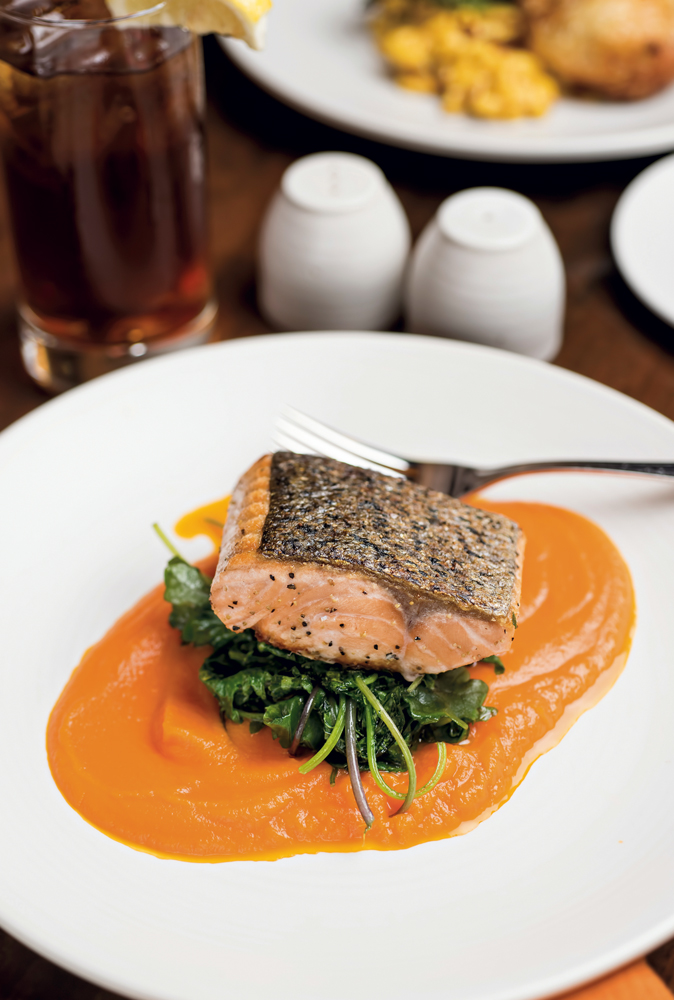 What do you aspire to?
I want to continue with the Hyatt for a long time, but eventually I want to open up a small place near the ocean in California or Hawaii.
Most memorable meal?
That's an easy one. For my twenty-second birthday I and one of my close friends went to Chicago specifically to eat at Alinea, which was the number one restaurant in the country. Between the two of us it cost $1200. I saved up all summer for it. We got the wine tasting and all 36 courses.
If you could cook a meal for anyone, who would it be?
Anthony Bourdain. When I graduated from culinary school my mother brought me tickets to go see him speak. It was like a full circle thing because his book was what convinced me to go to culinary school in the first place.
What's the best thing you ever cooked?
When I was in Columbus, I did this Chef's Table that had eight courses in it. All the courses were really good. But I made this scallop dish with charred baby tomatoes and cream sauce. Every component of that dish came together.
Kitchen tool(s) you cannot live without?
Common sense. A teacher in culinary school once asked, 'What do you think the most important tool in the kitchen is?' Everybody said the chef's knife and things like that. I said, 'Common sense because it's something you can't teach in the kitchen.'
Kitchen tool the home chef doesn't know about but should?
The ricer. It's a contraption with a handle. You put potatoes in it and you get the creamiest and nicest mashed potatoes.
Dumbest thing you've ever done with food or in a kitchen?
I deep fried a filet mignon once. This is when I was young. This lady sent back a dish three times complaining that it wasn't done enough, so I put it in the fryer. It was well done.
If you had a time machine, what would be your first stop in culinary history?
I would go back to the late '70s or '80s and work in either England or Paris.
Your last food-related "wow moment" was..?
We just rolled out a new menu and we have a really nice Amish Chicken. You'd think it was an elegant dish, but I put bacon and macaroni and cheese on it. People were telling me it wasn't going to work, but then they ate it and loved it.
What cooking skill required in your kitchen is the most difficult to master?
Getting the time right on the fried chicken. You go under and you serve raw chicken. If you go over, all of sudden you have cardboard on your plate. Our fried chicken takes about 20 minutes. On a busy night, if you get in eight or nine orders of fried chicken, you've got to keep track of the time on all your different fryers.
If you could work for one chef, who would it be?
David Chang. I started reading about him in 2011. His fusion style and his story just really inspired me.