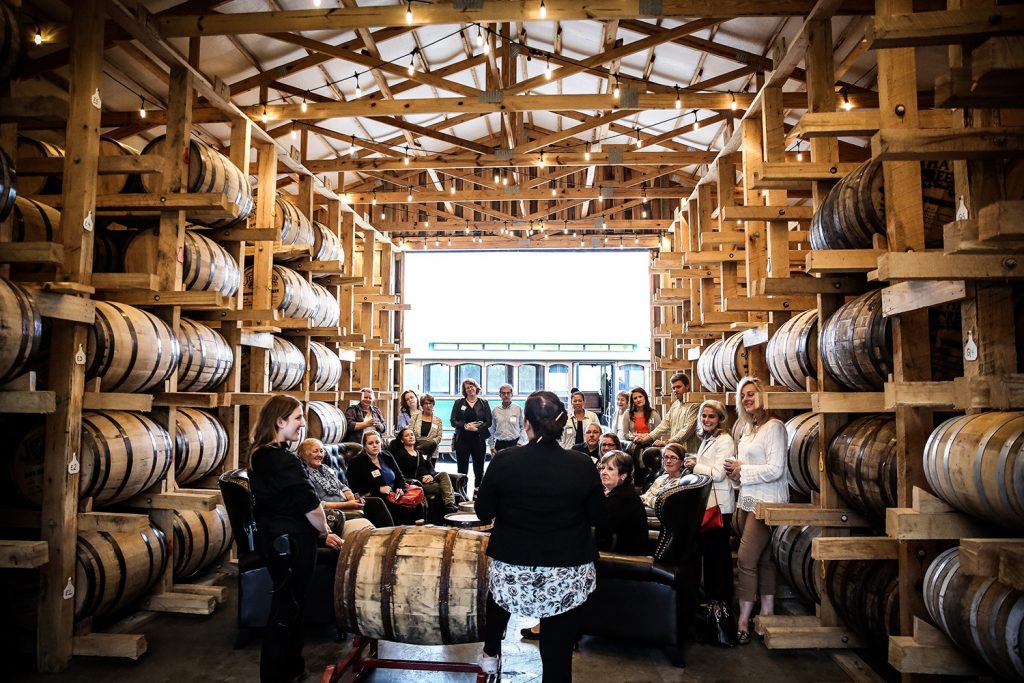 In an article from 2020, our bourbon columnist Susan Reigler provides this introduction to Heather Wibbels.
If you are looking to upgrade your at-home mixology skills, you'll not have a better guide that Louisville-based Heather Wibbels, aka The Cocktail Contessa. Wibbels is passionate about cocktails, their history and concoction. After winning the amateur division of The Bourbon Women Association's "Not Your Pink Drink" cocktail contest three years in a row, she was made the head judge for that organization's annual contests.
She also has a website, https://www.cocktailcontessa.com, filled with cocktail lore and recipes. And while her specialty is bourbon, there are some cocktails using other spirits, too. Among her recent posts have been "Core Values: Apple Bourbon Cocktail," "How to Make Your Boulevardier Cocktail Perfect," "Best Ice for Cocktails at Home," "Best Manhattan Variations,"  and "5 Best Bourbons for Cocktails at Home."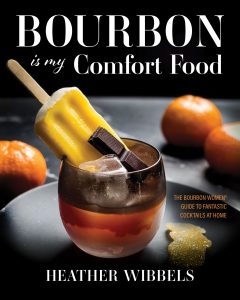 The University Press of Kentucky adds that Wibbels "is an award-winning mixologist, chair of the Bourbon Women Board of Directors, photographer, and digital content creator," who "works with brands and companies to develop cocktails and deliver cocktail education for both the home mixologist and cocktail enthusiast, turning cocktail lovers into whiskey drinkers one drink at a time."
The UPK also has important news, as it will be publishing Wibbels' new book Bourbon Is My Comfort Food on May 3, 2022.
Bourbon Is My Comfort Food reveals the delicious beauty of bourbon cocktails and the joy of creating them. Whether readers are new to bourbon or steeped in its history and myriad uses, they will gain the knowledge to make great bourbon cocktails, share them with friends and family, and expand their whiskey horizons—because the only thing better than bourbon is sharing it with a friend.
From building your home bar to basics on cocktail technique, Heather Wibbels showcases classic bourbon cocktails—like the Old Fashioned, the Manhattan, Whiskey Sours, Highballs, Juleps and more—in approachable ways. The book also features several Cocktail Labs, which invite readers to explore classic cocktail elements and experiment with flavors, textures, infusions, syrups, and garnishes. With over 140 recipes, this book is more than a cocktail recipe book—it's a primer on manipulating flavors and balance in whiskey cocktails.
But more than that, Bourbon Is My Comfort Food is a celebration of ten years of bourbon education and cocktails by Bourbon Women, the first group dedicated to women and their love of the spirit. Wibbels celebrates with cocktails from the Bourbon Women leadership team, branches across the nation, and winners from the group's annual Not Your Pink Drink contest. Get out your cocktail shaker and explore the wide world of bourbon cocktails with Heather Wibbels and Bourbon Women!
In its information release, the publisher included a sample recipe to whet your curiosity.
Dark Quarter
"If a Sazerac and a Manhattan had a love child, this would be their firstborn. Rich and complex, this cocktail dials up the spice with a licorice liqueur, a peppery rye whiskey, and amaro's earthy coffee and chocolate notes. A touch of maple syrup sweetens and balances the cocktail and results in a thicker mouthfeel."
2 ounces rye whiskey (or high-rye bourbon)
¼ ounce barrel-aged maple syrup
¾ ounce Foro amaro
¼ ounce Herbsaint or absinthe
Garnish: star anise and candied ginger
Combine ingredients in a mixing glass and add ice. Stir for 30 seconds or until well chilled. Strain into a chilled coupe glass and garnish.
advertising content
advertising content