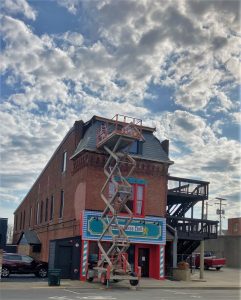 Full disclosure: As many Food & Dining Magazine readers already know, the F&D digital editor also works for Pints&union in New Albany and Common Haus Hall in Jeffersonville.
Common Haus Hall, located at 134 Spring Street in downtown Jeffersonville (a block and a half from the Big Four Pedestrian Bridge), has opened for business.
Common Haus Hall kitchen hours are 4:00 p.m. to 9:00 p.m., Wednesday through Saturday. The second floor "Biergarten" is open for drinks from 4:00 p.m. until 11:00 p.m.
I'll keep my personal thoughts to a minimum, apart from echoing Executive Chef Jonathan Exum's words to LEO's Carolyn Brown:
After a few soft openings earlier (last) week, which included a smaller menu than the current one, Common Haus is now "quietly open," Exum said — technically in another soft opening due to construction work, according to the restaurant's Instagram — but still welcoming customers. Reservations are strongly encouraged.
Here are two informative links to local media coverage of Common Haus Hall.
Inside Common Haus Hall, A New German-Inspired Restaurant Open Now In Jeffersonville, by Carolyn Brown (LEO Weekly; March 30)
Menu offerings include schnitzel sandwiches, sauerbraten, German potato salad, "stadium style" vegan brats, pretzels, leberkäse (fried bologna sandwiches), and Berliners (jelly doughnuts.) The restaurant's menu is slated to soon include a doner burger (a burger made of shaved meat from an upright rotisserie) and a vegan schnitzel.
The News and Tribune's building is just down the street.
Common Haus Hall to open soon in downtown Jeffersonville, by Brooke McAfee (News and Tribune; March 22)
The first floor is a traditional restaurant, which (owner Joe) Phillips describes as "kind of like Grandma's kitchen."
"Those style of Bavarian and German restaurants always spoke to me," Phillips said.
The second floor is modeled after a beer hall. It is a large space with many windows, and it features a long table that serves as a "common table" "to get everyone together after we've been separated for so long," he said.
Previously:
Edibles & Potables: Common Haus, a German-style eatery, coming to Jeffersonville
advertising content
advertising content