Here at Food & Dining Magazine, we receive our fair share of daily e-mail. It's a mystery to me how we ever became subscribed to PR agencies offering breathless descriptions of hotel openings in Dubai, but at least deleting them doesn't result in waste paper.
Among the messages I always try to find time to read are the E-News mailings from Cooking at the Cottage. It's the state's only independent culinary retail store (pay close attention to the 500-strong cookie cutter room), and also offers a full slate of popular cooking classes.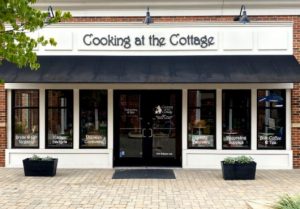 As explained last week in a video at Facebook, Cooking at the Cottage has redesigned its classroom to accommodate social distancing. The web site itself is new, with an easier portal to sign up for classes, and class listings for the remainder of October and November have been updated. Some of the classes at Cooking at the Cottage are hands-on (for instance, a cookie decorating class on October 17th) and others are demonstrations, as on the 19th when Volare Italian Ristorante's chef and owner Joshua Moore drops by to preview his fall menu.
Cooking at the Cottage will celebrate its 10th birthday on November 1. The retail shop is located at 3729 Lexington Road, and the classroom is across the courtyard at 3739 Lexington Road.