For many, the seemingly mundane task of picking out an inexpensive but good wine for a party is fraught with worry. Choosing an extravagant bottle for a special occasion can bring on heart palpitations! How little can we spend and still bring to that big party something that will make us look cool or knowledgeable? If we splurge a bit to impress in-laws, or business clients, how do we know what we choose will be worth the investment?
F&D asked four local knowledgeable wine purveyors to suggest two bottles each that are readily available locally, either for a special gift, or as a reliable value purchase (under $20) suitable for holiday imbibing. We suggested a limit of about $50 for the splurge bottle, but one of two of our experts went a little above that, and gave good reasons.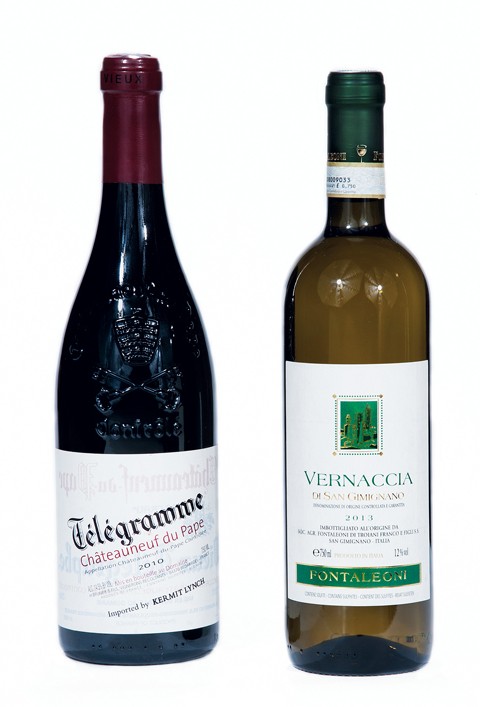 F&D's wine columnist, Scott Harper, who also happens to be a Master Sommelier and manager of Bristol Bar & Grille, Jeffersonville, was the first we consulted. Harper chose a crisp Italian white wine for his value choice. Available locally for between $13.50 and $15, Fontaleoni Vernaccia di San Gimignano is a type of wine made for centuries in one of the great Medieval hill towns of Tuscany. Harper claims that Michaelangelo knew this wine well, and said that it "kisses, licks, bites and stings you" – which Harper emphasized is high praise. Harper also noted that Vernaccia de San Gimignano was the first wine to be classified when the Italian system of appellation control was instituted, a way of ensuring quality of foodstuffs.
Harper described the flavor range of the Fontaleoni as "dry, light, crisp and refreshing, citrusy, with a pleasant minerality. It's a great wine to start the evening with, with appetizers or hors d'oeuvres, and goes well with shellfish, or chicken."
Harper chose for his splurge bottle the Vieux Telegramme 2010, from the Chateuaneuf-des-Papes region. "Wines from the Southern Rhone can be made from up to 16 different grape varieties," Harper explained. "But this one is 100 percent Grenache," a grape not known for big tannins, which cause puckery bitterness. "I love this wine for its cherry and raspberry fruit notes, and hints of herbes de Provence. It's full-bodied and rich, a wine to drink with rib roasts." Though ready to drink now, he said it will continue improving for another 10 years. Harper found both of his bottles at Westport Whiskey and Wine, 1115 Herr Lane, where he thought the Vieux Telegramme was a good value at $47.99.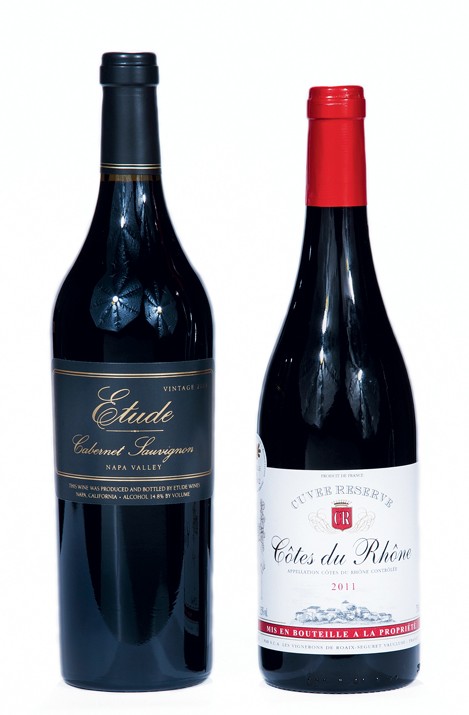 John Johnson's value bottle choice at his shop, The Wine Rack, 2632 Frankfort Ave., is a new selection, La Coterie, which he sells for $9.99. "It's a simple Cote de Rhone, from a co-op" (the kind of place where savvy locals in France buy their table wines) "and I think they over-deliver." Blended from Grenache, Syrah and Cinsault, three classic Rhone valley grapes, this red wine, according to Johnson, is done in typical Cote de Rhone rouge style, with no oak, pure fruit, and not too tart. "It is a light to medium red, with a lot of red fruit (tart cherries and raspberry), with subtle herbes de Provence notes, just a little bit peppery. It is not tannic, with a little acidity, easy to sip on its own. It outshines other bottles in its price range."
For his "show off bottle" Johnson chose something that would be an excellent gift idea for someone special, Etude Cabernet Sauvignon 2009 from Napa. "I went with Etude because so many California wines are released young," Johnson said–there are a lot of 2011 Cabs on shelves now that will need another couple of years to mellow. "But Etude Vineyard does not release wines too young. When it is available to me, it is ready to drink. I like to recommend something that is drinking great now, but will age well too." It is the most expensive pick in this series, selling for $82.99.
Johnson described the Etude as having some good oak, but not too much, with an earthy note that he likes. He detects an herbal quality and an undertone of minerality but also good fruit flavors. It is drinkable now, but there is no hurry–it can age another 10 years. "Also, the vineyard farms sustainably, but the main reason that I am more passionate about this one is its consistency. I have given it as a gift personally to important people. It is always a great wine, and when I sell it, I never have any question that it's not ready or might be too tannic."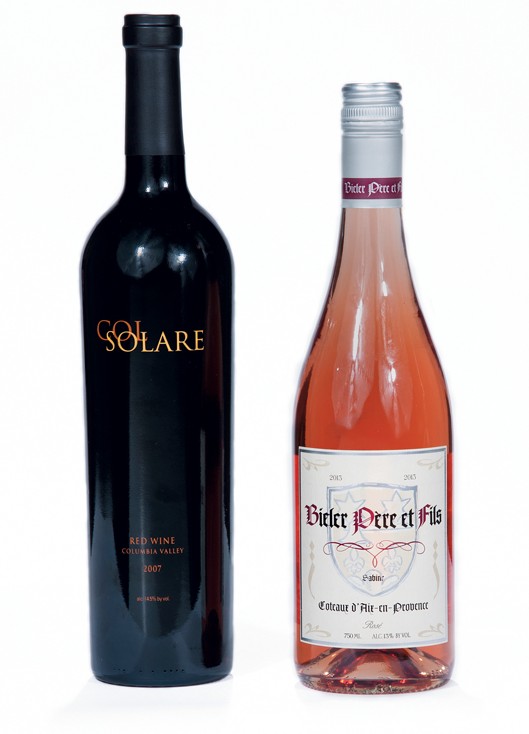 Todd Antz's inexpensive party wine is a French rosé, Bieler Pere et Fils that sells at Antz's Keg Liquors, 617 E. Lewis & Clark Pkwy, Clarksville, Ind., for $12.49. Antz called winemaker Charles Beiler a "rock star" of Provencal winemakers who has a hand in many wines. Antz described it as, "A versatile wine that works all times of the year. It's light and fruity, but not sweet. It can stand up on its own in the heat of the summer, but it is full-flavored enough to stand up to winter time and food. It's right in the middle–a perfect French rosé." It would be a good sipping wine at a party, Antz said, neither tannic nor too dry.
For a celebratory dinner or a gift, Antz chose a Columbia Valley, Wash., red blend, Col Solare, selling for $55.99. Antz called it a "Big Red," meaning a wine with a big body and rich mouth feel, giving a range of satisfactions in the nose and on the tongue. It lingers on the palate, too–all qualities excellent reds provide. "The winemaker is from Tuscany," Antz explained, "so you have a bit of Italian wine making skill with the great grapes that are grown in Washington," in this case, Cabernet Sauvignon, Merlot, Cabernet Franc and a touch of Malbec. In Antz's opinion, European winemakers have a longer tradition of blending grape varieties just right. "Too much Cabernet Franc would really dry the wine out, too much Merlot would make it a little too fruity. This wine shows that Old World ability to take the grapes that are there and blend them into just the perfect wine."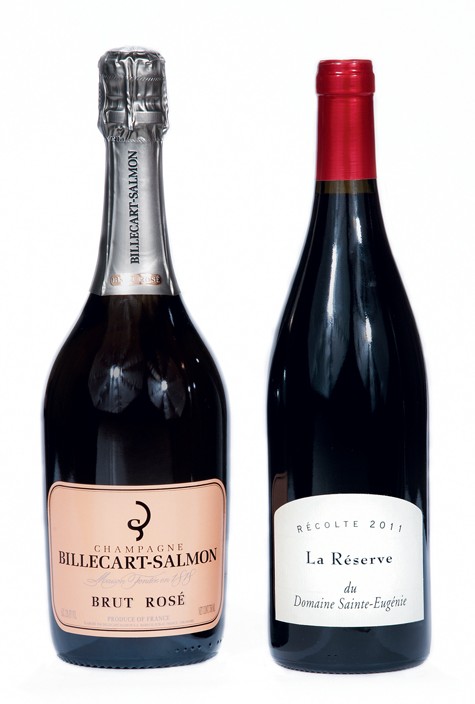 Gordo Jackson at Old Town Liquors, 1529 Bardstown Rd., touted Domaine Sainte-Eugenie La Reserve, a red blend from Corbiere, one of the top wine regions of Languedoc in southern France, which he sells for $15. "Under $20, finding something unique and interesting and truly specific to that part of the world is sometimes difficult," Jackson said. "But this wine totally gets that job done. It is very versatile. It would work with food or without food, which is important, if you bring a wine to a gathering where you don't know what the food is. It is medium bodied, pinot noir-like in weight, but fairly rich. The aroma has notes of chocolate and tobacco, while on the palate it is lighter and brighter with lots of ripe fruit. It will go well with lighter foods, like chicken or grilled and roasted meats, but also with cheese. It would be a good turkey wine."
If you are going to shell out for a really special bottle for holiday celebrating, Jackson would go with a true Champagne, Billecart Salmon Brut rosé, which is $90. "True happiness in a bottle," was Gordo's unabashed appraisal. "It has fruit notes in the aroma–pear and peach, that kind of thing, maybe a little ginger. What is not there is a lot of toast and bread dough, which a lot of Champagnes give off. On the palate is lot of flavor of currant and ginger and fruit, but the finish is bone dry, a lingering dry finish with a pleasant minerality and that gingery aspect." Jackson suggests this is a wine for special occasions. "I think of champagne as a gathering wine," he said, "something to share with friends at a special occasion. This is great for a toast at special parties."