The Louisville restaurant and hospitality industry is suffering immensely from the coronavirus (COVID-19) outbreak. Now's the time to show our support by ordering carryout or delivery from our fine hometown restaurants. Buying gift cards helps immensely, too.
With the assistance of Louisville Tourism staff, Food & Dining Magazine is maintaining a database of restaurants that remain open for carryout service and/or delivery. The list is being updated constantly.
Louisville Restaurants Offering Carryout and Delivery (Updated Frequently)
A little while back writer Heidi Potter described F.A.B.D. Smokehouse (aka Frankfort Avenue Beer Depot and Smokehouse; 3204 Frankfort Ave.) in a barbecue survey at Style Blueprint.
"You can't miss FABD — it's the place with all the meat smokers right on the sidewalk on Frankfort Avenue near Cannons Lane," wrote Potter. "Walkers and runners on Frankfort get a special treat when they pass all the delicious meats being smoked all day. Everything is great here, but two things to try that might seem out of the ordinary are their smoked salmon and their bean soup. Trust us on that! They have a full-service bar, carry-out and catering for any size event. They also have a great mantra: "I didn't claw my way up the food chain just to eat vegetables."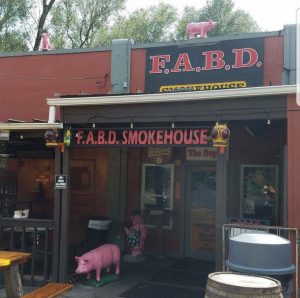 Still "rubbing the best butts" (albeit from a safe distance), F.A.B.D. Smokehouse is riding out the coronavirus paradigm shift with curbside carryout — and the salmon and bean soup are available to go.
Hooked on Frankfort, the Smokehouse's newer sister fish business, also is bagging for takeaway next door at 3202 Frankfort Avenue.