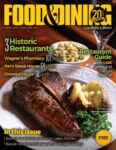 The Spring 2023 issue of Food & Dining Magazine is now available in all the familiar places: Louisville area eateries and food shops, newsstands and online.
A salumeria is a food producer and retail store that produces salumi and other food products. Some only sell foods, while not producing on-site, and some have a restaurant with sit-down service. The salumeria originated in Italy, and dates to the Middle Ages. 
Writing in Louisville Business First, reporter Michael L. Jones introduces Cured Restaurant & Salumeria, owned by Alvio and Elaisy Lapinet, which will be coming soon to NuLu.
Cured Restaurant & Salumeria to open near NuLu
A combination restaurant and salumeria, a European style meat shop, is coming to the edge of Louisville's NuLu neighborhood this summer.
Cured Restaurant & Salumeria is being launched by the husband-and-wife team of Alvio and Elaisy Lapinet, who are both natives of Cuba. The business is slated to open at 633 E. Main St., in the Main & Clay apartment building, in June. The 2,400-square-foot space was previously occupied by the International Tap House.
Jones quotes Elaisy Lapinet: "The concept is basically, you can sit down to eat and if you really like something, we have a retail side where you can purchase it…the meat comes from Kentucky. It gets processed in Kentucky and it gets cooked in Kentucky. We want to tell that story in the restaurant."