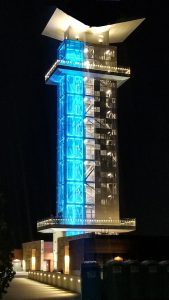 Summer is on its way in, and with it comes the inevitable vacations. Sometimes you can't get away for the ideal cruise or extended outing, but there are plenty of options for short day trips from Louisville that are sure to satiate your appetite for both an escape and good food. For example, Cincinnati is just an hour and a half away and has plenty of dining options, especially in the trendy Over The Rhine (OTR) area, which boasts over 55 restaurants, 20 bars, Cincinnati Music Hall and Washington Park where you can relax.
One of the restaurants featured there is SENATE, a lively and comfortable restaurant and pub at 1212 Vine St. that offers a variety of delicious bites, which also has a second location I visited in Blue Ash at Summit Park, 1100 Summit Park Dr.,where a variety of events and concerts take place over the summer. Across a field, there is an 11-story observation tower where you can step out of the elevator to the external observation deck and look out over the park and much of Cincinnati (Interesting during the day, sure,but at night the tower is lit up neon blue and you can look out over the twinkling city lights).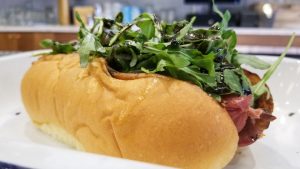 Notably, the menu offers a selection of gourmet hot dogs, which aren't every day franks; they're 100% beef dogs and served on toasted various types of buns. The dogs include eight dazzling variations like the Lindsay Lohan that certainly offered lots of intriguing flavor with "goat cheese, caramelized onions, bacon, arugula, balsamic & tons of drama" and the Trailer Park with applewood bacon, american cheese, coleslaw and crushed Grippos.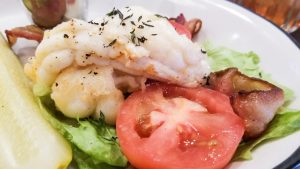 If those toppings don't present a delectable enough temptation, consider their Lobster BLT, Hawaiian Tuna Poke Bowl, or Sweet Potato Falafel Tacos. And while I've often found truffle fries on the menu in Louisville, I was here introduced to the wonder that is duck fat fries (with harissa aioli). These savory little marvels were perhaps the most perfectly prepared fries I've ever had with just the right amount of crisp to them. It can be so hard to find such a perfect balance of crisp exterior and softness within. I felt like a craving I've had for a long time had just been satisfied.
If you like beef, you can go high dollar with The $30 Wood Grilled Dry Aged Ribeye (evidently a bargain at $25) or lower with their locally sourced burger at $13.There are some common appetizers like potato skins or oysters, but more interesting are roasted marrow bones, poutine or BBQ Pig Tails (coca cola braised pig tails, chipotle citrus bbq sauce,sesame seeds & scallion).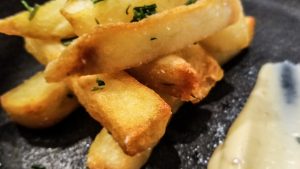 But what I quickly learned as I sat sipping my delicious Fidel Castro (O.K.I. Bourbon Barrel Aged Spiced Rum, maple syrup, angostura bitters, burnt orange) was that almost everyone in the restaurant had a huge bowl of Mussels Charmoula in front of them.
"The absolute best up and down the East Coast," the gentleman next to me said. "It's their sauce. It's a saffron sauce, and it's hard to beat."
Next he showed me how you have to eat them for maximum enjoyment. I dipped the accompanying bread into the spicy sauce, put a de-shelled mussel on it and took a bite. He was so right. It was amazing. Then Manager Ryan Caton told me that others prefer to use the shell to dip the sauce and …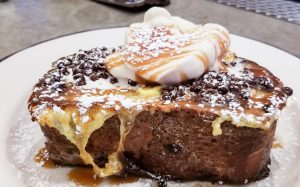 "Slurp without shame?" I asked.
"You got it."
I've become a big fan, and if you are the type to get a little homesick while away, even for a day, you can just indulge in their Bourbon and Chocolate Bread Pudding for dessert.
However, if you can't get away and want to bring a bit of my day trip to your doorstep, including the recipe for that magical sauce, you can order SENATE the cookbook from Amazon and enjoy over 160 recipes from SENATE Chef/Owner Daniel Wright.