[adrotate group="3"]
It's an "Afternoon Archive" when we thumb through past print editions of Food & Dining Magazine and take another look. In this pandemic-mandated period of social distancing, one can't help noticing how socially communal our output has been over the years. However, these ideas, recipes and narratives play just as well for a party of two as a crowd of twenty. Adjust and enjoy, as with this consideration of brunch by Ron Mikulak.
—
The weekend brunch.
(Originally published in the Summer 2018 issue of Food & Dining)
Has the weekend brunch really become overwrought, over-hyped and excessive? Is going out on Saturday or Sunday morning no longer worth fighting the crowds, making the scene, facing one more eggs Benedict? Try staying home instead, inviting friends over, and hosting a pleasant weekend morning get-together yourself. Prepare-ahead dishes make entertaining this way hassle-free, and tasty.
Brunch — the weekend late-morning-stretching-into-early-afternoon restaurant dining experience — is suddenly becoming a bone of contention. Has the lazy conviviality of a leisurely, filling meal that straddles the traditional dining options of breakfast and lunch become a mandatory social experience carrying exaggerated expectations, a disappointing dining experience, and an aggravation for chefs and servers?
Those contentions fuel at least the title and the kick-off argument of "Brunch is Hell: How to Save the World by Throwing a Dinner Party," a much-touted book last holiday season. The authors, Brendan Francis Newnam and Rico Gagliano, draw on the ideas they float in their public radio show "The Dinner Party Download." They often make an argument for the civilizing and maturing effects of hosting well-thought-out home dinner parties, which they fear is a dying art but one worth reviving. The podcasts of their show have been much downloaded, they have been judges on food television shows, and they've been named as "Big Food Thinkers" by Food & Wine magazine.
They are also wise-asses who build interest in their book on dinner parties by denigrating brunch, which they call "not merely a forum for over-priced eggs, [but] a leisure-time-squandering hellscape, embodying all that is soul-killing and alienating about modern life."
Others have jumped on the down-with-brunch bandwagon: industry professionals moaning about having to work an understaffed morning service mere hours after a late-night dinner shift; impatient coffee-desperate patrons grousing about hour-long waits to be seated at popular restaurants where they want to be seen; and line cooks desperately poaching egg after egg while fearful that their hollandaise sauce is breaking.
There are certainly many restaurants in Louisville that offer brunch. It is possible to find a brunch place that will seat you without an egregious wait, that will serve a menu not stuffed with brunch clichés, or that will provide a relaxing atmosphere. Perhaps all the above objections are based on the experience in larger cities with restaurants striving for trendy notice rather than providing an honest dining experience.
DIY brunch is not trendy, but it makes for a good party.
But, if you are finding that going out to brunch is starting to pall but still want to have a sociable weekend, step away from the hassle of the restaurant brunch and invite a handful of friends to your place for a homemade brunch — a truly companionable meal and not at all hard to pull off easily with the mostly make-ahead dishes offered here.
Spring in the Ohio Valley is a great time to invite friends over for brunch. If you have a deck or patio, a late-morning weekend meal is an excellent opportunity to enjoy the warmth of the morning sun and the freshness of spring breezes. You can get all the prep work done the night before with some recipe ideas that allow you to cook three tasty courses in just one pan each. Just a few easy minutes in the kitchen after your guests arrive will allow you to impress your them with your culinary savvy.
Brunch is also a fine way to prepare for an afternoon at the track. Outside of the frenzy of Derby time, spending the afternoon with two other couples in a shady box seat at the Downs after a leisurely morning meal, good coffee and maybe a mimosa or Bloody Mary (or two) is one of the delights of living in Louisville.
---
Tomato and Spinach Strata
(Serves 6)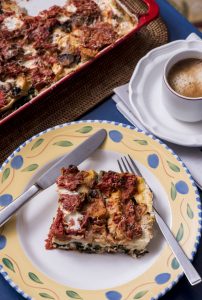 Stratas are among the gems of Italian cucina povera – the kitchen of the poor. What to do when all you have is some stale bread, leftover pasta sauce and a few eggs? Well, you throw in a few handfuls of spinach as you heat the sauce, slice the bread thinly, layer the vegetable-enhanced sauce with the bread laid in layers, sprinkle some cheese over each layer, beat the eggs and pour them over it all, letting the eggs soak through the bread. Bake the casserole until the cheese melts, the eggs set, the sauce bubbles, and you end up with a satisfying main dish.
You can certainly use a commercial tomato or pasta sauce here, but making your own from canned tomatoes is not difficult or time-consuming. If you must have some meat in your breakfast, sauté a half-pound or so of Italian sausage and add it to the sauce. The bread used here can be supermarket deli Italian bread or better quality ciabatta.
Tomato sauce
1 tablespoon olive oil
1 onion, peeled and chopped
2 cloves garlic, peeled and minced
1 16-ounce can diced tomatoes
1 16-ounce can crushed tomatoes
1 bay leaf
½ teaspoon dried basil or oregano
2 tablespoons parsley, minced
Salt and pepper to taste
In a saucepan, heat the olive oil until shimmery. Add the onions and sauté until softened, 5 minutes or so. Add garlic and continue to cook another 2 minutes, stirring. Add tomatoes, bay leaf and herbs. Bring to a simmer and cook until thickened a bit, 20 minutes or so. Remove bay leaf. Taste. Adjust seasoning with salt and pepper and fold in parsley.
Strata
1 tablespoon olive oil, divided
2 onions, peeled and chopped
½ pound mushrooms, trimmed and sliced (about 2 cups)
Salt and pepper
1 pound small curd cottage cheese
1 10-ounce package frozen chopped spinach, thawed and squeezed very dry in a clean towel
¼ teaspoon ground nutmeg
1 loaf of Italian bread, sliced ¼-inch thick
4 ounces mozzarella, sliced thinly
4 eggs
1 cup milk
¼ cup grated Parmesan cheese
Chopped parsley for garnish
Lightly oil an 8-by-12-inch 2-quart baking dish and set aside.
In a skillet, heat the oil until shimmery. Add onions and mushrooms and sauté, stirring, until onions are softened and mushrooms lightly browned. Remove to a bowl and season with salt and pepper.
Line a bowl with a doubled thickness of cheesecloth and spoon the cottage cheese into the cheesecloth. Gather up the sides of the cloth into a bag and gently but firmly squeeze out as much moisture as you can from the cottage cheese. Discard the liquids. In another bowl, combine the cottage cheese and the squeeze-dried spinach, seasoning with nutmeg, salt and pepper.
Spread a thin layer of the tomato sauce on the bottom of the baking pan. Lay half of the bread slices over the sauce. Spoon a layer of spinach and cottage cheese mixture over the bread, top with another layer of sauce. Place another layer of bread on the sauce, and top with the mushroom mixture. Top the mushrooms with the sliced mozzarella and another layer of sauce.
In a bowl, whisk together the eggs and the milk. Slowly pour the egg mixture over the strata, poking down through the layers with a butter knife so the eggs can soak through thoroughly. Make the strata absorb as much of the egg mixture as possible without overflowing the pan. Cover and refrigerate overnight.
Heat oven to 375 degrees. Let strata rest at room temperature for 20 minutes. Bake strata, uncovered, for 40 minutes. Sprinkle with grated Parmesan, and bake 10 minutes more until puffed and golden. Let stand 10 minutes or so. Sprinkle with parsley. Serve hot or at room temperature.
---
Apple cobbler
A fruit cobbler is a simple make-ahead dessert. The version I suggest results in a sort of fruit pudding; indeed, I have a traditional persimmon pudding recipe that follows the technique of this so-called "creeping cobbler" (a name that describes how the batter rises up and creeps over the fruit filling as it bakes). Remember this adage: the butter on the bottom, the batter on the butter, and the fruit on the batter.
I have made this dessert with peaches and blackberries as well; use what is in season and available. I like to make this in a deep dish, like a soufflé dish, but you can use a shallow 8-by-12-inch baking pan if you wish. You can gild this lily with heavy cream, crème fraiche or ice cream, but I like it plain.
3 tablespoons butter for sautéing apples
4 cups apples, peeled, cored and sliced
½ cup raisins
¼ cup brown sugar
¼ teaspoon cinnamon
1⅛ teaspoon nutmeg
¼ pound (1 stick) butter, melted
1 cup flour
1 cup white sugar
2 teaspoons baking powder
1 teaspoon salt
½ cup milk (or a bit more if needed)
Melt 3 tablespoons butter in a skillet until it sizzles. Add the apples, raisins, brown sugar and spices. Sauté over medium heat, stirring, until apples soften and are nicely coated with sugar and spice. Set aside.
Heat oven to 350 degrees.
Pour ¼ pound melted butter in the bottom of the baking dish. In a bowl, mix together the flour, sugar, baking powder and salt. Stir in the milk to make a thick batter. The batter should be pourable but thicker than pancake batter. Add more milk a tablespoon at a time if too thick to pour with the help of a spatula. Pour or spoon the batter over the butter. It will mostly fall to the bottom. Do not mix the two together. Spoon the apple mixture evenly over the batter. Place cobbler in oven, and bake about 50 minutes until the batter has risen over the apples, turns nicely brown and the darker edges of the cobbler pull slightly away from the sides of the baking pan. Test with a toothpick or skewer in the middle, and bake another ten minutes or so if needed. The top of the cobbler will fall in on itself as it cools. Serve by spooning into serving dishes.
---
Dutch Baby
(Serves 6)
Dutch babies are one of my favorite brunch dishes for several reasons: the oddity of the name (in which "Dutch" is likely a corruption of deutsch, German; it is similar to a German popover-style dish); the fact that the way the batter rises in the oven is different every time; the rich, sweet eggy texture of the pancake; and the recipe's adaptability to a range of seasonal fruits. It's deliciousness by itself that belies the awkwardness of the way the pancake looks in the pan. This is the only dish here that is made at the last minute, but a blender pulls the batter together quickly, and it needs no tending once in the oven.
This dish always works great and looks great if made in a cast-iron skillet. You can also use a Pyrex glass pie pan. If you want to add fruit, feel free. Perhaps peel and slice a crisp apple and sauté in the butter before you add the batter. Bake as directed. If you want to use blueberries, toss them with the lemon sugar and add after the pancake is baked. Peaches or pears work nicely, too. Sauté in butter before adding the batter.
⅓ cup sugar
2 teaspoons grated lemon zest
3 large eggs at room temperature 30 minutes
⅔ cup whole milk at room temperature
⅔ cup all-purpose flour
¼ teaspoon pure vanilla extract
⅛ teaspoon cinnamon
⅛ teaspoon grated nutmeg
⅛ teaspoon salt
½ stick (4 tablespoons) unsalted butter, cut into pieces
Put skillet on middle rack of oven and heat oven to 450 degrees. Stir together sugar and lemon zest in a small bowl. Set aside. In a blender or food processor, combine eggs, milk, flour, vanilla, cinnamon, nutmeg, and salt and blend until smooth. The batter will be relatively thin.
Add butter to hot skillet and melt, swirling to coat. Add batter and immediately return skillet to oven. Bake until puffed and golden-brown, 18 to 25 minutes. Sprinkle lemon sugar on evenly when still hot, and serve immediately. Some might want syrup, but none is needed.
---
Blood Mary Station
Set out a pitcher of basic tomato juice or Bloody Mary mix, along with Bourbon (or vodka) and any or all of the following garnishes:
Horseradish
Steak sauce
Finely grated Parmesan or blue cheese
Celery salt and celery ribs, trimmed
Pickled mushrooms
Pickled asparagus spears
Pickled string beans
Pickled green tomatoes
Olives stuffed with garlic or blue cheese
Cooked and peeled shrimp
Hot sauce
Jalapeño peppers
Pepper flakes
Balsamic vinegar
Lemon and lime wedges

Our favorite Bloody Mary recipe
In a glass with ice, add:
1½ ounces Old Forester Bourbon
5 ounces Bloody Kentucky Mix
Squeeze of lime
Bloody Kentucky Bloody Mary Mix is available online, at Evergreen Liquors and Taste of Kentucky. F&D