Originally published in the Winter 2015 issue of Food & Dining Magazine.
The holidays call for celebratory dishes, special occasion favorite foods which evoke wonderful sights and aromas when getting together with family and friends. Everyone has a special occasion or "favorite foods" that bring back the memories of past gatherings and happy times. Food & Dining invited some well-known local chefs from a variety of backgrounds to come to our house to share some of their favorite celebratory dishes. We had a delicious feast and loved hearing the history of the dishes on the next few pages and why they were special to each person. We know you will enjoy their creations and maybe even use some of them to start new traditions of your own.
Kathy Cary – Lilly's, La Peche
Kathy Cary finds this beef Bourguignonne recipe ideal for her own enjoyment of a holiday party. "When I have people over," she said, "I like to enjoy visiting with them myself, so I want to serve something that doesn't require a lot of last-minute prep. You can do this dish ahead, it is easy to scale up to large quantities if you have to and the house smells really good all day long. It's a dish that is friendly toward young kids, and that adults like, but is not something that a lot of people want to go through the trouble of preparing. It's very welcoming and goes well with red wine. And I have never found anyone that doesn't like creamy pasta." It is hard to find better reasons than that.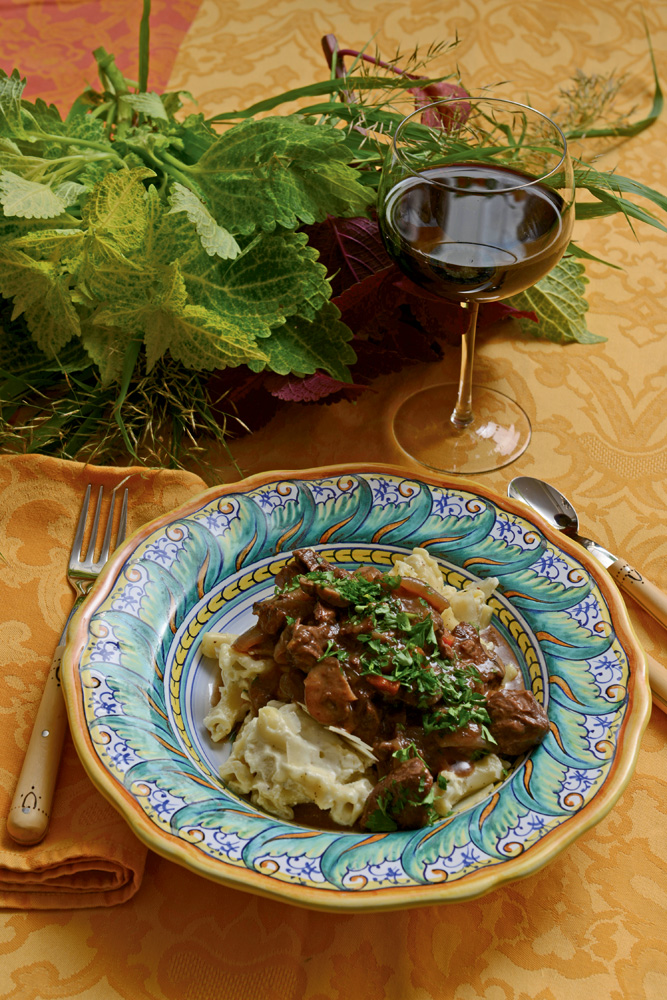 Beef Bourguignonne (Serves 6)
1/4 pound bacon, chopped
1 quart onions, peeled and coarsely chopped
1 1/4 pounds beef chuck, cut into 1-inch chunks
3/4 cup chopped carrot
1 large clove garlic, peeled and minced
1 small bay leaf
1 teaspoon fresh thyme, chopped
2 cups Burgundy wine
1 1/2 cups beef stock
3 tablespoons tomato paste
1/2 pound mushrooms, sliced
Chopped parsley, for garnish
In a large heavy pot with a lid, sauté the bacon until crisp. Remove the bacon, leaving the rendered fat. (Reserve bacon for other use, or eat it – chef's treat.) Add onions to pot and sauté until golden and beginning to soften, then remove and reserve until later. Add the beef and sauté until nicely browned, turning often to brown all sides. Add carrots, garlic, thyme, bay leaves, wine, beef stock and tomato paste. Bring to boil, then turn heat down to simmer and cook slowly, partly covered, for 45 minutes, or until a picnic fork stuck into the meat comes free without lifting any chunks. Add mushrooms and onions and simmer for another 15-20 minutes. Serve with chopped parsley.
Campanelle Pasta (Serves 6)
1/2 pound campanelle pasta
1/2 tablespoon olive oil
1 1/4 cups heavy cream
2 ounces (4 tablespoons) unsalted butter
5 ounces cream cheese
Salt and pepper to taste
Grated Parmesan cheese
Cook pasta in boiling salted water for 10 minutes, until al dente. Drain and rinse. Toss with olive oil. In a sauce pan heat the heavy cream, butter and cream cheese, salt and pepper. Whisk until smooth. Toss with pasta. Top with Parmesan cheese.
Peng Looi – Asiatique
Peng Looi's Chinese family lived for four generations in Malaysia, a land that absorbed food traditions of the many cultures of Southeast Asia. Looi explained that on festive occasions, which celebrate the wholeness of life, families traditionally cook whole fish, ducks or chickens, symbolic of the fullness and wholeness they are celebrating. The soy-braised chicken that he offers here is one such dish that can be made with a whole chicken. But it can also be made with chicken parts such as leg quarters, thighs or bone-in breasts. Braised soy chicken is a fine do-ahead dish, as almost all braised dishes are – once done, they can be held at low temperatures for quite a while, if guests are late. Looi adds that the baby bok choy is a rich-tasting yet delicate side dish, that is easy to make at the last minute, looks great on the plate and goes well with the soy braising liquid.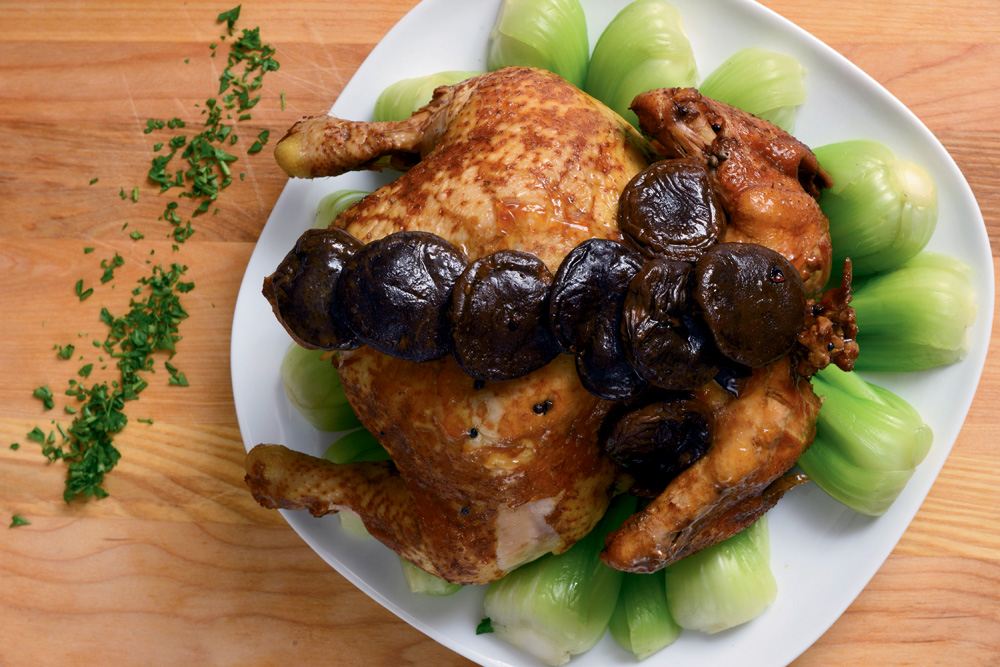 Braised soy sauce chicken (Serves 8)
1 cup low sodium soy sauce
2 cups water
1 cup rice wine
3 pound whole chicken (or use 3 pounds of chicken wings, drumsticks and chicken breasts)
6 pieces dried shiitake mushrooms
1 3-inch piece of fresh ginger, peeled and thinly sliced
5 cloves garlic, peeled and thinly sliced or smashed
1 cinnamon stick
1/2 teaspoon Sichuan peppercorn
3 pieces star anise
3 tablespoon rock sugar or regular sugar
2 pounds baby bok choy, washed
In a large pot, bring the chicken, soy sauce, water and rice wine to a boil over medium heat. Reduce to a gentle simmer: the liquid should bubble very slowly.
Add the dried shiitake, ginger, garlic, and cinnamon, Sichuan peppercorn, star anise, and sugar. Allow the chicken to simmer for 25 to 30 minutes, depending on the size of whole chicken, or up to an hour if you want falling-off-the-bone tenderness.
In the meantime, blanch the baby bok choy. Bring a pot of water to a boil. Add the bok choy and blanch for 1 minute. Remove and transfer vegetable to an ice-water bath. When cool, strain to remove excess water. Cut each head of bok choy in half.
Ladle the chicken and sauce into a deep platter. Garnish with blanched baby bok choy and, Looi said, "prepare to enjoy some aromatic and succulent chicken."
John Castro – Winston's
As one of the teaching staff at Sullivan University's culinary program and the executive chef at Winston's, John Castro has to be fluent in the language of many cuisines. But when he wants to celebrate, he turns to the Filipino dishes of his youth. Lumpia are a type of egg roll that plays on characteristic Filipino flavors.
The pancit sotanghon must be made at the last minute, but like almost all stir-fried dishes, it comes together very quickly. The key is to have all ingredients ready before you turn the heat on under the wok. Note that the meats and shrimp are all cooked beforehand, and merely reheat in the stir-fry.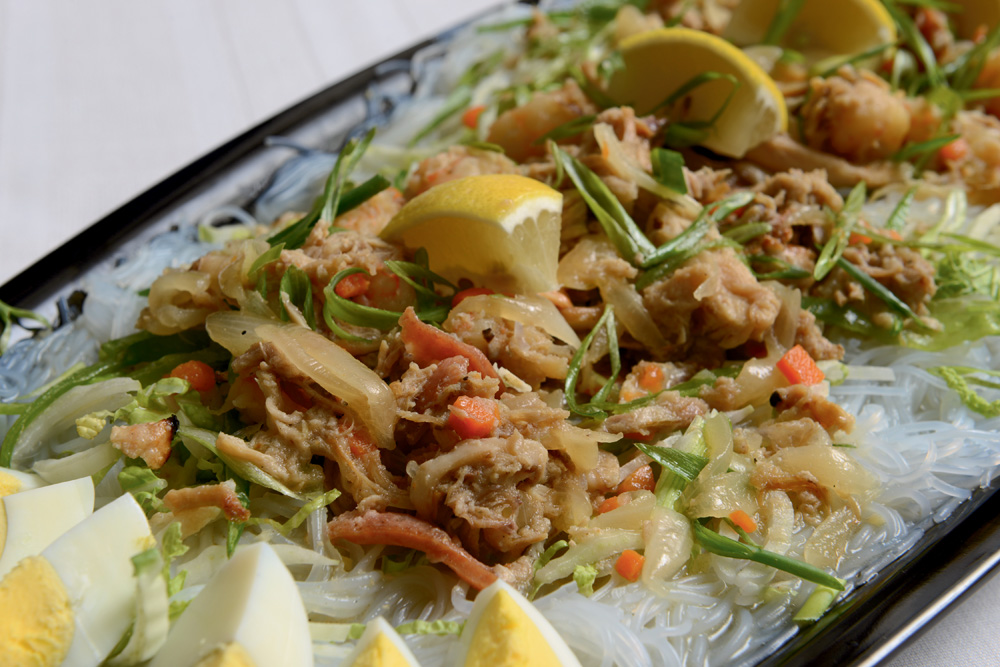 Pancit Sotanghon (Serves 8-10)
1/2 pound mung bean threads or rice noodles, rehydrated in 110-degree water until softened
1/2 pound roasted or grilled chicken meat, sliced
3 links shredded Lap Cheong Chinese garlic sausage (see note)
1/4 pound roasted pork cut into thin slices
1/4 pound shrimp, 25¬30 count size, cooked, chilled, shells and tails removed
1⁄4 cup peanut oil
1 medium onion, peeled and sliced into julienne
1⁄4 cup carrot, diced
1 cup Napa cabbage, sliced thin
8 shiitake mushrooms, julienned
1⁄2 cup snow peas, julienned
1 tablespoon Patis Filipino fish sauce
2 cups chicken stock
1 tablespoon soy sauce
1 large pinch white pepper
1 teaspoon minced ginger
1 teaspoon minced garlic
Hard-boiled egg, chopped, for garnish
3 scallions, sliced on the bias, for garnish
Slice or wedge of calamansi (Filipino lime) or lemon for garnish
Note: Chinese sausage can be found in Asian markets.
Remember: have all ingredients cut, sliced, chopped and measured before you begin.
Heat oil in a large sauté pan or wok until quite hot but not smoking. Add the onion, carrot and mushrooms and cook for 30¬40 seconds, stirring often, then add the ginger and garlic and cook for 15 seconds more, stirring around. Add the pork, chicken, sausage and shrimp and cook, stirring, until warmed through, 1 or 2 minutes. Add the chicken stock and soy sauce and allow to come to a simmer, then add the Patis and white pepper, snow peas and noodles and cook for an additional 1 to 2 minutes. Remove from heat and place on platter. Garnish with calamansi or lemons, hard-boiled egg and scallion.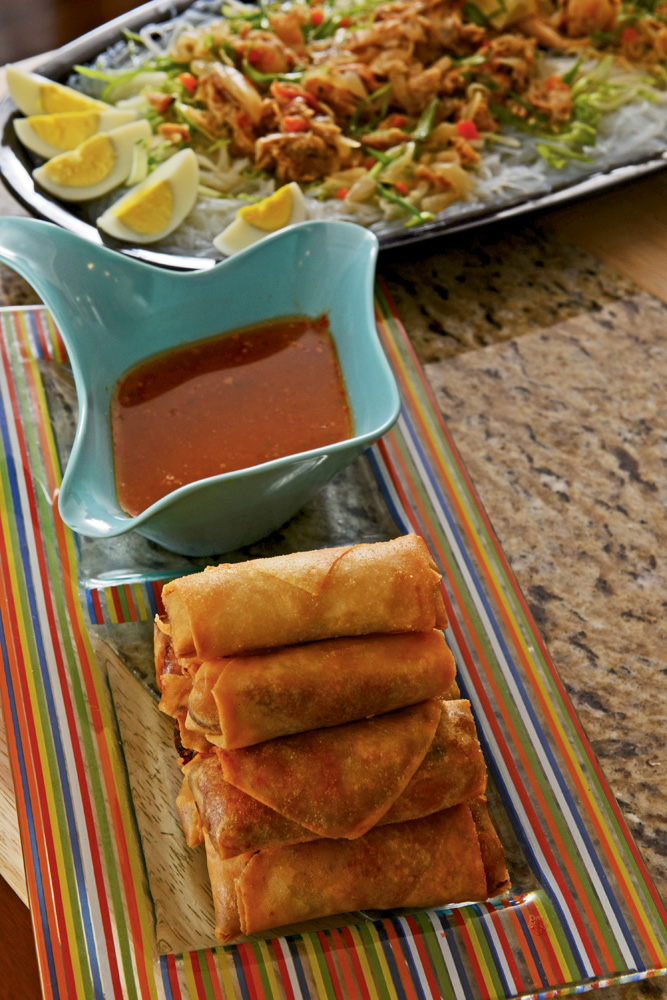 Lumpia Shanghai (Serves 8-10)
1 pound Chinese sausage (see note above)
1 pound ground beef
1 bunch scallions
1/2 cup shallots, peeled and chopped
1/2 cup carrot, scraped and cut into julienne
1-inch knob ginger
4 garlic gloves, peeled and minced
2 teaspoons black pepper
1 tablespoon soy sauce
1 package egg roll wrappers
1 egg beaten with one tablespoon water
Place the Chinese sausage in a food processor and pulse until it's the same consistency as the beef. Remove the sausage and pulse the scallion, shallot, garlic, ginger and carrot the same way. Place everything except the wrappers in a bowl and mix to combine.
Place an egg roll wrapper on a work surface with the points of the wrapper pointing up and down and the sides pointing out, in a diamond shape. Place 2 tablespoons of the filling mixture into the center of each wrapper. Roll the bottom of the diamond up and tightly over the filling once, fold in the side points of the diamond, then continue rolling tightly into a cigar shape. Seal the seam with an egg wash. Repeat until filling is used up. Fry lumpia rolls in 350-degree oil until golden brown. Drain and serve.
Bruce Ucan – Mayan Café
When festive occasions arise in The Mayan lands of Mexico today, Bruce Ucan said, aunts and uncles return to their home villages, the time for feasts different from day-to-day eating. The recipes he offers are seasonal in Mexico – pigs are slaughtered in the fall, and that is when pumpkins and beans ripen. Both the cochinita pibil and the tok-sel that Ucan offers are dishes that Mayans wait for all year.
Cochinita pibil is a classic Mayan pork dish that can be made well ahead of party time – cooked the day before, refrigerated and reheated, or started in the morning and left to braise very slowly for most of the day. The meat is then pulled into shreds and guests can help themselves at the table, piling the meat onto tortillas and topping them with a long-cooked green tomato, onion and chili relish, or sautéed cabbage or pickled onions.
No one, apparently, can get enough of the tok-sel (Mayan lima beans) that has become a signature side dish in Bruce Ucan's restaurants. It is a side dish that he even throws together for holiday parties.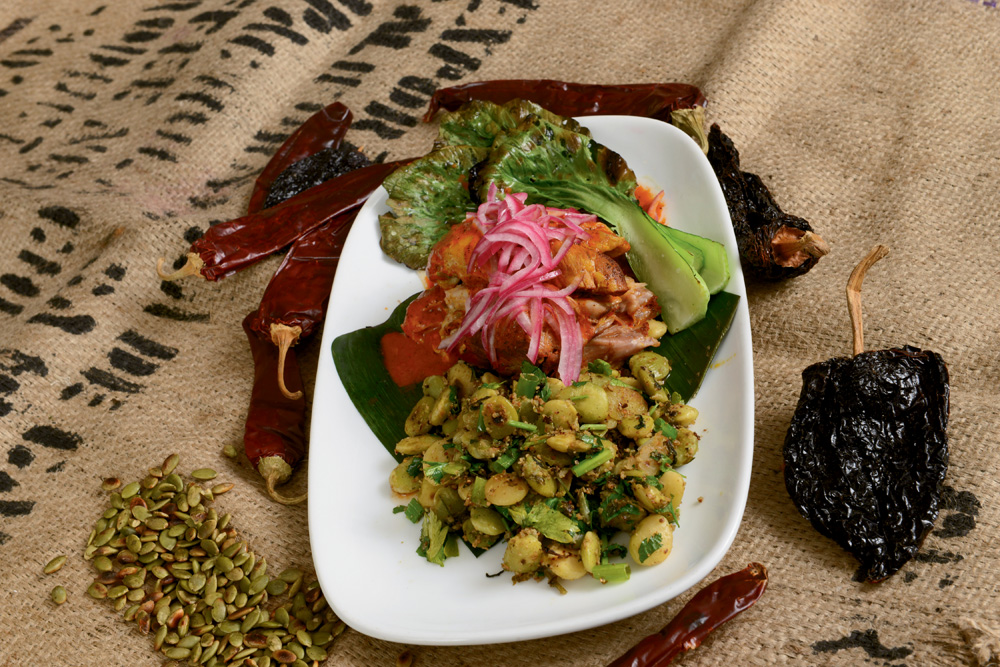 Cochinita pibil (Serves 8)
4 pounds Stone Cross Farm pastured pork shoulder/Boston butt
3 ounces (6 tablespoons) achiote paste (see note)
1/2 cup fresh lemon juice
1 cup fresh orange juice
Salt & pepper to taste
1 ounce (2 tablespoons) oregano
4 cloves of garlic
1/2 medium red onion, peeled and chopped
1/2 cup white vinegar
8 cups water
Note: achiote paste is available in Latin groceries and in the ethnic food aisle of ValuMarket.
Preheat oven to 350 degrees. Cut pork shoulder into large cubes (3 inches or so square) and place in a deep, heavy pan with a lid.
Split all the other ingredients in two parts and blend each part in a blender, then combine (this is to avoid overloading the blender). Pour juice and spice on top of the meat in the pan until it barely covers the meat. Place aluminum foil on top of pan, then put on the lid. Place in oven and cook for 3 hours, or until a picnic fork stuck into the meat comes right out without lifting any chunks of meat. Shred the pork by holding chunks on a cutting board with a fork and pulling meat into shreds with another fork. Serve moistened with the cooking juices.
Tok-sel lima beans (Serves 4)
If frozen limas are used, they will have to be defrosted. If you use fresh limas, blanch them for 1 minute, then rinse and dry. All the ingredients should be ready to go since this is a quick process, similar to using a wok.
1 tablespoon sesame oil
1/2 pound fresh or frozen Fordhook lima beans
1 bunch green onions, chopped fine
1/2 bunch parsley, minced
Salt to taste
6 ounces roasted pumpkin seeds, ground in a blender
Lime juice to taste
Preheat oven to 350 degrees.
If using fresh beans, blanch them in boiling water for 1 minute, then rinse and dry. If you use frozen beans, defrost.
Roast the pumpkin seeds in the preheated oven, then grind them (medium to fine) in a food processor.
Put the sesame oil in a large skillet on medium heat. When the oil starts smoking, add the lima beans first. Sauté them, stirring or tossing, until they are brown and roasted.
Add the sliced green onions, parsley, salt and ground pumpkin seeds and sauté for another minute. Add lime juice and serve.
Tim and Lori Laird
You know it's a special occasion when we pull out the soufflé dish! Soufflés are a delicious dessert to serve at any celebration, especially during the holidays. They are slightly high-maintenance as they need to be made at the last minute and served directly from the oven, before they have a chance to deflate. Fortunately, they can be made very quickly with very few ingredients and are well worth the effort. The soufflé dish, a ceramic or glass dish with tall, straight sides, is usually greased and then dusted with sugar to help the batter "climb" the sides of the dish. The perfect accompaniment is a glass of Korbel California Champagne, served in a white wine glass, garnished with raspberries.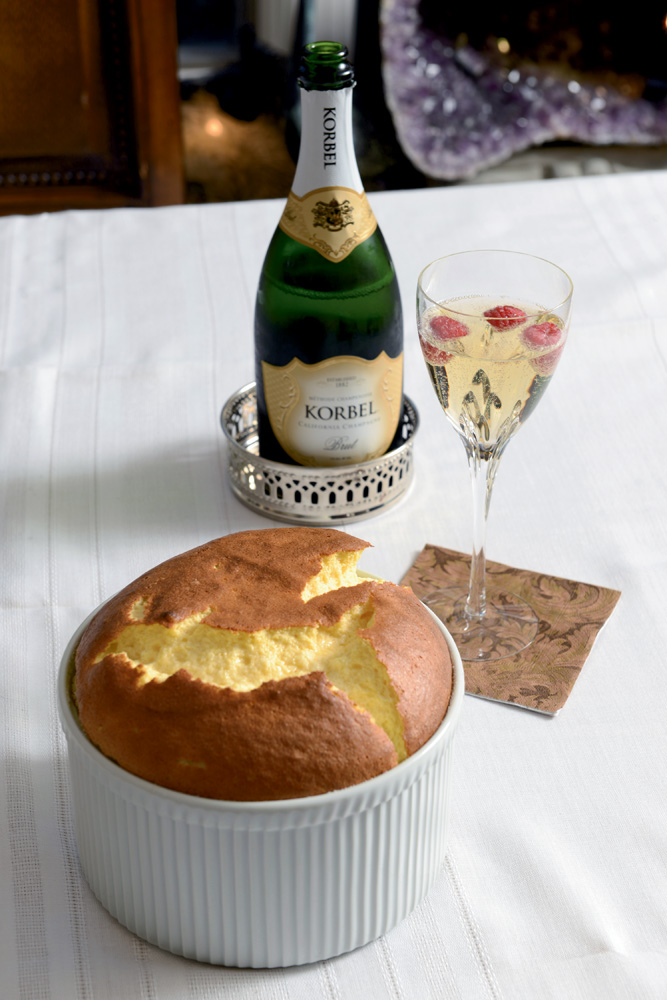 Tuaca Soufflé (Serves 6)
10 eggs, separated, at room temperature
2/3 cup sugar, plus more for the dish preparation
½ cup Tuaca Italian liqueur
¼ teaspoon cream of tartar
Butter
Preheat oven to 400°F. Lightly butter an 8-inch soufflé dish and dust with sugar. In a small bowl, lightly beat 8 egg yolks (save the remaining 2 yolks for another use). Add the yolks and sugar to the top of a double boiler and place over boiling water. Beat the mixture until it forms a broad ribbon, then add the Tuaca. To stop the cooking, transfer the mixture to a bowl, place it on top of a bowl of ice, and beat it until cooled.
In a large bowl, beat 10 egg whites until foamy. Add the cream of tartar and continue to beat until stiff but not dry. Fold the egg yolk mixture into the whites. Mound the mixture in the prepared soufflé dish. Run a thumb around the inside rim of the dish to keep the soufflé from sticking and help it to rise. Bake for 12-15 minutes, until firm, and serve immediately.