When we throw a Derby party, we think big. We have been collaborating for our Easy Entertaining parties with local chefs for over 10 years, and they have given us many great food ideas. But this past year was truly a time for the rest of the world to know what we have known for a while — Kentucky chefs can cook with the best. Kentucky chefs have proven this by appearing on — and sometimes winning — competitive cooking TV shows like Chopped, Top Chef, Food Network Star and MasterChef.
When we went through the roster of local chefs who have made their mark under the bright lights of TV studios, enduring the near-impossible time constraints of cooking competitions, we got the idea for our Derby party this year. We invited three chefs who have competed on Food Network's Chopped, a timed contest in which the competing chefs are presented with a basket of ingredients in each of three rounds.

A look behind the scene of "Easy Entertaining" Photo Shoot
---
Our chefs were Josh Moore, chef and co-owner of Volare, 2300 Frankfort Ave; Peng Looi, chef and partner in August Moon, 2269 Lexington Rd.; and Madeleine Dee, chef and owner of Fond, 2520 Frankfort Ave. We asked a fourth chef, David Danielson — Executive Chef at Churchill Downs and Owner of Old Stone Inn in Simpsonville, who has multiple television credits and knows a thing or two about Derby Food — to create the basket of ingredients based on local Derby time ingredients.
Chef Danielson's baskets held a bottle of Old Forester Bourbon, Finchville Farms country ham, Kenny's Farmhouse Cheese, sorghum, mint, oysters, Derby-Pie®, and Modjeska candies (invented right here in Louisville). We challenged the chefs to make two dishes using at least two of the basket ingredients (and whatever else they needed from a basic pantry). One of the dishes needed to be their own interpretation of a classic Derby dish.
We skipped the Chopped-style time limits, and we joined in the creative challenge by using ingredients from the basket to devise a cocktail that would pair well with their dishes.
Chef Moore was inspired by the country ham and Kenny's Cheese in the basket and used them to create pasta with country ham, kale and carrots.
"At Derby time, kale and carrots are coming into season, and they make a beautiful dish with all the colors," Moore explained. He used Kenny's Asiago cheese for a light wine and cheese cream sauce for the pasta.
Moore decided to be postmodern and "deconstructed" the classic Derby-Pie®. "I cut it into Graham cracker-sized squares, sandwiched a Modjeska between the slices, toasted it, and finished the dish with a bourbon chocolate sauce made with Cellar Door bittersweet chocolate and the Old Forester Bourbon in the basket," Moore said.
Peng Looi drew on his Malaysian culinary roots and his long tenure here in Louisville to fuse the two traditions by making a ubiquitous Asian street food — steamed buns filled with shredded braised pork belly and seasoned with sorghum, star anise, ginger and garlic.
"Usually Chinese rice wine is used to braise, but I used bourbon and sorghum," Looi said. Looi went on to say that on a recent trip to Charleston, he ate a lot of shrimp and grits, and they were all done differently. So, he decided that his idea for "Asian Shrimp and Grits" would be a perfectly fine additional variation on this classic Southern dish.
"I did the shrimp with Thai curry," Looi said, "and, keeping with my love of combining world flavors, I served it over Italian yellow corn polenta rather than the traditional white corn grits." Looi also pointed out that, while steamed buns might seem like an exotic idea, you can shop in Asian food markets for frozen steamed buns, which can be stuffed with lots of different fillings. His braised pork would be a good place to start your own culinary explorations.
Madeleine Dee's attention gravitated immediately to the oysters, which she transformed into "High Roller" oysters. "I made a champagne batter, which is like tempura but made with champagne instead of beer," Dee explained. "I battered super-cold oysters and fried them in hot oil, which makes the batter puff up and trap the cold oyster in the middle. It is hot and crispy on the outside and cold and juicy inside. You can eat them right away (which I think is definitely the best way), or you can put them onto an oyster shell and serve them on a bed of ice — or add them on an arugula salad."
Challenged to do something a bit different with our favorite Derby snack, Benedictine, she created delicate Benedictine finger sandwiches with mint. "I started with the Benedictine base of cucumber juice and cream cheese and blended in some fresh green herbs and an avocado, which makes the Benedictine a vibrant natural green with no food coloring." She made finger sandwiches but pointed out that the mixture makes a great crudités dip, too.
And so, we're off to the races this year with some great new recipes from our local televised chef friends, and we look forward to seeing more Louisville talent race against the clock on competitive food shows in the coming year. Meanwhile, the winner of this challenge was…you, our readers! Now you can make and enjoy the dishes, too. We're
setting the timer…Get ready; get set…Go, baby, go!
---
Peng Looi | August Moon
Shrimp and "Grits"
For
"Grits"
2 cups heavy cream
Salt and pepper to taste
1 cup quick polenta
In a medium sauce pan, heat heavy cream with salt and pepper. When cream boils,
turn heat to low and pour in polenta slowly while whisking. Keep whisking until polenta thickens and is creamy (about 10 minutes). Remove from heat.
For Shrimp
2 tablespoons olive oil
1 garlic clove, minced
½ white onion, diced
2 whole shallots, sliced
2 tablespoons Thai red curry paste
6 ounces coconut milk
1 pound large shrimp, shelled and deveined
½ teaspoon sugar
3 whole okra, sliced
Salt and pepper to taste
In a large sauté pan on medium heat, heat olive oil until shimmery; then add garlic, shallots and onion. Cook for about five minutes until onion turns translucent. Add curry paste and stir for about another three minutes to make sure the oil separates. Add coconut
milk and continue to simmer for an additional 10 minutes.
Add shrimp, sugar, okra, salt and pepper and cook for an additional five minutes until shrimp are cooked. Shrimp should look pinkish-white when fully cooked. Remove from heat. Serve over polenta and garnish with scallion and fresh red pepper.
(Serves 4)
---
Peng Looi | August Moon
Bourbon-braised Pork Belly, Lotus Leaf Bun and Bean Sprout Slaw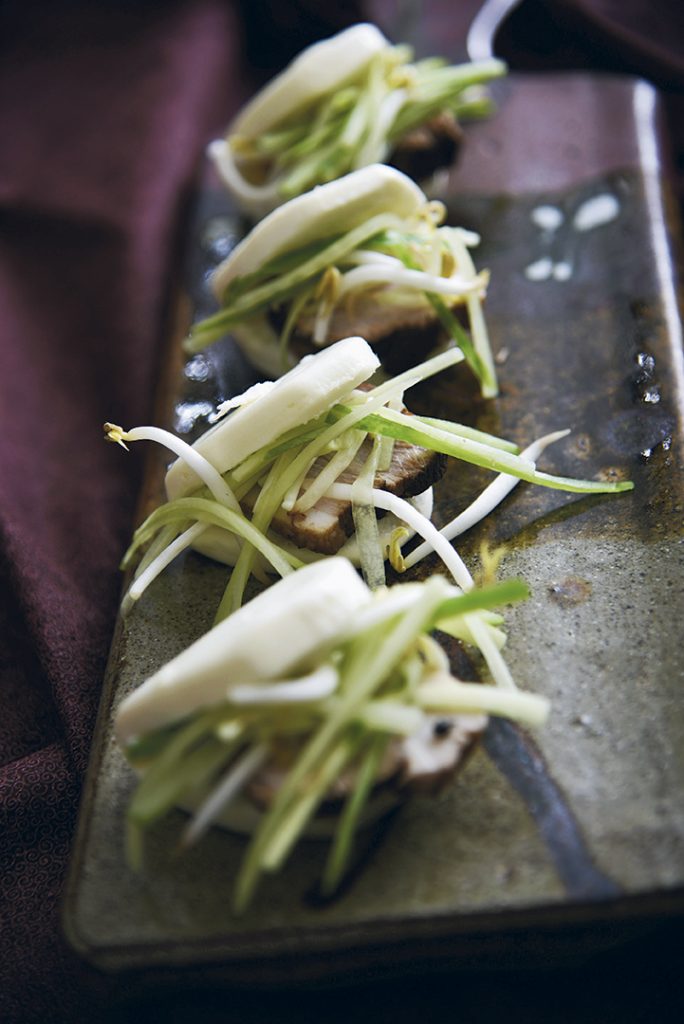 For Lotus Buns
1 pack frozen lotus buns (available at Asian markets)
Leave frozen lotus buns in the refrigerator to thaw overnight. Steam six lotus buns on high heat for 15 mins or until soft. Set aside.
For Braised Pork Belly
1 pound pork belly
1 cup rice wine
½ cup bourbon
1 tablespoon soy sauce
2 teaspoons mushroom soy
5 slices fresh ginger
2 star anise
2 bay leaves
1 tablespoon sorghum
Put slab of pork belly into a medium stockpot filled with cold water (enough to cover the meat completely). Bring the pot to a full boil and cook for 20 minutes. Use a spoon to skim off the froth as it rises to the surface. Drain and set aside.
In a separate medium stockpot over medium heat, heat all the other ingredients (except for the sorghum) for about five minutes. Add the drained pork, cover pot and reduce heat to a simmer. Leave it to simmer for about an hour and a half. Check water level at one hour. Add small amount of water to keep covered if necessary.
Take out the pork belly with a straining spoon. Add the sorghum to the remaining
liquid. Turn the heat up to the highest level, cook uncovered and stir from time to time until the juice becomes thick. Put the pork back to the pot. Stir around gently until every
piece of meat is coated by the sauce. Remove from heat.
For Bean Sprout Slaw
½ teaspoon sugar
Salt and pepper
½ cup rice vinegar
1 cup fresh bean sprout
½ cup cucumber, peeled and julienned
½ cup carrot, scraped and julienned
½ cup daikon, scraped and julienned
In a non-reactive bowl, whisk the salt, pepper, sugar and rice vinegar. Add the four vegetables and let set for half an hour. Drain liquid and set aside.
Place a slice of braised pork belly inside the warm lotus bun and top with bean sprout slaw. Serve immediately.
(Serves 4)
---
Joshua D. Moore | Volare
Pappardelle with Country Ham and Spring Veggies
(Serves 6)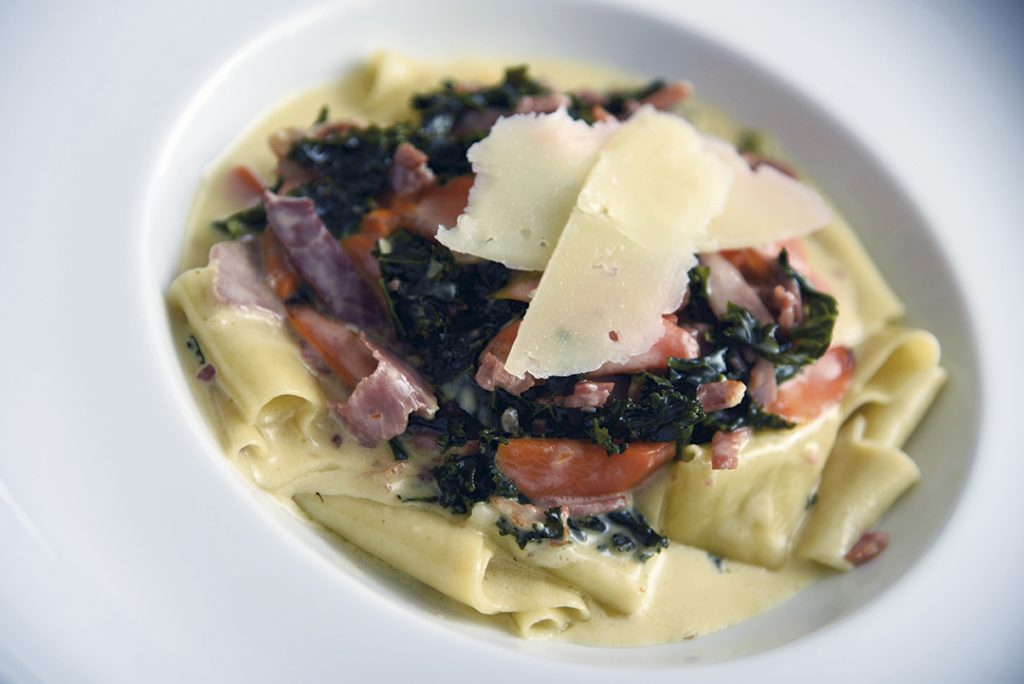 1 pound of pappardelle pasta (get boxed at the supermarket, fresh-made at Lotsa Pasta, or if you really want to go all out, see Chef Moore's recipe below.)
1 teaspoon extra virgin olive oil
½ teaspoon chopped fresh garlic
½ pound Finchville Farms country ham, sliced thin and julienned
1 carrot, scraped and sliced
1 bunch kale, ribs removed and leaves cut into julienne
½ cup white wine
1½ cups heavy cream
1 teaspoon fresh chopped herbs (basil and Italian parsley)
Salt and pepper
½ cup grated Kenny's Cheese Asiago, grated
In a sauté pan, combine olive oil, garlic, country ham, carrots, and kale. Sauté mixture until the garlic is toasted and kale is limp. Deglaze pan with white wine. Add heavy cream, herbs, and Asiago. Let the sauce reduce for several minutes. While the sauce is being made have a pot of water boiling for the pappardelle ribbons. Drop the pasta in the boiling water and cook according to package directions. When al dente, toss the pasta with the sauce and serve.
For the Pasta
(Note: The easiest way to make this dish is to pick up fresh pasta at the store — this is "Easy Entertaining" after all. But when you have one of the best pasta makers in Louisville willing to share his secrets, you should take note. Clip and save would be our advice. Bob's Red Mill and King Arthur "OO" flour is available in the health food sections of many supermarkets.)
5 eggs
1 teaspoon extra virgin olive oil
½ teaspoon fine sea salt
3½ cups "00" flour
Using a stand mixer, add the floor, eggs, olive oil and salt into the mixing bowl. Attach bowl and dough hook. Turn to speed two and mix for 30 to 60 seconds. Add more water if the dough is too dry, in one teaspoon increments. Turn to speed one and knead for two minutes. Remove the dough and knead by hand for two minutes. Let it rest, covered with a barely damp towel, for 20 to 30 minutes.
Cut dough into four pieces before processing with pasta sheet attachment. Take one piece and flatten into a rectangular shape, adding flour to both sides. Be sure to cover the other pieces with a towel. Attach the pasta sheet roller to stand mixer and set it to #1. Turn on the stand mixer to speed 2 and run the pasta dough through the pasta sheet roller. While on #1, fold the dough in half and run it through again. I do this several times. Adding a little bit of flour on each side of the dough again, change the setting to #2 and pass the pasta dough through the sheet roller. I do this twice and then twice each on #3 and then #4. Cut the pasta sheets into pappardelle noodles.
---
Joshua D. Moore | Volare
Derby-Pie® S'mores with Bourbon Sauce
(Serves 6)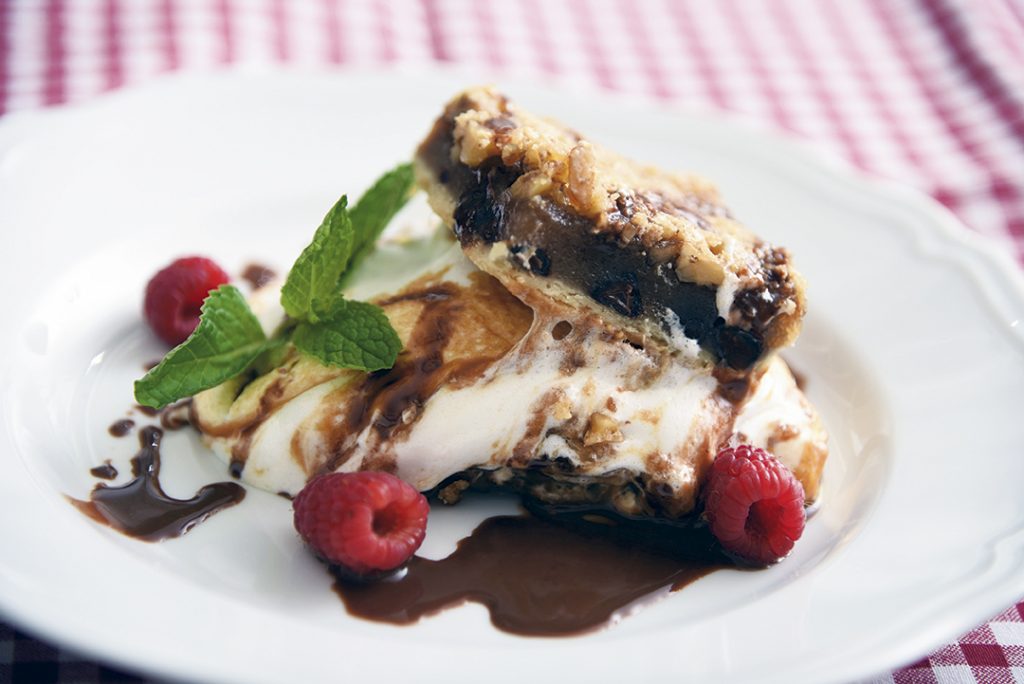 2 Derby-Pies®, each cut into 6 squares
6 Modjeskas
1 3.5 ounce bar of Cellar Door 55% chocolate
¾ cup heavy cream
2 tablespoons bourbon
½ pint fresh raspberries, optional
Place the Modjeskas in between two squares of Derby Pie and place in a 350-degree oven for five minutes. While the s'more is baking, combine the chocolate, cream and bourbon over medium heat until chocolate is melted. Serve the s'more warm with bourbon chocolate sauce over top and fresh raspberries.
---
Madeleine Dee | Fond
High Roller Oysters
(Serves 6)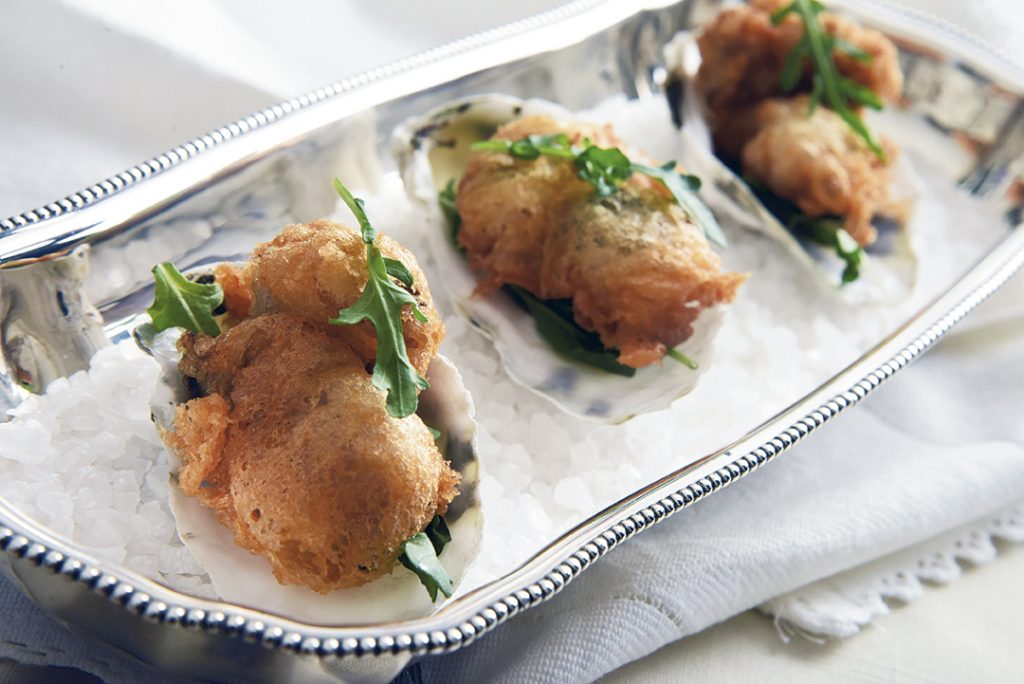 1 cup all-purpose flour
1 generous teaspoon of salt
1 tablespoon baking powder
12 ounces dry champagne
18 whole oysters, chilled
1 whole lemon
Preheat a deep-fryer to 375-400 degrees.
In a mixing bowl, whisk together the flour, salt, and baking powder. Combine the champagne with the dry ingredients until smooth (the mixture should resemble thin pancake batter).
Shuck ice-cold oysters directly into the bowl, gently coating them with batter. Drop into fryer and cook till a pale golden brown. Use a slotted spoon to remove the oysters and drain on paper towels. Finish with a squeeze of fresh lemon juice.
Notes: For an impressive presentation, serve these oysters immediately with a few leaves of baby arugula and a squeeze of lemon in a sanitized oyster shell perched on top of a small bowl of salt.
---
Madeleine Dee | Fond
Green Goddess Benedictine Sandwiches
(Makes about 1 quart)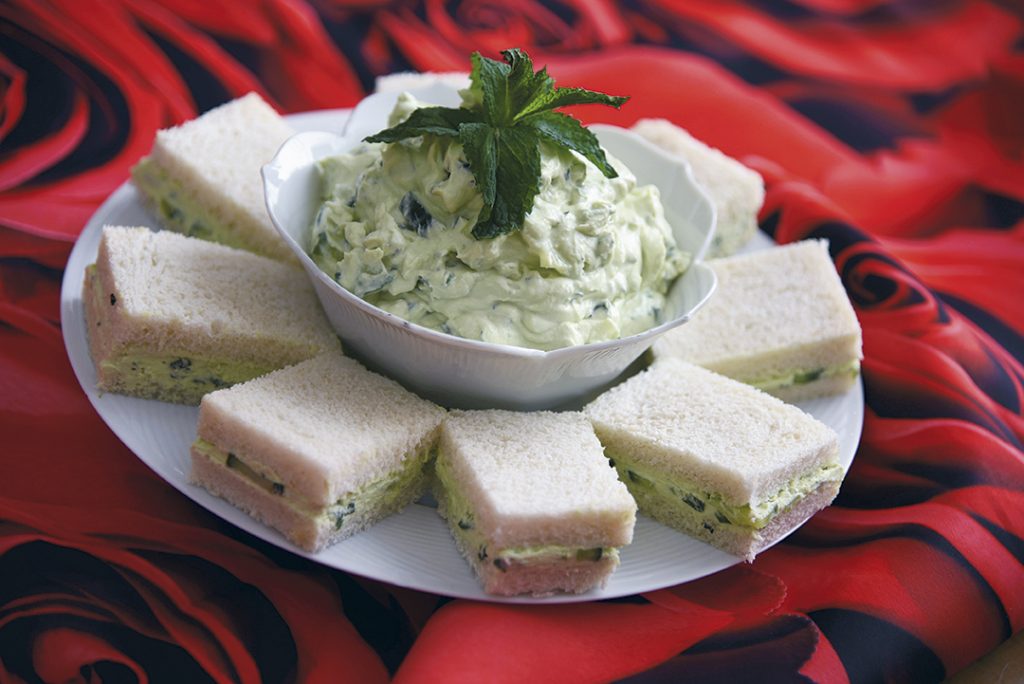 2 cups English cucumber, peeled and chopped
2 8-ounce packs cream cheese, softened
1 ripe avocado, peeled and seed removed
¼ teaspoon black pepper
½ teaspoon salt, plus a sprinkle
½ fresh lemon, zested
2 tablespoons fresh lemon juice
½ teaspoon garlic powder
¼ cup sour cream
2 tablespoons chives, finely chopped
1 tablespoon fresh tarragon, chopped
¼ cup fresh mint, chopped
2 tablespoons shallots, minced (optional)
Salt and pepper
Add a sprinkle of salt to the chopped cucumbers and lay them in a large bowl on top of a thin layer of paper towels. Fold the edges in to cover the cucumbers and place something heavy directly on top. Set aside for at least 10 minutes. Squeeze as much liquid from the cucumbers as you can. Remove them from the paper towels and place them in a dry bowl. This process allows you to end up with a thick Benedictine that isn't watery.
Use a mixer to combine the cream cheese, avocado, black pepper and salt, lemon zest, lemon juice, garlic powder and sour cream. Beat vigorously until smooth and creamy; then lower the speed and blend in the chives, tarragon, mint, shallots (if using), and cucumbers. Season with salt and pepper to taste.
Serve on slices of bread, garnished with mint and cucumber slices to make beautiful finger sandwiches. You can also serve this spread as a crudités dip.
---
Tim Laird
Kentucky Proud Julep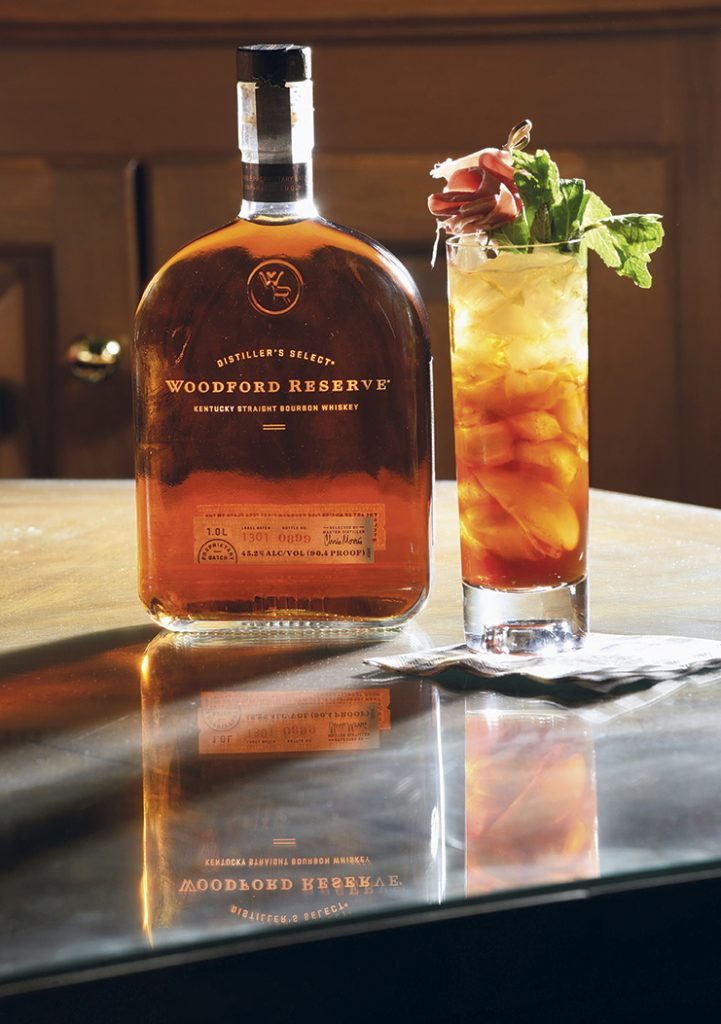 In a mixing glass, add
8-10 mint leaves and ½ ounce Woodford Reserve Bourbon, gently muddled together
1½ ounces Woodford Reserve Bourbon
1 teaspoon sorghum
Shake or stir vigorously, and then strain into a tall glass with crushed ice. Garnish with a mint sprig and skewer of country ham. F&D