Lori and Tim Laird are F&D's "entertaining editors at-large," and their insights have absolutely no expiration dates. Accordingly, these chocolate tips are as illuminating now as they were when first published in December, 2014.
Who doesn't like chocolate? Or holidays? Well we have a reason to celebrate then because there are no less than 42 official Chocolate Holidays during the year. And the winter season has a few good ones that have inspired in us some party ideas.
December 16 was National Chocolate-Covered Anything Day, and December 28 simply National Chocolate Day. In January, the 17th is National Ditch Your Resolutions Day, an occasion that just cries out for a chocolate binge, and January 27 is National Chocolate Cake Day, so you can binge again.
Well, we love chocolate no matter what day it is. The versatility of chocolate is endless, as we show in our recipes below, which are lovely by themselves, but can be put together as a (slightly outrageous) menu for a chocolate-themed party — a winter gala that surely would be well attended.
Cocoa adds a wonderful taste profile and depth of flavor to our spice rub which is delicious on everything from beef to pork to chicken, and even on roasted vegetables. For an easy meal, check out our Chicken Mole that is easily prepared in a slow cooker and served with tortillas or over rice. Our Chocolate Decadence dessert with raspberry sauce is a perfect sweet ending to any meal. We have even included chocolate covered bacon for those who love that sweet and salty combination and want a really fun way to mark December 16's specialness. On cold evenings or early mornings nothing is more soothing than a warm mug of hot chocolate. Our recipe of this classic favorite will certainly take away the chill and warm you inside. Finally, enjoy our Jack Frost Manhattan with white chocolate liqueur and peppermint — a perfect cocktail for a chocolate-themed get-together.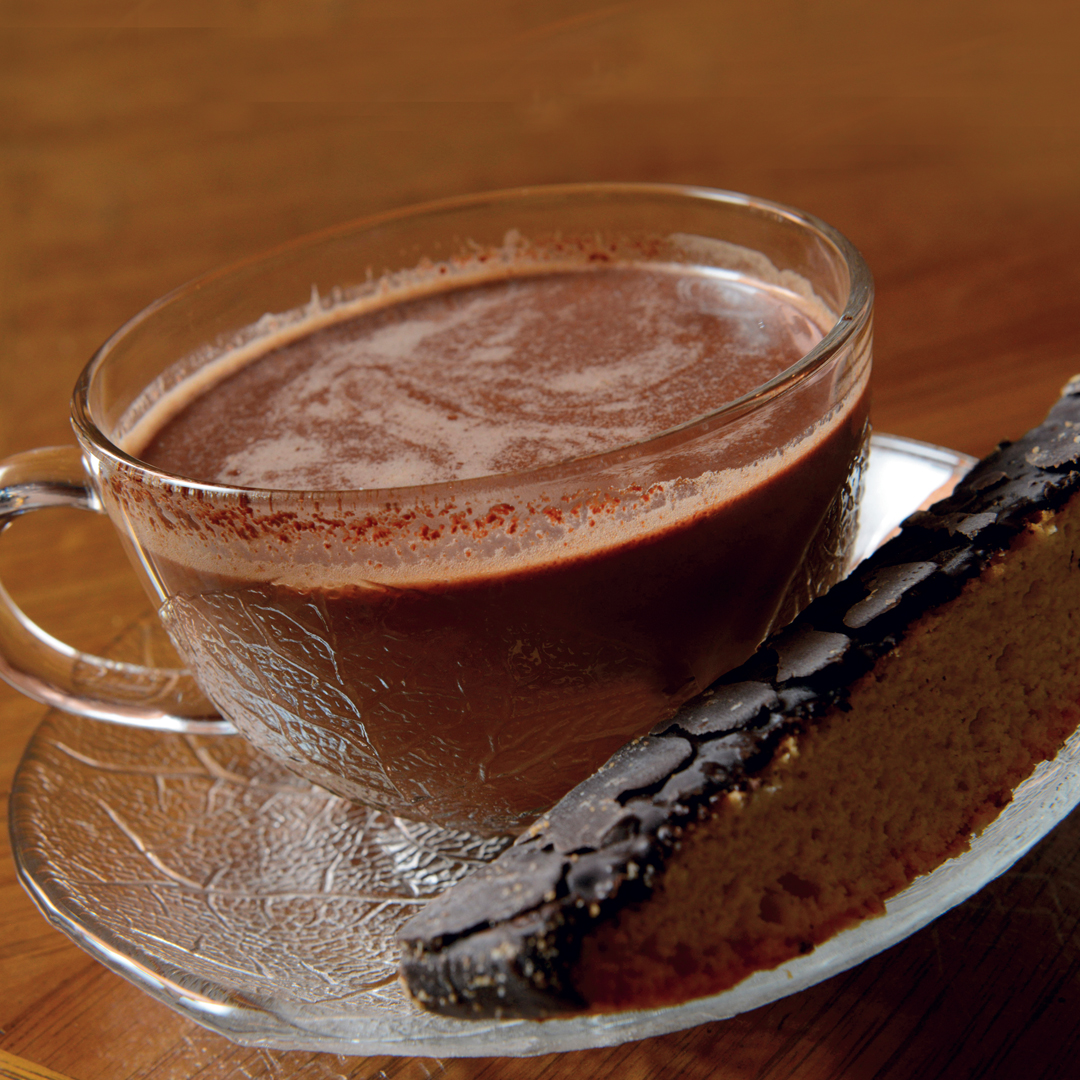 Café Chocolate
(Serves 2)
1 cup whole milk
1 cup strong hot coffee
11⁄2 ounces bittersweet chocolate, chips or finely chopped
1 tablespoon sugar, more if desired
In a small saucepan, heat the milk to almost boiling–the top will steam and bubbles will appear along the sides of the pan. In a glass pitcher, add the coffee, chocolate and sugar, stirring until combined. Whisk in the hot milk and add more sugar to taste. Serve in mugs with cookies, biscotti or chocolates.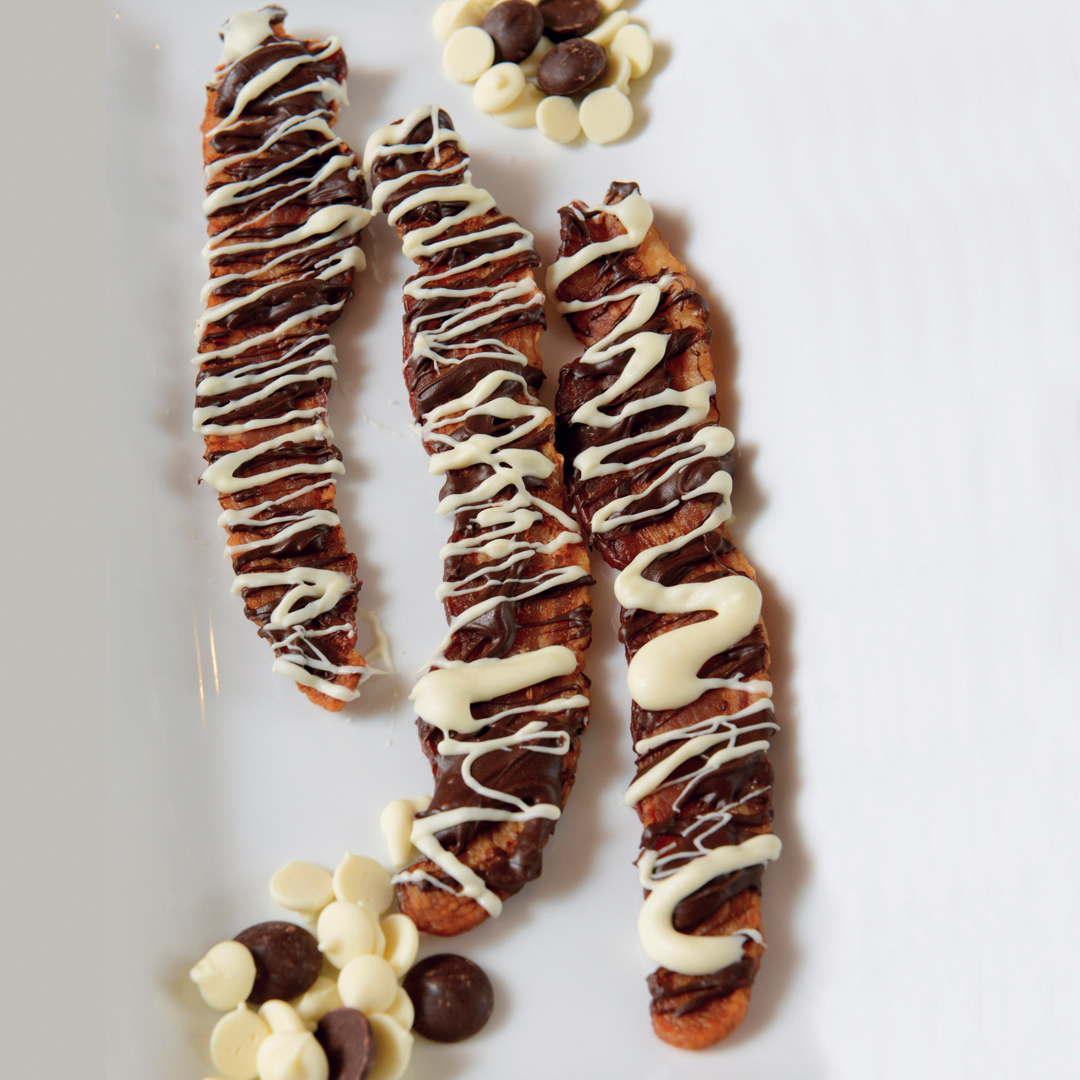 Chocolate Covered Bacon
(Serves 6-8)
8 ounces chocolate (semi-sweet, bittersweet or white)
1 pound bacon
Preheat oven to 400 degrees. Place the bacon, in a single layer, on a foil-lined baking sheet. Bake for 15-20 minutes, depending on the thickness, until almost crisp. Transfer the bacon to a paper-lined platter to drain and finish crisping. Be sure to dry the bacon of all grease before coating.
Melt your favorite chocolate (semi-sweet, bittersweet or white) in the microwave or over a double-boiler on the stovetop.
Dip or drizzle over cooked bacon. Once coated, place the bacon in the freezer for a couple minutes to set.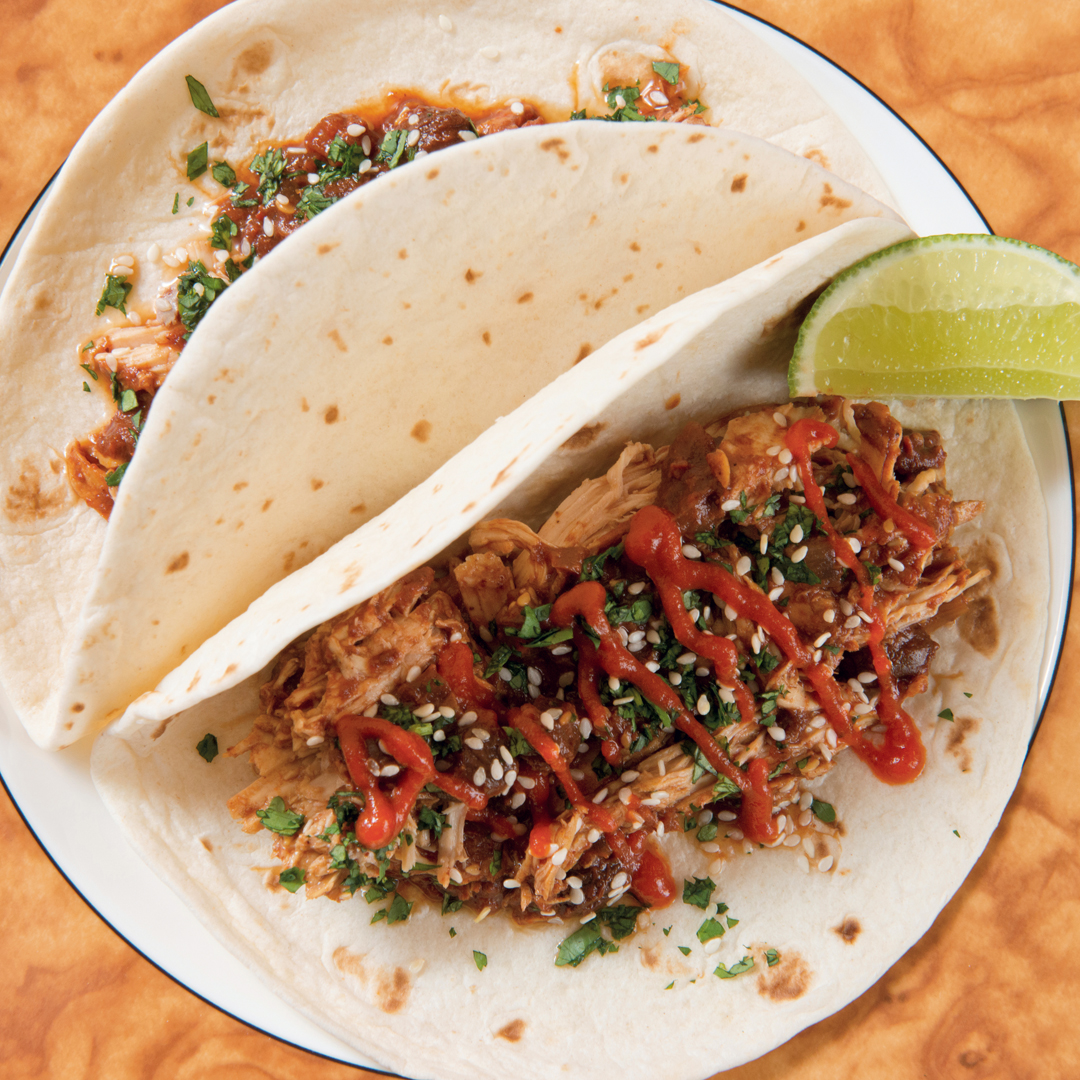 Chicken Mole
(Serves 4-6)
1 large onion, chopped
1⁄2 cup raisins
4 cloves garlic, chopped
2 tablespoons white sesame seeds, toasted, plus more for garnish
1 chipotle pepper (canned in adobe sauce), finely chopped
1 28-ounce can crushed tomatoes
3 tablespoons unsweetened cocoa powder
4 teaspoons chili powder
2 teaspoons ground cumin
1 teaspoon ground cinnamon
1 teaspoon sugar
1⁄2 teaspoon ground coriander
1/8 teaspoon ground nutmeg
3 pounds skinless, boneless chicken breasts
Soft tortillas
Cilantro, chopped, for garnish
Hot sauce, for garnish
In a slow cooker add onion, raisins, garlic, sesame seeds, chipotle pepper and crushed tomatoes. Stir to combine. Then add the cocoa powder, chili powder, cumin, cinnamon, sugar, coriander and nutmeg. Stir to combine. Put the chicken breasts in the sauce, cover and cook on low until chicken is tender, about 5 hours.
Serve with soft tortillas or with rice. Garnish with additional toasted sesame seeds, cilantro and hot sauce.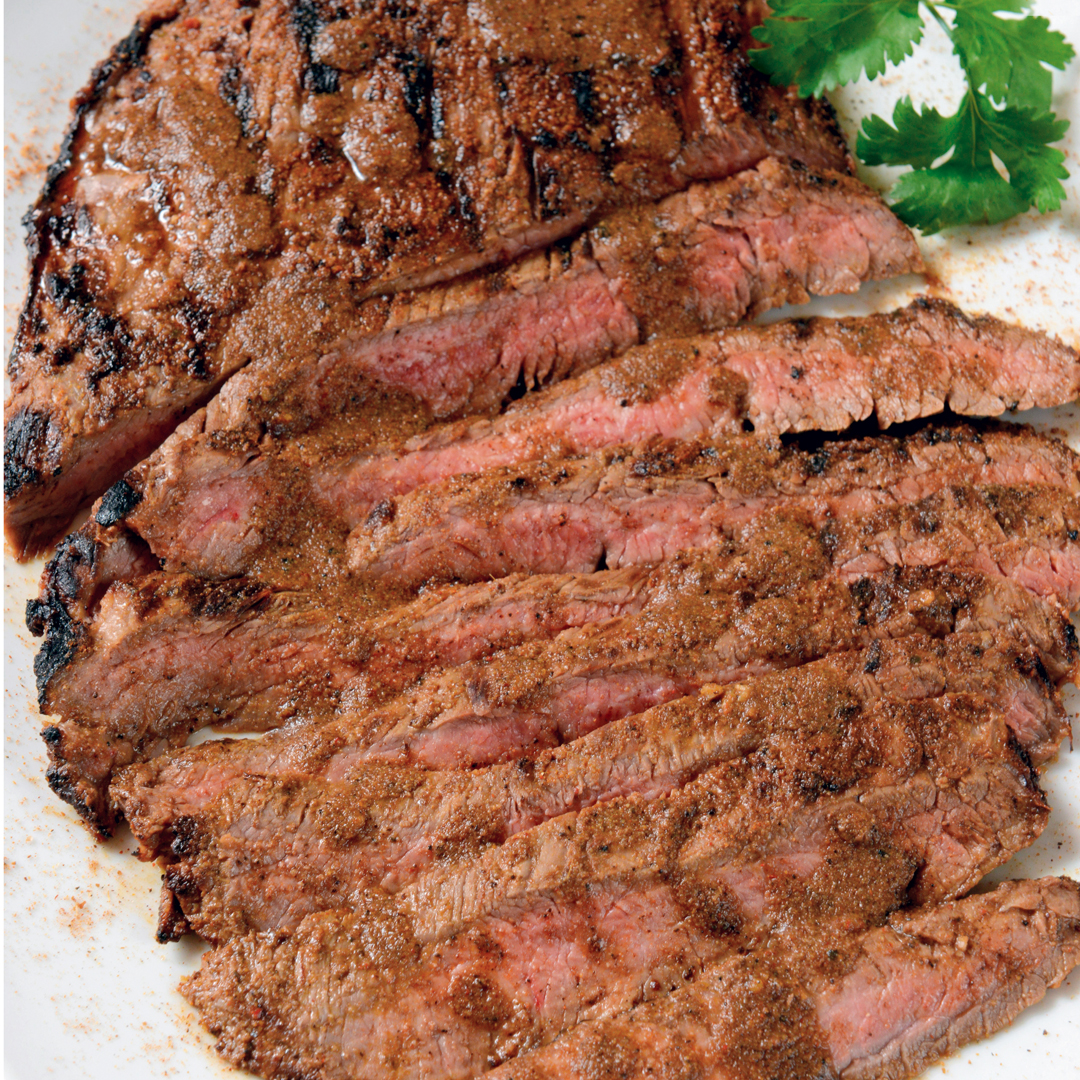 Cocoa Spice Rub
3 tablespoons garlic powder
3 tablespoons ground cumin
2 tablespoons Kosher salt
2 tablespoons dark brown sugar
2 tablespoons chili powder
2 tablespoons ground black pepper
1 tablespoon dry mustard
1 tablespoon white sugar
1 tablespoon onion powder
3 teaspoons unsweetened cocoa powder
In a small bowl, combine all of the ingredients then store in an airtight container. Rub the spice mixture on beef, chicken or pork and let stand for 15 minutes before cooking.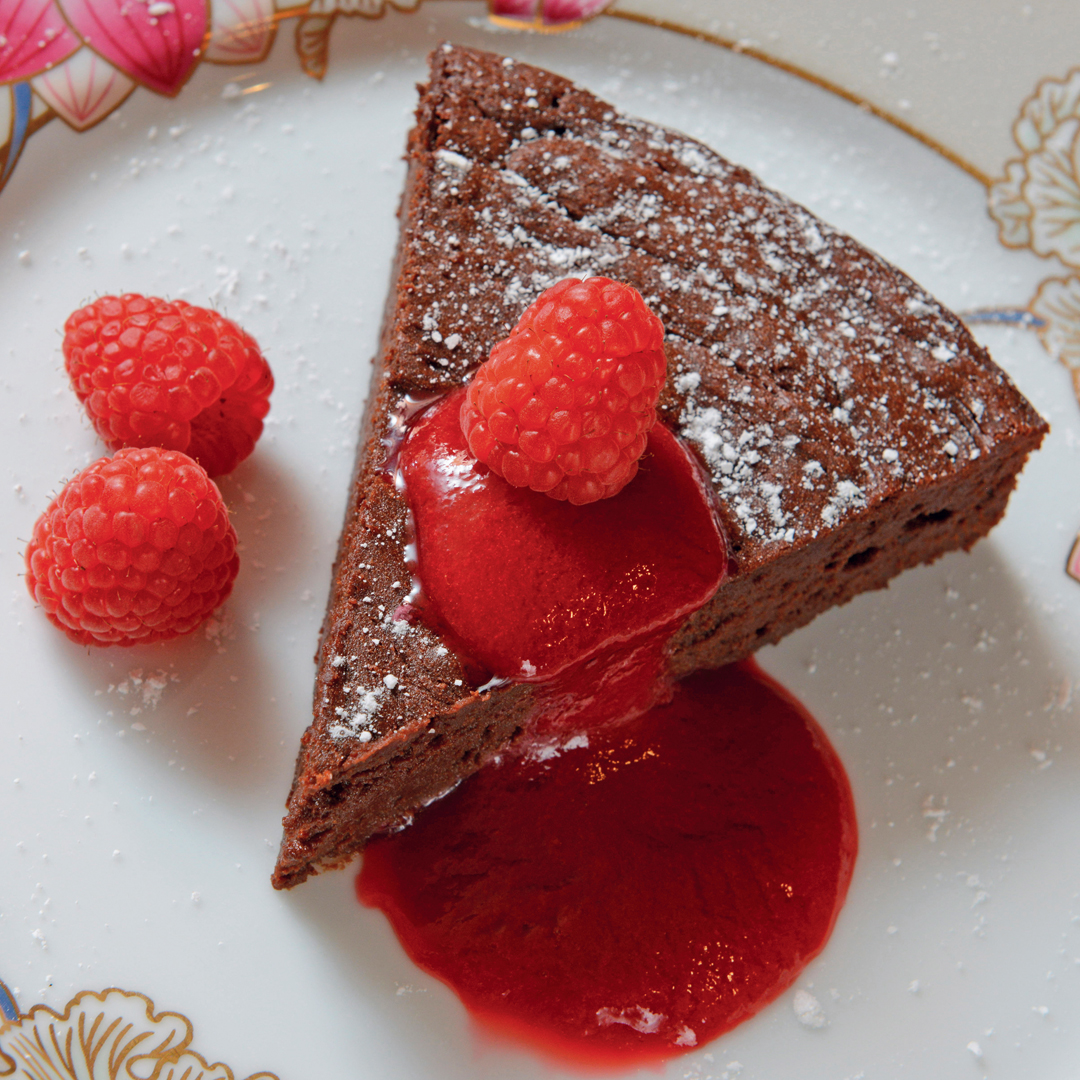 Chocolate Decadence
(Serves 6-8)
6 whole eggs
3 egg yolks
1 tablespoon sugar
1 tablespoon flour
16 ounces bittersweet chocolate
10 tablespoons (1 1⁄4 sticks) unsalted butter
1 pint fresh raspberries for garnish
Raspberry Sauce for garnish (recipe below)
powdered sugar for garnish
Heat oven to 350 degrees.
In a mixing bowl, blend the whole eggs, egg yolks, sugar and flour until smooth and thick. Set aside. In the top of a double boiler, melt the chocolate with the butter. Off the heat, slowly add the egg mixture into the chocolate mixture, stirring until incorporated.
Pour batter into a greased 8-inch round springform pan. Smooth the top and bake for 15 to 17 minutes. It will seem undercooked, but will set as it cools. To serve, drizzle cake slices with desired amount of raspberry sauce and sprinkle with powdered sugar. Garnish with fresh raspberries.
Raspberry Sauce
1 12-ounce package frozen raspberries, thawed
1/3 cup sugar
2 tablespoons Chambord liqueur
In a food processor or blender, puree the raspberries with the sugar and Chambord.
Pour through a fine mesh sieve to remove the seeds, pressing to get all the liquid. Pour into a small pitcher for serving. Can be made one day in advance.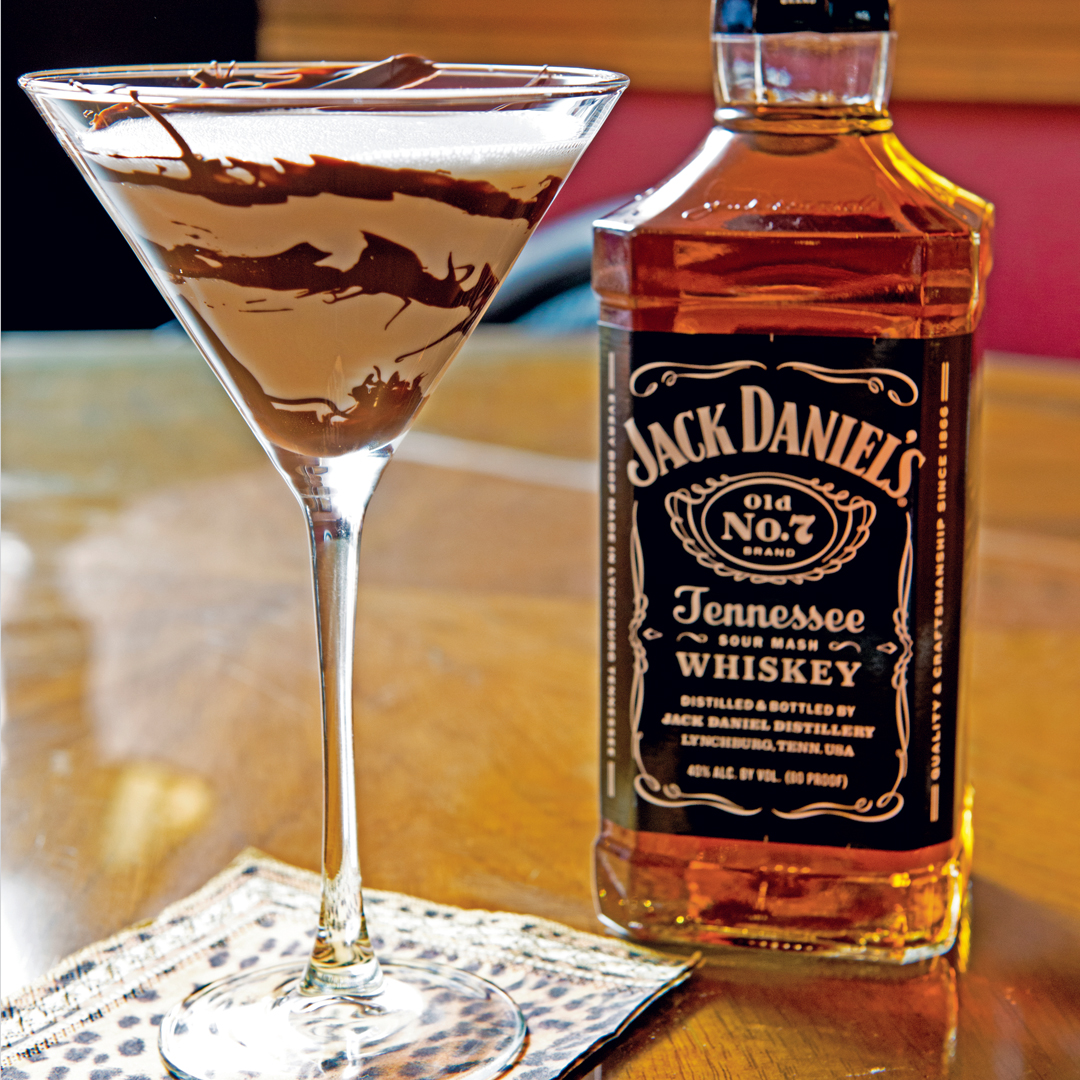 Jack Frost Manhattan
(Serves 1)
In a shaker with ice, add:
1 ounce Jack Daniel's Tennessee Whiskey
1⁄2 ounce white chocolate liqueur
1⁄4 ounce peppermint schnapps
2 ounces cream or half & half
Shake and strain into a martini glass drizzled with chocolate.
A few final words about chocolate.
Premium brands are generally worth the extra cost. Chocolate richness is gauged by percent of cocoa liquids in the mixture relative to the added sugar; for baking look for products that are upwards of 60% cocoa solids (our preference is for at least 70%). The baking chocolate found in supermarkets is 100% cocoa, and therefor very bitter. White chocolate is a confection based on sugar, milk, and cocoa butter without the cocoa solids.