Tailgating is always a fun occasion to get friends together to cheer on your favorite teams. In the winter months football is still in season with the Big Game coming in February, and basketball is just getting started. We thought we'd invite some of our favorite chefs over to share what they like to serve when they're "homegating."
An easy way to set up your party, and one that is sure to be appreciated by your guests, is to have a selection of finger foods, tasty things to grab so they won't have to miss any of the big game.
For our party for this issue, we invited Chefs Jacob Coronado from 8UP, Ming Pu of The 502 Bar & Bistro, and Darnell Ferguson of SuperChefs to work with us to devise just such a grab-and-go, finger-food, don't-have-to-sit-down-with-a-knife-and-fork menu. We think they came up with a great variety of dishes, each of which speaks to their own kitchen personality but are easy to prepare in the home kitchen.
We like to kick off our sports-themed parties by inviting our guests as they come in to visit the build-your-own Bloody Mary bar where we put out basic tomato juice or Bloody Mary mix and they can add vodka, Bourbon, or make it alcohol-free and garnish it with all of their favorite accompaniments.
We ourselves like food that is super easy to prepare and fun to eat, so we like to feature a variety of veggies with dips in individual disposable cups, which eliminates the dreaded double-dipping issue. We give here our selection of colorful crunchies, and a few suggestions for dips that are quick to prepare and a bit different, but you can go with whatever vegetables and dips you like.
Tim and Lori Laird
–––––––––––––––––––––––––––––––––––––––––––––––––––
Bloody Mary station
For a fun Bloody Mary station, set out a pitcher of basic tomato juice
or Bloody Mary mix, along with vodka, Bourbon, and any or all of the following garnishes. Your guests can build their own.
Horseradish
Steak sauce
Finely grated Parmesan or blue cheese
Celery salt and celery stalk
Pickled mushrooms
Pickled asparagus spears
Pickled string beans
Pickled green tomatoes
Olives stuffed with garlic or blue cheese
Cooked and peeled shrimp
Hot sauce
Jalapeño peppers
Pepper flakes
Balsamic vinegar
Lemon and lime wedges
–––––––––––––––––––––––––––––––––––––––––––––––––––
Veggie cups and dips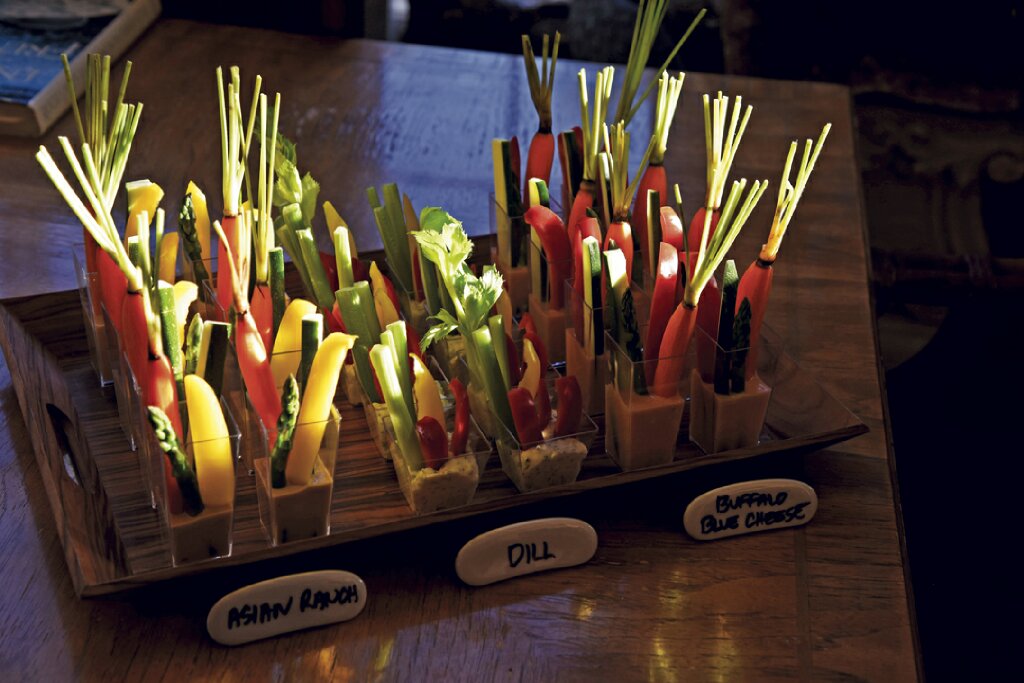 Cut vegetables into bite-size spears—we like using peppers, zucchini, carrots, celery and asparagus, but go with what suits your taste—and serve in individual cups partially filled with dip. We offer a trio of dips that are a breeze to make. Just whisk ingredients until smooth and they are ready to serve.
For the Asian ranch dip:
1 cup ranch dressing
2 teaspoons soy sauce
½ teaspoon sesame oil
For the Buffalo blue cheese dip:
1 cup blue cheese dressing
¼ cup Frank's hot sauce
For the dill dip:
1 cup sour cream or Greek-style plain yogurt
½ cup part-skim ricotta cheese
1 tablespoon fresh dill, chopped
1 tablespoon fresh parsley, chopped
1 tablespoon fresh lemon juice
1 tablespoon sweet onion, minced
Chef Ming Pu
• The 502 Bar & Bistro
–––––––––––––––––––––––––––––––––––––––––––––––––––
Ham and Swiss sliders with poppy seed dressing
(Makes 12 sliders)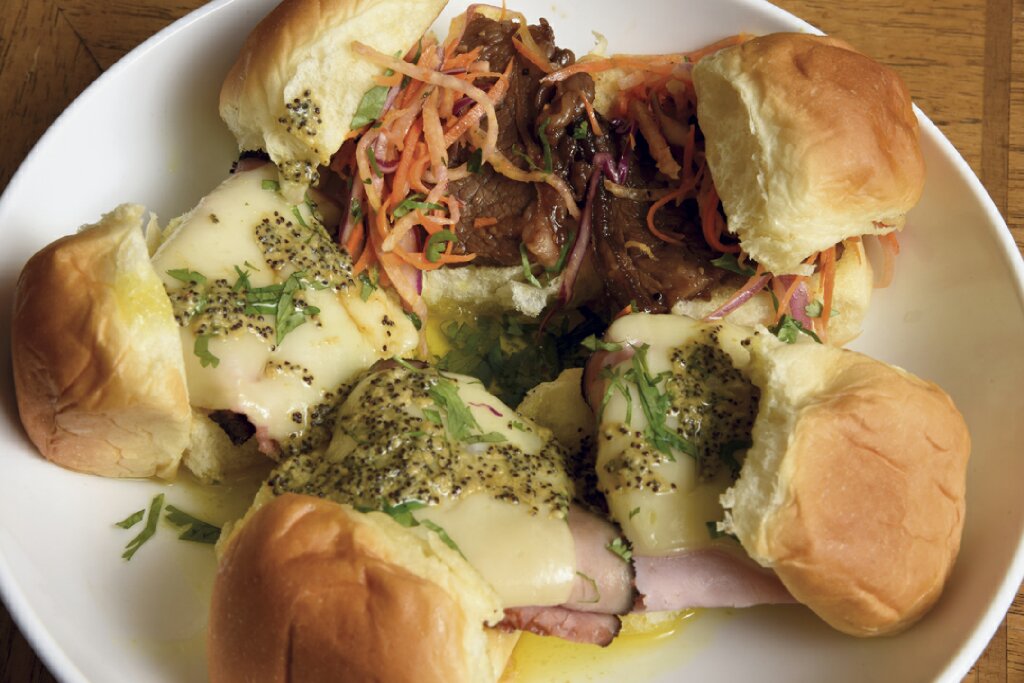 12 Hawaiian bread sweet rolls
1 pound Black Forest ham, sliced
½ pound Swiss cheese, sliced
2 tablespoons canola oil
1 tablespoon poppy seed dressing (recipe below)
Heat oven to 350 degrees. Coat the bottom of a casserole with the
canola oil and spread evenly. Then line the Hawaiian bread slider
bottoms on the base of the pan. Place one piece of both Swiss
and ham on each slider base. Then drizzle the poppy seed sauce
over the top. Place the bun tops on and bake for 10 minutes.
Serve immediately.
For the poppy seed dressing:
½ pound unsalted butter (2 sticks)
2 garlic cloves, peeled and minced
½ cup yellow onions, peeled and chopped
1 teaspoon kosher salt
¼ teaspoon ground black pepper
1 tablespoon poppy seeds
In a small saucepan melt the unsalted butter on medium to low heat, then add the garlic, yellow onions, salt and pepper. Cook on low for
10 minutes, then strain out the onions and garlic from the butter. Incorporate the poppy seeds to the butter. Set aside.
–––––––––––––––––––––––––––––––––––––––––––––––––––
Korean short rib sliders
(Makes 12 sliders)
12 Hawaiian bread sweet rolls
12 pieces of Korean short rib, bone cut out
(recipe below)
¼ cup jicama slaw (recipe below)
For the Korean short ribs:
Note: Flanken-style ribs are cut across the bone. Each piece has three to four short sections of bone with a generous portion of meat around them. Most supermarket short ribs are cut English style, between and parallel to the bone. You might need to ask the butcher for flanken cuts, or shop for them at an Asian or Latin grocery, where flanken cut is more common. Plan ahead for this dish; the meat should marinate for at least two hours, but can marinate in the fridge overnight.
For the marinade:

1 cup soy sauce
1 Asian pear, peeled and sliced
1 tablespoon sesame oil
2 garlic cloves, peeled and minced
1 tablespoon fresh ginger, minced
½ cup yellow onion, peeled and minced
1 teaspoon black pepper
½ cup dark brown sugar
1 pound flanken-cut short ribs, ¼-inch cut
1 teaspoon sesame seeds, toasted (for garnish)
2 tablespoons green onions, chopped (for garnish)
In a stainless-steel bowl combine all the marinade ingredients together and mix well. Then add the short ribs. Make sure the marinade evenly covers the short ribs. Wrap the bowl with plastic wrap and store in the fridge for two hours or as long as 24 hours before cooking.
Heat grill or broiler to about 400 degrees. Place short ribs on and grill about one minute on each side. Then rest the short ribs on a plate for one minute. Garnish with sesame seeds and green onion. Set aside.
For the jicama slaw:
1 cup jicama, peeled and sliced into thin strips
1 cup red cabbage, thinly sliced
½ cup carrots, peeled and cut into
thinly sliced strips
½ cup red onions, peeled and thinly sliced
2 tablespoons cider vinegar
½ teaspoon kosher salt
¼ teaspoon black pepper
In a stainless-steel bowl combine the cider vinegar, salt and pepper. Then toss the jicama, red cabbage, carrots and red onions together
with the cider vinegar mixture.
Assemble each slider with one piece of cooked Korean short rib, bone taken out, and a mound of jicama slaw. Serve immediately.
Jacob Coronado
• 8UP Elevated Drinkery and Kitchen
–––––––––––––––––––––––––––––––––––––––––––––––––––
Gochujang wings
(Makes about 40 wings)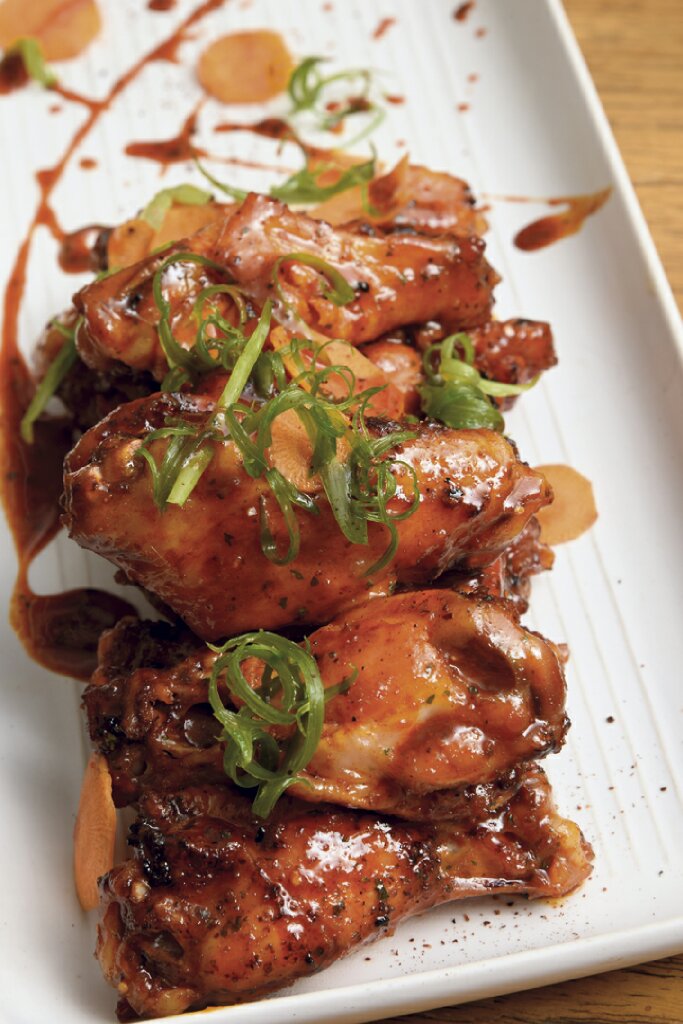 Note: Togarashi spice is a Japanese hot pepper blend found at some upscale supermarkets and most Asian markets.
For the wings:
5 pounds jumbo chicken wings
½ cup togarashi seasoning (may not use all)
Salt to taste
¼ cup blended oil (half olive oil, half canola)
Heat oven to 400 degrees. In large bowl add wings and evenly coat
the wings with salt, togarashi spice and blended oil. Spread wings evenly on baking sheet and roast wings for 30 minutes, turning once halfway through cooking.
For the gochujang dressing:
Gochujang is a Korean fermented chile paste, generally regarded
as fairly spicy hot. Pickled ginger is an Asian market staple, a fun
condiment to have around. Both of these ingredients are available
at Asian markets and at some supermarkets.
12 ounces gochujang paste
½ cup pickled ginger liquid
½ cup sesame oil
½ cup soy sauce
1 cup honey
1 cup rice wine vinegar
1 bunch cilantro
3 garlic cloves, peeled and crushed
Put all ingredients in blender and purée until smooth. Set aside.
To serve:
In a clean bowl, toss wings in the gochujang dressing. Garnish
with sliced carrots and green onions.
–––––––––––––––––––––––––––––––––––––––––––––––––––
Harissa chips with tzatziki dip
(Four large potatoes should make a lot of chips, but slice more if you know your guests are potato chip fans.)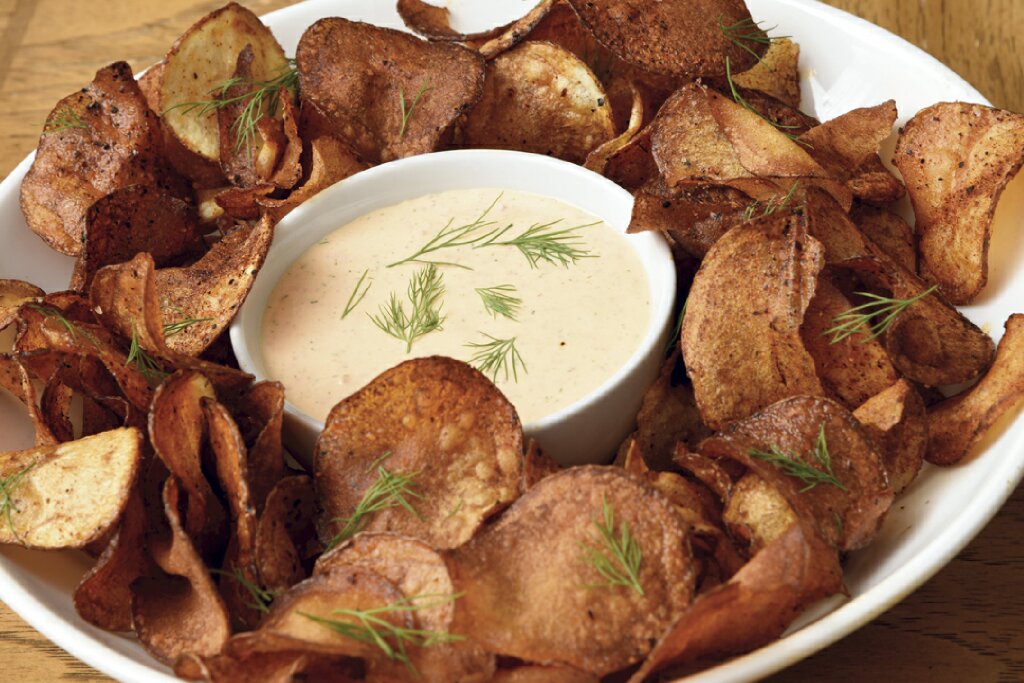 For the harissa seasoning:
Dried ancho and guajillo peppers can be found in the international
foods section of ValuMarket, or in Latin grocery stores.
4 dried ancho peppers
4 dried guajillo peppers
1 tablespoon ground cumin
½ tablespoon ground coriander
1 teaspoon kosher salt
1 teaspoon chili flakes
½ tablespoon Bourbon Barrel Foods smoked paprika
Toast all ingredients together in a dry sauté pan until they become
aromatic, a minute or two. Grind to a powder in a spice blender or
mortar and pestle. Set aside.
For the chips:
4 large Idaho potatoes, scrubbed
1 gallon cold water
½ cup white vinegar
½ gallon blended oil
Slice Idaho potatoes 1/8 of an inch thick (a mandolin is useful here)
and place in the cold water and vinegar mixture. Place in refrigerator
for 30 minutes.
While the potatoes are in the refrigerator heat oil in a pot to 300 degrees. Strain potatoes from the water, pat very dry and carefully place them in the oil in batches so they do not crowd the pot. Stir to keep them from sticking together. Once they are golden brown, place them in a paper-towel-lined bowl to absorb the excess oil.
After excess oil is absorbed, move chips into a clean bowl, add harissa seasoning and toss.
For the roasted pepper tzatziki dip:
½ cucumber, peeled, seeded and diced small
2 red bell peppers, roasted, peeled and seeded
(you can use bottled roasted peppers)
16 ounces labnah yogurt
¼ cup lemon juice
1 garlic clove, peeled and minced
1 teaspoon cumin, ground
2 tablespoons chopped dill
¼ cup olive oil
Salt to taste
Add all the ingredients except for the diced cucumber to a blender or food processor and purée. Pour in serving bowl and fold in cucumbers. Taste and add salt as needed.
Darnell Ferguson
• SuperChefs / DINNER
–––––––––––––––––––––––––––––––––––––––––––––––––––
Seafood pot pie in Parmesan bowl
(Proportions here are for two pot pies, so multiply ingredients for more servings.)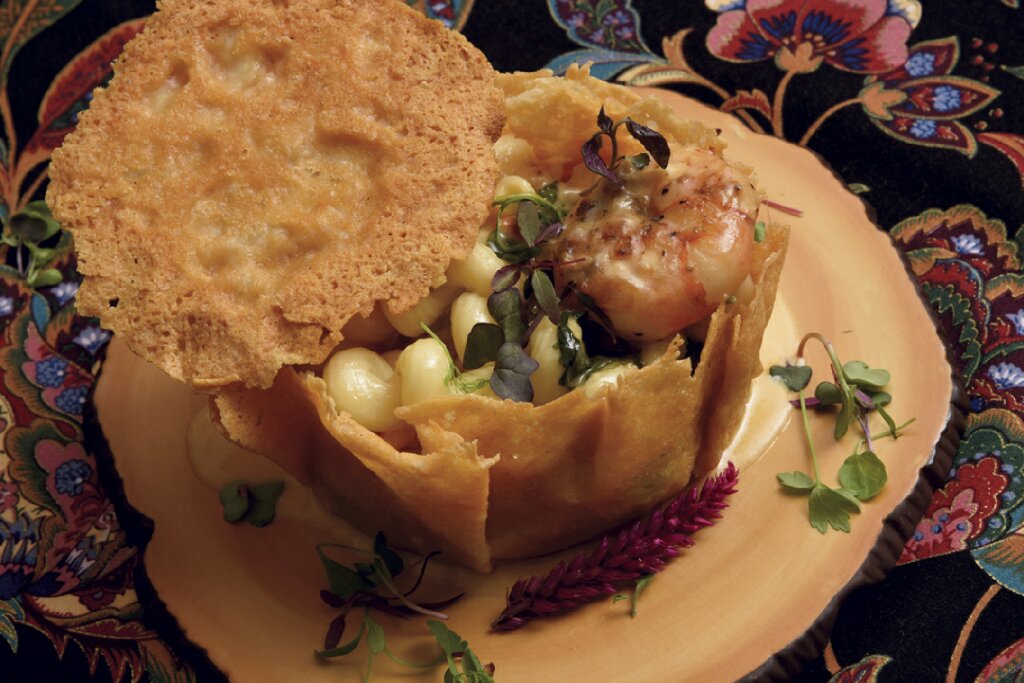 Parmesan bowls can be made a day ahead and refrigerated.
Bring to room temperature before filling.
Pot pie filling:
1 tablespoon butter
1 tablespoon vegetable oil
2 large shrimp
4 small shrimp
½ cup roasted red pepper, diced
½ cup fresh spinach, coarsely chopped
½ onion, peeled and chopped
1½ tablespoons Cajun seasoning
Salt and pepper
2 tablespoons flour
1 cup heavy cream
Heat a sauté pan or skillet over medium heat and add oil and butter. When butter melts and begins to bubble, add shrimp and cook until they become opaque, a minute or two. Add the roasted pepper, spinach, onion, Cajun seasoning, and salt and pepper. Cook until spinach wilts and onion is softened, five minutes or so. Sprinkle on the flour and stir to distribute flour evenly. Cook another minute or so, then add the heavy cream and stir to make a sauce.
For Parmesan crust:
1 cup shredded Parmesan cheese
Cover the bottom of an 8-inch non-stick pan with a layer of the cheese. Place pan over a hot flame on the stove. As soon as the edges of the cheese layer get brown, remove pan from heat. Place an upside-down bowl on the work surface, and flip the warm cheese onto the bowl. Using your hands, quickly shape the pliable cheese layer around the bowl into a rough bowl shape. Chill in refrigerator. Repeat the process, but flip the melted cheese layer flat onto a work surface, to form the "lid" to the pot pie. Repeat the two-step process for as many pot pie shells as you need.
To serve:
Place the cheese pot pie bottom on a plate. Spoon in the filling and top with the flat piece of the crust.
–––––––––––––––––––––––––––––––––
Meatloaf cupcakes
(Makes 8 cupcakes)
2 pounds ground chuck
1 tablespoon garlic salt
1 tablespoon pepper
2 tablespoons A-1 sauce
1 tablespoon Worcestershire sauce
1 egg
1 cup Italian breadcrumbs
Eight aluminum cupcake tins
In a bowl, mix together the ground beef chuck, garlic salt, pepper, A-1 and Worcestershire sauces. (It is okay to use your hands to mix ingredients well.) Beat the egg slightly in a cup, then mix into the meat mixture. Add the breadcrumbs and work in. Don't overwork mixture.
Heat oven to 400 degrees. Portion the meatloaf mixture between the cupcake tins. Bake in oven about 10 minutes.
For the mashed potato "icing":
3 pounds Idaho potatoes, peeled,
diced and boiled until very tender
2 cups of heavy cream
1 tablespoon kosher salt
1 tablespoon pepper
1 tablespoon minced garlic
Mash potatoes with cream, salt, pepper and minced garlic until smooth. Set aside.
For the sauce glaze:
1 cup hot sauce, such as Frank's
or Texas Pete
1 cup maple syrup
¾ cup brown sugar
2 tablespoons cornstarch mixed
with 2 tablespoons water to
form a slurry
In a saucepan, add first three ingredients and cook, stirring, until sugar dissolves and sauce is smooth. Add half of slurry and stir
to thicken. Add more slurry if too thin (sauce should coat a spoon but be able to flow off the spoon easily.). Put the sauce in a squeeze bottle and set aside.
To serve:
Place mashed potatoes in a pastry bag with a large star tip and pipe potatoes onto meatloaf "cupcakes" in a decorative pattern. Squeeze the sauce glaze over the potato icing in thin ribbons. Alternatively, drip glaze over potatoes from a spoon. F&D
advertising content
advertising content