APRON Inc.'s 8th Annual Dine Around works so well because it's stress-free and gentle on your palate.
On Wednesday, February 26, simply select a participating restaurant for breakfast, lunch or dinner; enjoy your meal, and rest easy knowing you've helped APRON to assist a local food and beverage worker in need.
The mission of Apron Inc. is to provide temporary, limited financial aid to professionals in need who work in local owned restaurants and locally run F&B industry-based establishments in the Louisville Metro area. Clients have either experienced financial distress due to an illness, injury or other life hardships needing financial relief, the funds raised at ALL Apron Inc. events go directly to locals in need of this support.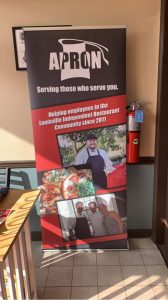 In 2019, APRON Inc. awarded 54 grants totaling $56,000, which included a special fund offering rent assistance to employees affected by the St. Matthews roof collapse. The recent Dine Around information release included testimony from a former recipient, which amply illustrates the value of APRON's mission.
The profession I have worked in the last 20 years has many benefits, but it also has its drawbacks. Without PTO or sick days, an extended period of time that I am unable to work can mean disaster (and depending on the season, the period of time can be as little as two weeks). Two years ago, I was unexpectedly tossed into a situation where my two-income household became one with an entire months' worth of bills still to be paid, and I didn't know where to turn. Until I remembered Apron Inc. and the wonderful service it gives to those in the service industry. Luckily, in a few short hours after applying to Apron Inc for assistance, my financial fears were resolved, and I was able to focus my energy on my family, where it was needed. Apron Inc threw me a life preserver that allowed me to keep my head above water. I am so grateful for this organization's existence!
Participants for Dine Around 2020 include these restaurants (the list is being updated here):
Anoosh Bistro
Bar Vetti
Biscuit Belly
Blind Squirrel
Bourbon's Bistro
Brasserie Provence
Bristol Bar and Grille
Buck's
Butchertown Bakery
Butchertown Grocery
Coal's
Diamond Street Grub and Hops
Equus
Feast BBQ
Four Pegs
Irish Rover
Jack Fry's
La Chasse
Lou Lou
Louvino
Marketplace Restaurant on Theater Square
Martini
Noosh Nosh
Porcini
Riverhouse
Royal's Hot Chicken
Seviche
Silvio's
Union 15
Uptown
Varanese
Volare