The way I see it, when a majority community takes the food and culture of a minority, without honouring the traditions and people of that culture, only the majority community benefits financially. That is my problem with the random use of our food and ingredients. I won't let you eat my food, take my music, wear my clothes, take any kind of art form and architecture unless you want to embrace me too. If you do not honour the people, none of this has any value.
Asma Khan's restaurant in London is called Darjeeling Express. In turn, Darjeeling is a city and region in the Hindu-majority Indian state of West Bengal, located in the northwest of the country in the Himalayan foothills. Nepal is to the west and Bangladesh to the east. The latter was once Muslim-majority East Bengal.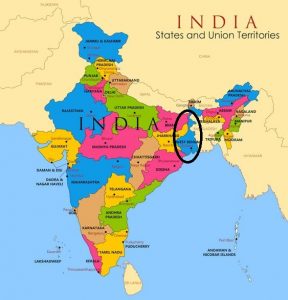 If the name "Darjeeling" rings a bell, it's probably because of the regional tea industry, dating to British Colonial times: "Darjeeling tea is produced in West Bengal from a particular variety of the Camellia Sinensis plant known for making most black, green, white and oolong teas."
India achieved independence in 1947, and the fact that today, in the midst of Brexit and right-wing populist backlash, chicken tikka masala remains warmly imbedded in the British character as the "national dish" and a symbol of multiculturalism says much about eccentricities of politics and the realities of assimilation.
In the current issue of Food & Dining Magazine, Michael L. Jones profiles Tandoori Fusion (4600 Chamberlain Lane), a Louisville restaurant owned by Indian immigrants Purna and Radhika Veer. Michael reminds us that the Indian subcontinent is vast; Purna Veer hails from Hyderabad in the south, a 1,250-mile drive from Darjeeling (slightly longer than Louisville to Denver).
The point to this digression is that it makes as little sense to refer to "Indian" food as it does to "American" (or Italian, African or Chinese). It's far too big of a net. We make these references off-handedly, as an approximation, but after that it's a labyrinth of places and traditions. The beauty is coming to know each one, even while ruefully acknowledging that one lifetime won't be enough to do justice to the search.
It's easier in a multicultural hub like London or New York City. We do our best here, and speaking personally, many thanks to the Veers for what they're doing in Louisville. Consequently Michael's profile of Tandoori Fusion touches on many of these weekend reflections, as does today's linked story by Nosheen Iqbal at The Observer, "Asma Khan: 'Restaurants should be ranked on how they treat their people.'"
Khan addresses the big-ticket issues of sexism, racism, cultural appropriation and "opening a new restaurant during coronavirus, but the conversation never veers far from the food. If reading this doesn't make you hungry, you're likely a bot.
Darjeeling Express brings authentic home cooking to the fore. A real-deal "like mamma used to make it" menu because, in Khan's kitchen, there is no other way: in a departure from convention and perceived wisdom, her team is made up solely of women who have only ever cooked at home. It's a club of housewives and nannies, none of whom have had any professional training or experience. "These women are the backbone of this business, it is theirs, they've been with me from the very beginning," explains Khan. The recipes, she says, are cooked with an instinct for flavour that relies on memory rather than measurements. The ambition was to create a space that felt like an extension of her family dining table in India. A place to gab and be generously overloaded with food.