It is April 4, 2021; or, Easter Sunday. My family wasn't religious, but when I was a kid, we always had ham and potato salad on Easter Sunday, followed by chocolate cake for dessert. Memories fragment as we age, but food recall lasts forever.
If you've been wondering how Easter is celebrated in Germany, perhaps it will come as no surprise that German and American traditions are somewhat synonymous, especially as they pertain to culinary markers.
While less than 20% of Americans claim German ancestry, it isn't a stretch at all to posit a more pervasive German cultural impact in the States. After all, few Americans understand the German language, and yet most speak brats, schnitzel and lager.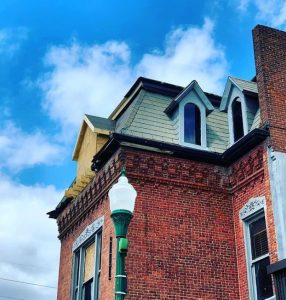 Edibles & Potables is Food & Dining Magazine's weekly Sunday slot to consider food and dining topics outside our customary coverage area of Louisville and environs.
However, this week my aim is to introduce Common Haus, a German restaurant-in-development in Jeffersonville, and in order to do this, full disclosure is merited (that's why I'll keep it brief): Since 2018, I've worked for restaurant owner Joe Phillips at Pints&union, and will work for him at Common Haus.
This said, the office of the News and Tribune is a block away from the future Common Haus, and the newspaper's Brooke McAfee does a fine job of sketching the project in its embryonic state.
German-style beer hall planned for downtown Jeffersonville
A local restaurant owner is bringing a German-style beer hall to downtown Jeffersonville. Pints & Union owner Joe Phillips is planning to open a restaurant called Common Haus this fall at 134 Spring St., near the riverfront.
The Jeffersonville space was formerly home to Goodwood Brewhouse and Live Room, and in recent years, it has also been occupied by Cox's Hot Chicken and Big Four Burgers.
Common Haus will be a "sister restaurant" to Pints & Union, a pub in downtown New Albany that opened in 2018 at 114 E. Market St. The Bavarian-style hall will have a large selection of German beers, and the menu will feature German-style "comfort food," Phillips said.
I am not a chef, and menu development at Common Haus is a story for another day. I'll merely offer one personal observation about German food gleaned from having consumed several hundred meals in Germany: Germany has been a united country for only 150 years; it's a big country, and numerous regional differences are reflected by food, even today.
Berlin has meatball recipes seen nowhere else. Smoked eel and assorted herring dishes are common near the Baltic Sea. Choucroute Garnie à l'Alsacienne is a mixed grill with sauerkraut and one of the most "German" dishes ever, except it is served in Alsace, now France, formerly Germany.
And, perhaps the most popular German sandwich of all originated in Turkey: Doner kebab, shaved meat and pita bread, as brought to Germany by Turkish workers after World War II.
I previously offered insight into an ideal German beer program.
All these thirst-inducing considerations have led me to undertake an instructive academic exercise right up here, in my noggin. What if I were given the opportunity to construct the beer program for a restaurant/bar specializing in German food, with 12 taps for pouring beers imported from Germany and environs?
Okay, so maybe I knew a wee bit more than I was letting on.
Americans tend to think of Bavaria as being representative of Germany as a whole, but Bavaria is like Texas, and Munich comparable to Dallas; they're big, boisterous and outsized concepts, as exemplified by Oktoberfest, and while perfectly wonderful, the alternative experience of residing for several hours at the Uerige tavern in Dusseldorf, sipping little 7-ounce glasses of brown and deceptively hoppy draft Altbier (ale, not lager) while nibbling on smelly cheese marinated in bacon drippings is damned satisfying, too.
Enough out of me. Here's an alphabetical list of six regional German restaurants. Most are more Bavarian than not; a couple of them have American menu options, too.
Gasthaus is the finest, hands down, without an argument. It is better than many German restaurants I've patronized in Germany, as I suspect it will remain for so long as the current family ownership remains intact.
Today's cover photo dates to 1993, and a Gaststätte (an inn, pub or restaurant) in the small Rhine Valley town of Seibersbach, Germany. Sadly, Zur Linde closed a few years ago. The establishment's name means "by the linden tree." We found Zur Linde to be a sturdy, reliable community gathering spot without a shred of ostentatiousness. Shouldn't this be the goal, always?