A few matters demanding attention last week.
On October 23 a new Liquor Barn Express opened in the downtown building at Brook and Market that all tenured Louisvillians know as the place "where Mike Walsh Liquors used to be."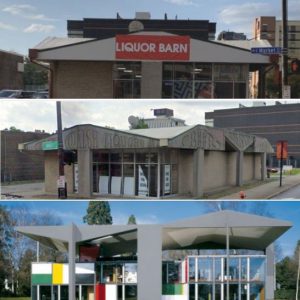 But Louisville architect Steve Wiser took it a step further at his Facebook account.
"(The iconic) Mike Walsh Liquors was designed by legendary architect Jasper Ward in association with Fred De Santo in 1968," wrote Wiser. "Its thematic design is based on Le Corbusier's 1967 Heidi Weber Museum in Zurich, Switzerland."
All the beer we Hoosiers bought there on Sunday, and I never knew any of this.
As a young woman in China, Cecilia Chang first eluded the occupying Japanese and later the Communists, finding her way to the United States, where "she was both shocked and amused by the food most Americans considered to be Chinese — like gloppy chop suey."
Chiang did something about it at her fabled San Francisco restaurant, The Mandarin.
Cecilia Chiang, Who Revolutionized American Chinese Food, Dies At 100, by Neda Ulaby (NPR)
"They think chop suey is the only thing we have in China," she said with a laugh. "What a shame." So Chiang resolved to open a high-end Chinese restaurant that served authentic fare. "Everybody said, 'You cannot make it. You cannot speak English. You don't know anything,' " she recalled. But starting in 1961, tourists, dignitaries and celebrities — from Mae West to John Lennon — flocked to The Mandarin for then-unfamiliar food like tea-smoked duck and twice-cooked pork.
First Germany and France joined Ireland and Belgium in imposing new month-long COVID-19 lockdowns, then England followed suit. A bit closer to home, there's an indoor dining ban in Chicago, prompting this rumination: "What Al Fresco Dining May Look Like When It's Cold," by Linda Poon (CityLab).
On Oct. 8, as Illinois recorded what was then the highest count of newly confirmed Covid cases since May, Chicago announced the winners of a month-long design challenge that fielded hundreds of winter dining solutions from around the world. The winning submissions include a pop-up cabin inspired by ice-fishing huts, a movable heated booth just big enough to fill a parking space and a heated table inspired by a kind of traditional Japanese furniture known as kotatsu.
(There's also an informative survey of the same topic at Louisville Business First).
Experimentation and innovation never go out of fashion, pandemic or not. At Gastro Obscura, we learn what happened when the "spit boy" got tired.
In the 15th century, cooks were desperate to relieve themselves of what was smoky, sweaty, tiring work. Large and royal houses in particular tended to impress guests with elaborate feasts of multiple types of game. Hunks of meat were either boiled or roasted over an open fire; the latter was not only considered most delicious, but in the UK, a hallmark of proper cooking.
Unfortunately, fire was tricky to control—you couldn't leave, say, a goose on the flame without risking an unevenly cooked dinner. To cook meat thoroughly, kitchen staff stabbed each piece with the heavy iron spike of a roasting spit, which rotated via a looped chain and hand crank. The cook or the "spit boy" turned this contraption for long, hot hours by the flame. When an invention to ease the process materialized, every well-attended kitchen saw it as a must.
To close the week's reading, words of wisdom from a server in Manchester, England.
In hospitality there's always that one difficult customer, but nothing could prepare me for life post-lockdown. We all want to get back to normal and it can feel frustrating at times, but this situation has truly brought out the worst in people. If you plan to go out this week, please remember to be polite to your waiting staff: they're living through exactly the same pandemic as you.