We're tracking Louisville area restaurants offering carryout and delivery, and updating the list frequently.
Louisville Restaurants Offering Carryout and Delivery (Updated Frequently)
The internet instructs us that at least two "New Wave" senses, vestibular function and proprioception, have been added to the foundational "Old School" five of sight, smell, hearing, taste, and touch. No quibbling here, but for the moment let's simplify the consideration by focusing on this phrase: "we eat with our eyes."
These days, we're doing the culinary vision thing with a twist.
Leo Lopez is the owner of Habana Blues Tapas Restaurant in New Albany, which during the past decade has become a local institution with an amazing back story. Lopez is adapting Habana Blues to the new carryout reality, and on Friday revealed a "family package" plan emphasizing some of his eatery's greatest hits.
https://www.facebook.com/155471254472059/photos/a.971438439541999/3122101051142383/?type=3&__xts__%5B0%5D=68.ARCBspmck0V0exySOoeOCHBJBW8onOLPK7Qb7kRtMusfYSFXNqY_QdYaav-C_kJxziZZit5sfcbPzCho7pWs3YMws2P6BhujQNK6R-sNWBiXkSItDylETaF04paGluoR8Pfl0dSsFma6BWY_am4_fG8bUKICre3KgApj-pMp8Q3Z3tIN1cVCaZ9uZJPIi4wjyLkpE_aEE9KLZpkdG2tYLT7EnXDSBSZDILixpJFFe36k7UP3mc_1io6mrJZXUGFiqkRhI_jS7ZMIf8RFMQ8zJ3wqvZdDVoYLSZy3q_hb5j0aOogMNAYWiyPzZmCSBSs0LVwf_J4oppQR28Jxa_mELzqhMA&__tn__=-R
Here's the twist.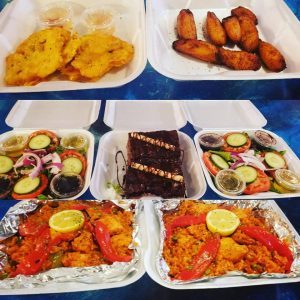 Plating is the process — the art — of making food look its very best on a … that's right, a plate. Plating is one way we eat with our eyes. However, for this carryout-only moment in time, plating is completely off the table.
That's not all, because sensory perception has been minimized on the decision-making end of a diner's deliberation. We're currently unable to let our noses guide us to menu items as we chat through opening cocktails, or to hear the soundtrack of a busy bistro. We're touching as few objects as possible, everywhere. Right now it's come down to our eyes, hearts, and perhaps fond memories of previous meals.
Consequently, in my view Lopez is to be lauded for allowing us to see his Habana Blues culinary creations as "plated" in their carryout boxes. After all, it's what diners will be viewing at their kitchen tables when the bags are unpacked. Wouldn't it be interesting these next few weeks to see social media feeds blossom with photos of carryout plating?
(Call 812-944-9760 daily (12:00 p.m. – 8:00 p.m.) to experience these and other Habana Blues menu items.)