What better opening nod for our Sunday "Edibles & Potables" rumination than one proffered in the general direction of Chef Jeff Jarfi, who has been cooking in Louisville for the better part of 25 years?
I'm from Southern Morocco; my family has been operating a restaurant there for over 80 years called Goulimine, which means "Old Door to the Sahara." Southern Morocco in the '60s and '70s was a very hip place. Rock stars like Zeppelin and Hendrix were known to come into town. I grew up hanging around the American tourists in the market. If I wasn't in the restaurant, I was in town trading. Believe it or not, my passion was acting, and I moved to New York City in '92 to follow my dream. Like a lot of actors, I supported myself in the restaurant business.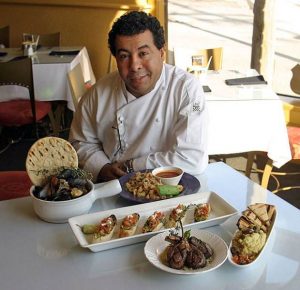 This week on Wednesday and Thursday, Jarfi will be preparing and presenting an authentic Moroccan dinner menu as "guest chef" at Anoosh Bistro.
As of this writing, Wednesday evening's meal is sold out, but seats remain for the sitting on Thursday. Both evenings commence at 6:00 p.m., and reservations can be made by a calling 502-690-6585 or emailing Hannah.bistro@gmail.com.
Before we get any deeper, peruse the menu. The WAVE-3 video clip at the top of the page exhibits the sort of spread we see quite seldom in Louisville.
To Start – Trio of Moroccan Salad
Tomatoes and Cucumbers with Dill Vinaigrette
Roasted Peppers with Cumin, Garlic, Cilantro, and Lemon Juice
Shaved Carrot with Golden Raisins, Orange Blossom Water, Cinnamon, and Squeezed Oranges
Entrees
Marrakesh Traditional Couscous with Seven Vegetables
Jeff's Mom's Chicken – Cornish Hen Braised in Onions, Saffron, Parsley, and Preserved Lemon
Slow Cooked Beef Fez Style with Caramelized Onions, Prunes, Almonds, and Sesame Seeds
Dessert
Roasted Almond Cigars Drizzled with Honey
Chef Jarfi offered a few thoughts via the information release, beginning with a reminder that "Morocco was the first country to recognize the independence of the United States of America 245 years ago."
I will be offering an ethnic Moroccan dinner with dishes selected from the imperial Cities of Morocco, Fez and Marrakesh. This spring menu will take you on a journey of Moroccan method of cooking that goes back 1300 years ago. As a kid growing up in South Morocco, I was always asked to play on the roof every Sunday between 10 a.m. and noon – my job was to stop the birds from eating the couscous that my mom and her helpers made earlier that morning, which they would place on the roof to dry. Let us have a magical Moroccan night.
Ordinarily, I'd have jumped at this opportunity to gorge myself, but we're keeping true to the household pandemic vow and waiting until my second Pfizer jab in early April before we consider returning to a gathering like this one at Anoosh Bistro, or anywhere else.
Just know that the very idea of this meal shook my resolve tremendously, especially since it's been a while since we went all-out for North African: 2017 in Mechelen, Belgium at a fine eatery called Ronda.
Everyone knows that Europe is my favored travel destination, and regrettably I've never visited Morocco. Fortunately for the cause of culinary exploration, numerous Moroccans (also Algerians, Tunisians and North Africans) live in Europe. An amalgam of their respective regional cuisines can be experienced throughout the continent, and for 36 years of roaming, I've immersed myself whenever possible.
The memories of these meals are many and exceedingly fond, as in 1998 when my cousin and I sought refuge from the bedlam of Pamplona's annual Festival of San Fermin at a Moroccan restaurant and watched the World Cup final in the company of a handful of visiting Frenchman (France won the title).
Or, this eatery in Tournai, Belgium in 2000. We were riding bicycles by day and replenishing calories in the evening.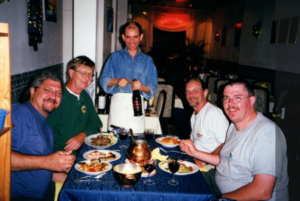 I suspect many Louisvillians simply don't know how good this food can be. Here's to more Moroccan cuisine in Louisville; best wishes to Jeff Jarfi and Anoosh Shariat on their impending feasts.