Either Def Leppard is a familiar name for our readers, or this venerable rock band from Sheffield in England is not, but one needn't be a fan (as I am) or even care all that much to enjoy a recent connection with Kentucky.
To begin, Cincinnati Dot Com has photos of the big show last month.
Def Leppard performs at Great American Ball Park on the Cincinnati stop of The Stadium Tour in downtown Cincinnati on Friday, July 15, 2022. Classic rock acts, Def Leppard, Motley Crue, Poison, and Joan Jett & The Blackhearts played Great American Ball Park on the Cincinnati stop of The Stadium Tour.
Def Leppard has been posting video tour diaries at intervals.
At the 3:46 mark of the video, singer Joe Elliott is seen enjoying a backstage tipple at concert's conclusion.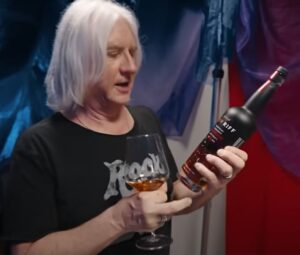 It seems members of the band's crew ventured across the Ohio and visited the New Riff distillery, returning with the gift of Kentucky Straight Malted Rye Whiskey.
New Riff Distilling is pleased to introduce a new, regular extension to their award winning lineup: New Riff Straight Malted Rye Whiskey Bottled in Bond Without Chill Filtration. This style of whiskey is made of 100% malted rye grain, which is quite rare, even in today's craft distilling scene. Malted rye is rye grain that has undergone the process of malting. When you malt a grain you alter and, arguably, improve and refine its flavor. That's exactly what's happened here, as the typically spicy flavor of rye becomes polished, refined, and subtle.
In rock music, a "riff" is a repeated sequence of notes or chords. In a larger sense, it's a distinct variation, like New Riff's malted rye whiskey. Taken together, at last there is a legitimate way for me to sneak the Lepps into a Food & Dining Magazine post.
Here's a cut off the new album, "Diamond Star Halos."
advertising content
advertising content