I head to a traditional eating house in the northern hills (of Funchal) called Casa de Pasto Justiniano. Here, espetada is cooked and served the old-fashioned way. First, the meat is grilled on bay laurel skewers in a hearth in the corner of the room. Then the skewer is brought to the table and hung from a chain dangling from the rafters. The skewer swings like a pendulum over the table. Chunks of beef with bulging knots of fat drip juice onto a plate. It's delicious, and as dramatic as a set-piece out of Game of Thrones.
— Ajesh Patalay (article at the Financial Times)
As with the Azores, Cape Verde and São Tomé, the archipelago of Madeira in the Atlantic Ocean west of Morocco was uninhabited prior to its discovery by the Portuguese in 1419, although there were references to the islands in antiquity, and it is thought the Vikings visited 500 years before.
The archipelago includes the islands of Madeira, Porto Santo, and the Desertas, and are administered together along with the separate archipelago of the Savage Islands. The Desertas and Savage Islands are nature reserves without a permanent human presence. The largest island is Madeira, comprising 286 square miles and 267,000 people, most of them residing in Funchal, the capital.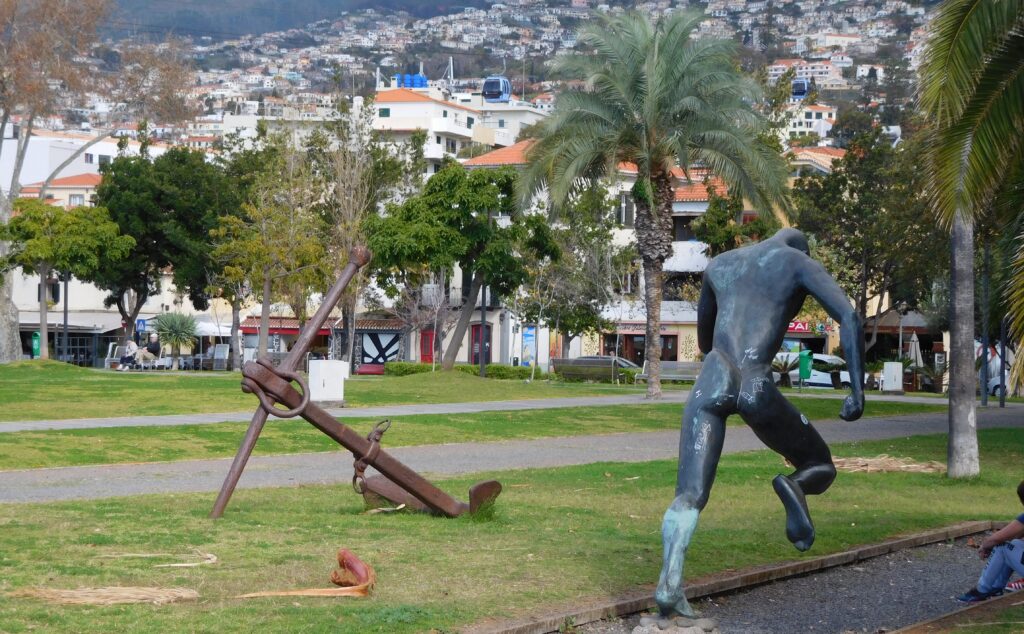 Funchal is the birthplace of Madeira's most famous native son, Cristiano Ronaldo dos Santos Aveiro, perhaps the greatest footballer (for Americans, "soccer" player) there ever was. How many airports are named for the living, athletes or otherwise?
Madeira – island of soaring peaks, perilous drops and scary roads, by Tim Pile (South China Morning Post)
Landing at Cristiano Ronaldo International Airport is not for the faint-hearted. Strong crosswinds result in two aborted attempts, but just when it looks like we'll have to detour to Lisbon, the plane suddenly thumps onto the runway. Next to me an elderly lady smiles serenely throughout the entire white knuckle episode. It turns out she's an old hand.
"I used to come here on the flying boat in the 1950s," she says, with a glint of nostalgia. "We were well strapped in because you would hit the water with quite a bump. Then little rowing boats ferried us ashore." Sometimes I feel I haven't lived.
In 2018 my wife and I viewed the much-discussed bronze bust of Ronaldo at the airport. It was a selfie magnet, albeit a likeness much criticized at the time for looking almost nothing like its model. This kerfuffle reminded me of the M*A*S*H television series episode long ago when the bust of Colonel Potter commissioned by Frank Burns as a birthday gift proved to look exactly like the Korean sculptor who rendered it, not Potter.
I'm told the original bust of Ronaldo has been replaced with a more accurate likeness. At any rate, four years ago we hopped a cheap EasyJet flights to Funchal from Porto, spending the night and returning next day.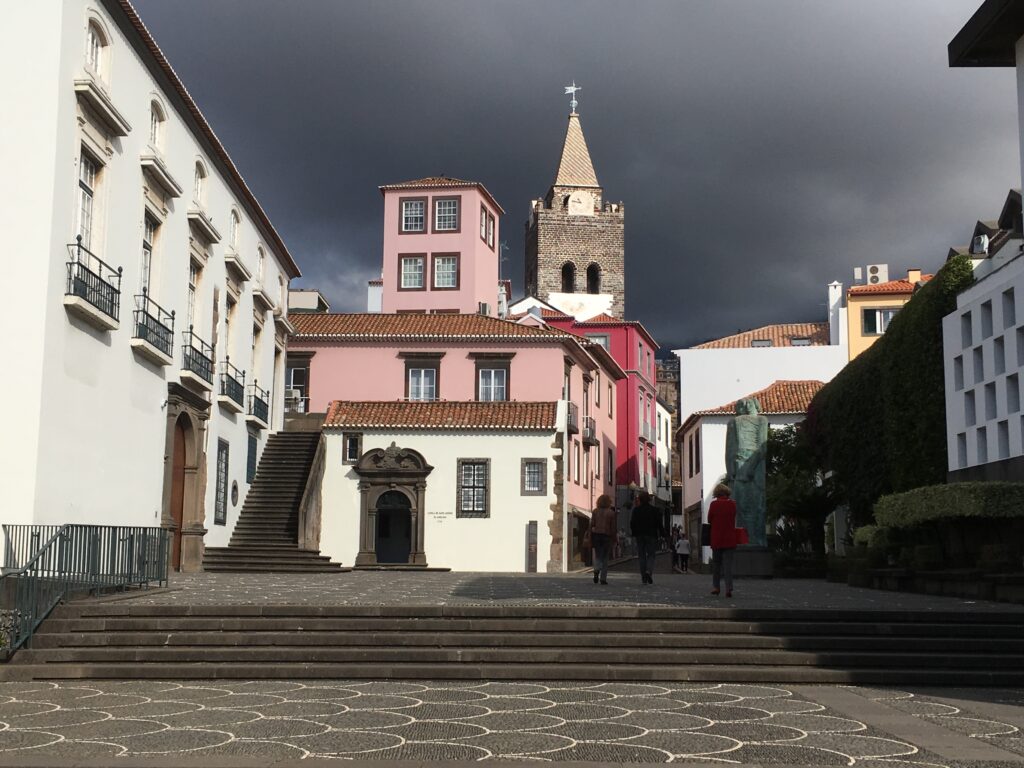 It was barely enough time to scratch the surface, and a return was inevitable. Accordingly, we should be there just about now.
As always, my thoughts turn first to food and drink. As for potables, there's a brewery in Funchal, and it produces the clean, crisp Coral Branca on the Central European golden lager model.
On the stronger side of things, Poncha is a popular libation.
Poncha is a traditional alcoholic drink from the island of Madeira, made with aguardente de cana (distilled alcohol made from sugar cane juice), honey, sugar, and either orange juice or lemon juice. Some varieties include other fruit juices.
Aguardente de cana plays a vital role in the making of Madeira, an utterly unique specialty wine. The spirit is added to arrest the fermentation of the wine prior to aging, as described in the publisher's introduction to Madeira: the Islands and their Wines, by Richard Mayson.
It is said that a fine wine gets better with age and of no wine is this more true than it is for madeira. Not only does madeira require cask-ageing in order to acquire its unique 'maderised' character but, unlike most other wines, it retains that character for decades, even several centuries. For heat and air, the sworn enemies of most wines and winemakers, conspire to turn Madeira into one of the most enthralling of the world's wines as well as the most resilient. Madeira wines from the nineteenth and even the eighteenth centuries still retain an ethereal, youthful gloss. Once the cork is removed, the wine comes to no harm, even if the bottle is left open and on ullage for months on end. If ever there was a wine to take to a desert island this is it.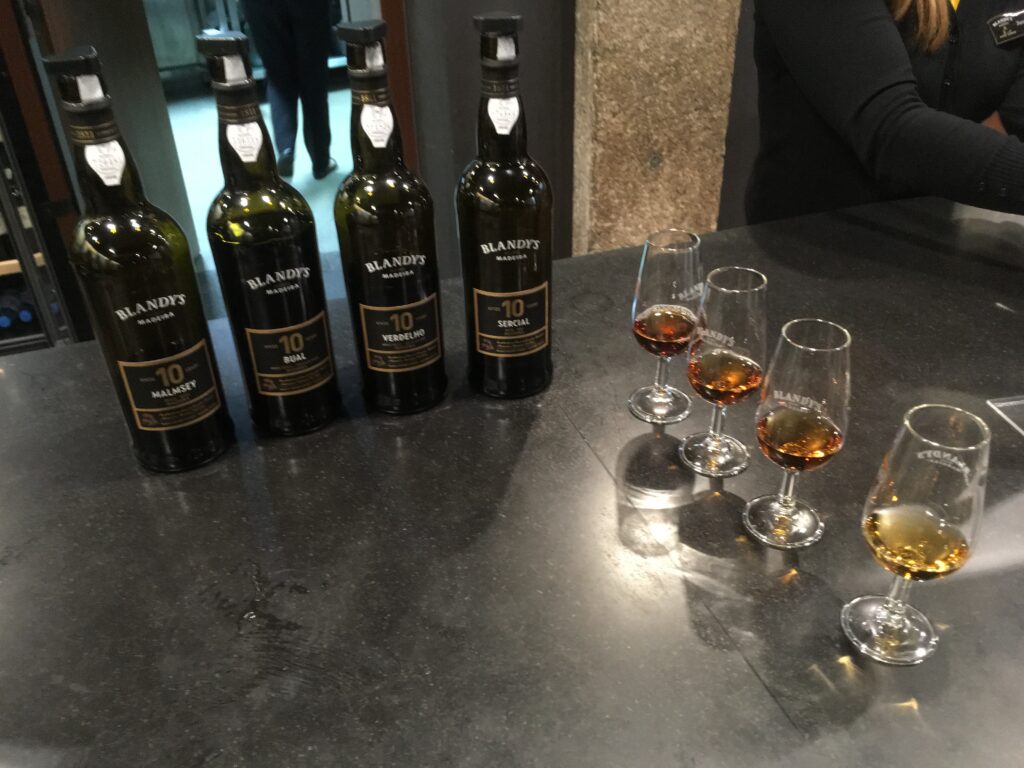 For there to be an after-dinner drink, there must first be a meal. During our 2018 visit, I enjoyed a scrumptious evening feast of Black Scabbard Fish with Bananas and Passion Fruit Sauce (recipe here).
Beautiful Madeira, the island of eternal spring, by Paul Ames (CNN)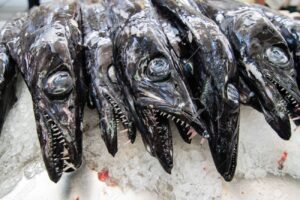 … It's impossible to miss these nightmarish denizens of the deep laid out in the market. Shiny black snake-like things with bulging eyes and wolfish jaws. Black scabbard fish is Madeira's favorite seafood. The firm white flesh is served everywhere — often in unlikely combinations with fried bananas.
For more about Madeiran food, go here. The menu includes wheat soup, barbecue, lapas (mollusks), Prego no Bolo do Caco (steak sandwich) and Castanhetas (another variety of fish).
Maybe these guys caught something to eat, too.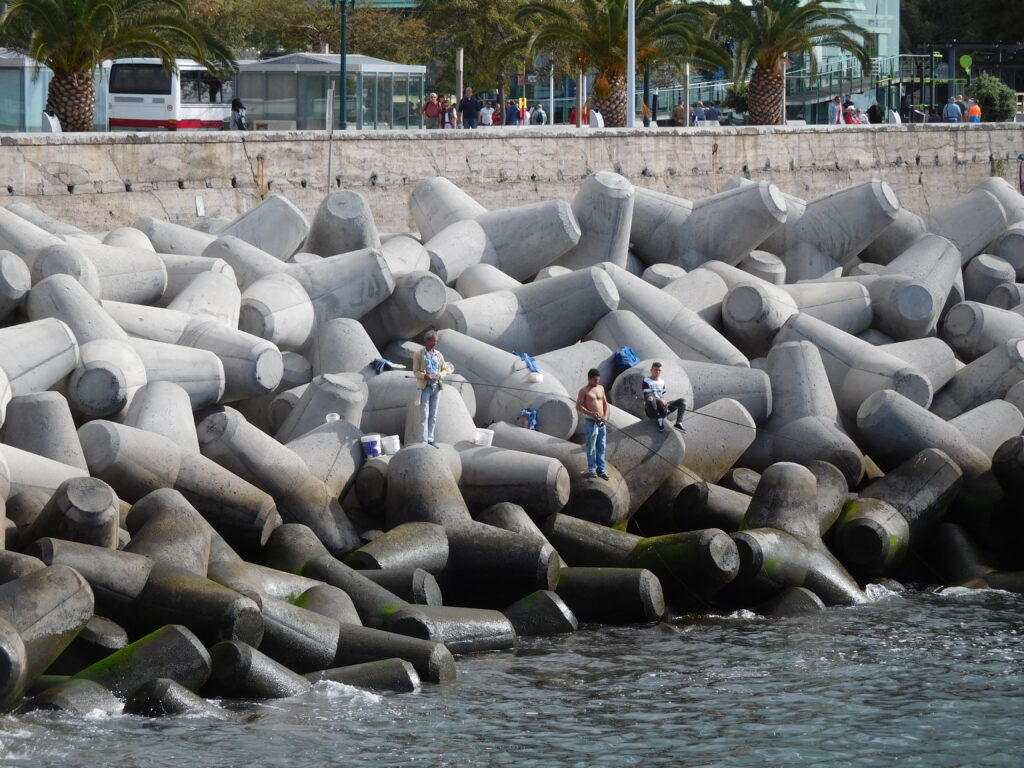 advertising content
advertising content