Tomorrow is Elector Day
The New Albanian Brewing Company Pizzeria & Public House (3312 Plaza Drive, New Albany) generally refers to Election Day as "Elector Day." NABC's original brewery began production in 2002, and the third batch, intended to be an English-style winter warmer, was brewed on Election Day in 2002. It soon became apparent that the resulting ale was stronger than the target in every respect, and also yummy. The winter warmer description was abandoned, and Elector was born. It soon became a year-round beer for NABC, but has always retained a subversive connection to ballot boxes (and hanging chads) with its longtime slogan: "An Elector (Ale) Makes Democracy Pointless."
Full disclosure: I know the history because I used to be a co-owner. NABC will be open on Election/Elector Day for limited-capacity indoor dining and carryout from 3:00 p.m. through 9:00 p.m., and you just might see me there, excelling at pointlessness.
False Idol Becomes Chimera Brewing
In Greek mythology, a "chimera" is a fire-breathing female monster with a lion's head, a goat's body, and a serpent's tail. But in Louisville, Chimera Brewing Company is the new name for False Idol Independent Brewers, bringing the brewery under unified ownership with V-Grits at 1025 Barret. Kristina Addington explains.
Greetings! Hey folks, Kristina J. Addington here. You may know me as the owner of V-Grits restaurant. I'm over the moon to introduce you to Chimera Brewing Co! My husband Jeff Hennis and I have the pleasure of taking full ownership of False Idol. We are rebranding to Chimera, with a new mission and some new beers that I can't wait to share with you.
At Chimera we will be brewing with benefits! A portion of every pour of our beer will benefit a local non-profit supporting racial equality, food justice, animal rights, foster care, and more. It all starts TODAY! Stay tuned to hear what's on tap, what we're brewing up next, and which Louisville nonprofit organizations we're supporting with every sip.
Huge thanks go to Shawn and Becky, the owners of False Idol, for starting a fantastic brewery with some of the best beer I've ever had. It's an honor to keep the brewery alive, with a new passion and mission-driven focus. Fortunately – for me and all beer drinkers – Shawn Steele will continue to be the head brewer. I am so excited to see what creative concoctions we come up with next.
Goodbye, Farewell and Amen to Dauntless Distributing
Dauntless Distributing, which began as a specialty beer wholesaler before adding product lines of wine and spirits, has ceased operations. If Louisville beer aficionados are not actively mourning the departure of Dauntless, they should be, because while certain better known beers from the company's book will be picked up by other wholesalers, we may not see the return of many rare classics, whether American or imported craft beer brands.
Monnik Beer Co.'s head brewer Scott Hand offered a fitting coda: "Dauntless gave us access to a ton of amazing beers and, for me personally, access to some amazing experiences with a bunch of great brewers. I don't think there will be anything like it in Kentucky for quite a while."
I'm not much for mission statements, but Dauntless Distributing's went swinging for the fences.
Dauntless Distributing came into existence in 2011 with an unbending drive to humanize the commodity of handcrafted beer. This predilection to play proxy for the myriad artisans and their inspired works from around the globe has paved Dauntless' path. Our team is dedicated to providing the highest quality of service and curation throughout the state of Kentucky. Come share in our singular passion.
For a decade, mission accomplished. It was a fine run and Dauntless will be sorely missed. Best of luck to Michael Minton and his great team.
Quick Takes
The 2020 Jtown Beer Fest was canceled in its customary "crowded" format owing to COVID-19 restrictions, but the organizers are hosting a series of guided beer tastings above the Gaslight Diner, November 5th and 6th, where you'll be led through "flights of beers to explore different styles, origins, variations and brewing practices." Get the plain facts here.
Releases from the 5th annual Kentucky Proud Beer Series started pouring on October 28th, with 25 Kentucky breweries using a variety of Kentucky farm products to craft special beers. They're limited, so get a move on.
In Chicago this election eve, there is a connection between beer, rabbits and hair, and it helps to speak Spanish.
From Prague, beer writer Evan Rail contemplates the ongoing resuscitation of historic beer styles, which are finite, and speculates as to which contemporary styles might become extinct.
Speaking of beer styles, what's the difference between Märzen, Oktoberfest, Festbier and Vienna-style Lager? The Bier Nerd at KC Bier Co. attempts to explain. Spoiler alert: their Vienna-style Festbier is superlative, and for a tasty local example of a Vienna, head over to Ten20.
There's a fascinating article at Caña by Beth Demmon: "If I support women reclaiming autonomy over the way they're perceived by the world, even if it differs from the way I wish to be viewed, why wouldn't my attitude extend to women beer influencers?"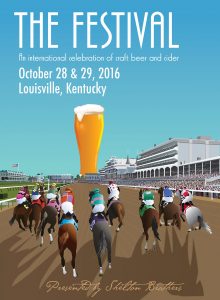 And, this week's cover photo credit goes to Ron Smith, my friend from Indianapolis, who attended The Festival in Louisville in 2016, an event presented at Copper & Kings by Shelton Brothers Importers, and organized locally by Dauntless Distributing. If you were there, you're aware.
---
Roger Baylor is an entrepreneur, educator, and innovator with more than 35 years of hands-on experience and expertise as a beer seller, restaurateur, and commentator. As the co-founder of New Albany's Sportstime Pizza/Rich O's Public House (which later became New Albanian Brewing Company) in the 1990s and early 2000s, Baylor played a seminal role in Louisville's craft beer renaissance. Currently he is the beer director at Pints&union in New Albany. Baylor's "Hip Hops" columns on beer-related subjects have been a fixture in F&D since 2005, and he was named the magazine's digital editor in 2019.