Submitted for your approval, two seemingly unrelated local beer facts.
Monnik Beer Co. opened in Germantown in 2015 and enjoys a reputation as one of Louisville's finest breweries. Meanwhile the New Albanian Brewing Company's Bank Street Brewhouse production brewery in downtown New Albany was shuttered in May, 2019 after ten years of making beer and memories.
Now it's 2020, and construction continues as Monnik works toward a location in Indiana at the former Bank Street Brewery building (415 Bank Street, New Albany).
The original NABC Pizzeria & Public House (founded in 1987) continues to bake pizzas and brew beer at 3312 Plaza Drive on New Albany's north side.
Monnik's owners declined to be interviewed by Food & Dining Magazine, but a source inside Monnik explicitly confirmed the company's intent to open a brewery and restaurant at the Bank Street site, revealing also that remodeling is under way.
Indiana state incorporation records indicate that FOURONEFIVE, LLC was created on June 27, 2019. The Indiana company's listing at the Indiana Secretary of State's web site shows the company's principals to be Brian Holton and Iain Luijk, the owners of Monnik, and includes Monnik's address in Louisville: 1036 E. Burnett Ave., Louisville, KY, 40217.
Presumably FOURONEFIVE, LLC was formed to hold the property at 415 Bank Street, while a second entity, BEER ENGINE, LLC (same principals; October 28, 2019) exists for the business. Indeed, Indiana Alcohol & Tobacco Commission records reveal a January, 2020 local board hearing on an application by BEER ENGINE LLC for a special "Beer, Wine & Liquor – Riverfront" permit.
As yet there are no hearing dates for an Indiana Small Brewer's permit, although it isn't uncommon in Indiana for these hearings to occur on separate dates.
Another source told us that the building's previous kitchen space is being expanded, and a new bar will be constructed with a brewery window backdrop. There are three garage doors facing potential patio space on the Bank Street side, and three more opening from a second dining area into a largely unfinished beer garden area.
The turnkey DME 15-barrel brewing system was purchased new and installed in 2009. Maximum production capacity with a system of this size is in the range of 2,200 barrels yearly. According to Louisville Business First, Monnik brewed 1,040 barrels of beer in 2018, with the addition of a canning line to the existing brewery in 2019 enhancing the company's prospects for wider distribution of its flagship IPA and Hauck's American Pilsner, among others.
There is no timetable for completion of Monnik's expansion to New Albany. Theoretically the sale of Monnik's house beers might begin before the brewery is fully operational, but because of the state line there would have to be an Indiana wholesaler acting as middleman. Monnik's previous Indiana wholesaler, Starlight Distribution, currently is in the process of liquidating its operations.
We'll be back with further information as Monnik's project moves forward.
(Jon Larmee assisted greatly with this story)
Now: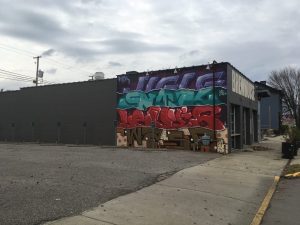 And then (2018):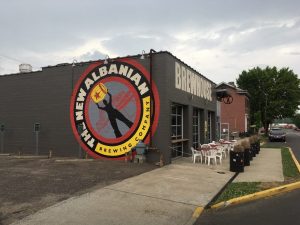 advertising content
advertising content