Chef Dallas McGarity and The Fat Lamb are cooking straight through the coronavirus, with curbside pickup at 2011 Grinstead Drive (call 502-409-7499 or order online) and delivery via DoorDash. Hours are 11:00 a.m. – 8:00 p.m., Tuesday through Sunday. In this profile from 2018, we looked at the trajectory of McGarity's culinary career.
—
A Gem in the Highlands
I prepared just one question for Chef Dallas McGarity: Do you need to have lamb on the menu at a restaurant called the Fat Lamb?
"I don't know," he laughed, "but I've told people the lamb got fat by eating veggies."
Spoiler alert: yes. Chef McGarity serves lamb at his Fat Lamb Modern Kitchen and Bar as well as vegetables and many other dishes derived from his respect for "heritage" and "comfort" food.
"It's food that speaks to people when they sit down to eat," McGarity explained as we chatted at Fat Lamb's bar. "It brings back memories and evokes a feeling of home."
(Originally published in the Fall 2018 issue of Food & Dining)
McGarity's intriguing and constant challenge is to harness globally-inspired creativity, reformatting his menu while simultaneously keeping it much the same – perhaps comforting regular diners with familiar meat or fish while altering their accompaniment.
"You've got to change the food around," he said. "I'll keep the same proteins and incorporate different sauces, starches and sides to go with them, based on seasonality. People remember the main part of the dish, but the rest of it gets changed enough to be a new dish."
Culinary expertise and people skills have been a winning combination for the bearded, jovial McGarity, who is an affable and engaged conversationalist in a gratifyingly pre-internet sort of way. The man knows his food, and he understands human beings, too.
Fat Lamb is McGarity's first solo venture and follows 12 years of local kitchen experience and kudos at Volare Ristorante, Z's Fusion, Jack's Lounge/Equus, and Marketplace Restaurant.
McGarity's primary objective has always been to own and operate his own restaurant, and he grabbed the opportunity in late 2016 to debut Fat Lamb in the Grinstead Drive space vacated by Fontleroy's, bringing with him longtime co-worker and his current chef de cuisine Brad Menear.
At 40, McGarity's career trajectory is gaining speed, but ask him to explain what got him here and the answer comes from a far slower time in a vastly different kitchen.
"I grew up in South Carolina and lived on a dirt road in the country," said McGarity. "My grandma would have corn every summer, and we'd shuck it on the back porch and shell beans. I saw her butcher chickens.
"What kid nowadays has seen a chicken butchered? It's nice to know that's where your food comes from."
Orangeburg, South Carolina is an historic crossroads city of 13,000 situated where the Piedmont plateau begins its gentle rise toward the Appalachian Mountains from the boggy Atlantic coastal region.
McGarity enjoyed an idyllic childhood in a neighborhood called Four Holes Swamp, where he fished, hunted and absorbed every last thing his mother and grandmother taught him about food and cooking. He attended university in Charleston and spent formative time working there before he lived in London for "a few minute," and finally moved to Louisville in 2004.
While working at Volare, McGarity met his future wife, Laura Busse. They were married in 2009 and have two children, Davis and Lucie. Not only partnered in marriage, the two are business partners in the Fat Lamb.
"Laura has been through the restaurant game with me from Volare to Z's Fusion to Marketplace to us buying Fat Lamb," said McGarity. "Her role is now mainly social media, and she helps out when we need extra hands hosting, since she knows pretty much everyone in town it seems. She is much more popular than me."
Along the way, McGarity became an avid fan of Anthony Bourdain, who influenced his style and whose death in June shook the chef and his peers. For them, Bourdain was the personification of an electronic information age that has transformed the food and dining scene.
"I think he opened the door for lots of young cooks to explore. He's the reason I like to travel. You have to get out and see things, to go and look at what other people are doing."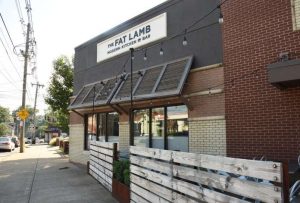 What people are doing at the perennially bustling intersection of Grinstead Drive and Bardstown Road is streaming through on a daily basis. Who wouldn't want to be doing business in the vicinity of so many potential patrons? It might seem strange, but not everyone agreed with McGarity's choice of sites for the Fat Lamb.
"When I bought this restaurant, people said it's the worst place in the Highlands," he laughed. "Are you kidding? You're in the Highlands, and you have your own parking lot."
Louisvillians are renowned for giving directions based on buildings that used to be here, and for many years the spiffy brick-clad structure housing the Fat Lamb was an unmistakably emerald-green cinder block automotive garage, making it a distinctive landmark for cultural immigrants like me.
That's because during the 1980s — when the Bardstown Road corridor bars and restaurants were magnets for frustrated Europhiles in deprived places like New Albany — we'd drive from Indiana and exit I-64 at Grinstead Drive, swinging west on Bardstown Road just after the garage's distinctive footprint.
At today's Fat Lamb, the extensively remodeled old garage is remembered by a series of artistically arranged photographs near the rear of the dining room of the 65-seat restaurant.
They're not the only examples of artwork adorning the walls. They are joined by two enlarged vintage illustrations. One shows the schematic on a patent submission for sheep shears, and the other depicts a sheep-shearing stand used to facilitate access to the animal's belly. Personal heirlooms on display include recipes, a plow and a double-sided saw, all from Mrs. McGarity's grandmother.
According to McGarity, the overall aim of the Fat Lamb's décor is to be casual but comfortable. "My wife Laura is an interior designer, and she's done a lot of little things to accommodate that feeling. We want people to understand that we are a family restaurant, owned and operated by us."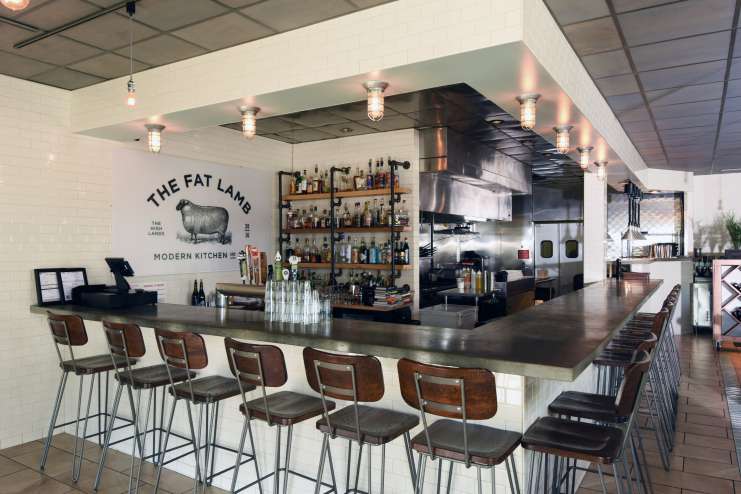 The personal effects and decorations accomplish this, but the overall vibe of the Fat Lamb is that of an upscale neighborhood trattoria, one as effortlessly form-fitting as the chef's succinct and sustainable menu. A row of windows facing east brightens the dining area during lunch and early evening. Diners entering the Fat Lamb are immediately drawn to an enticing view of the restaurant's wine selection displayed in a diamond-cube rack. The wine serves as a visual pivot, dividing the room between unadorned wooden two and four-top tables on the right and a cozy L-shaped bar with tiled overhang to the left. Later in service, soft lighting warms the layered beiges and browns in the dining room, and the noise levels increase despite the soft edges and chairs clad in banquette padding.
Commented McGarity, "It still gets loud when we get busy, as a good restaurant should."
An open kitchen area lies behind the bar, where a well-chosen draft selection of rotating regional craft beers, including seldom-seen choices from Blackberry Farm in Tennessee, complements innovative and popular cocktails created by bar manager Brennon Staples.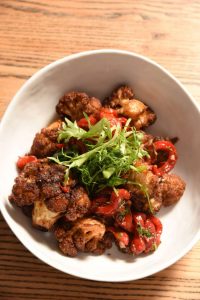 Orders from the kitchen might begin with fried tandoori-spiced cauliflower, ricotta brioche toast or lamb meatballs. Appropriately, the latter is a signature menu item.
"We've had an amazing reception for the meatballs," McGarity told me. "People come here just for those."
His ricotta brioche toast exemplifies crowd-pleasing simplicity, with marinated tomatoes placed atop cheese and bread, straight from the toaster oven with balsamic vinegar and greens.
At one point, McGarity said he and the kitchen staff grew tired of looking at this popular appetizer and slightly altered it. But it was a tweak too far; customers liked the new version but didn't love it. "I turned it back into what it was," McGarity said, "and now everyone who gets the brioche loves it – again."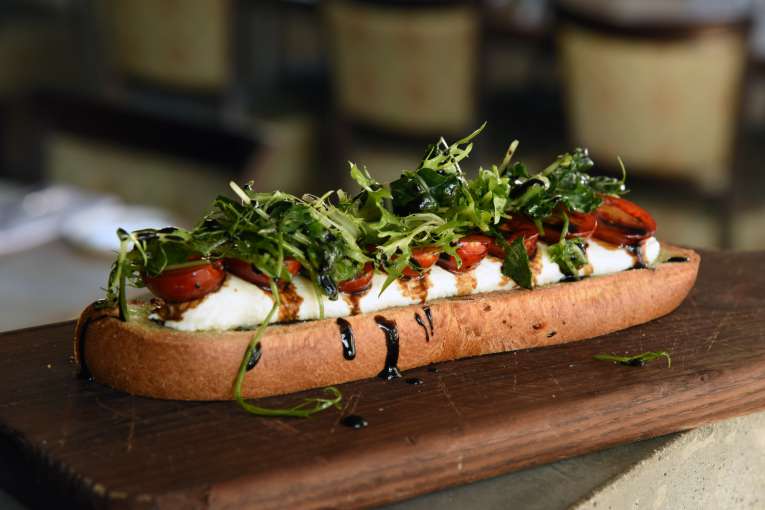 Fat Lamb's dinner menu features a half-dozen main courses built around meat and poultry alongside an equal number of fish and vegetarian items. "My wife is vegetarian," explained McGarity. "If I don't have something vegetarian, she'll get on me."
Leading the way is a half rack of namesake house lamb,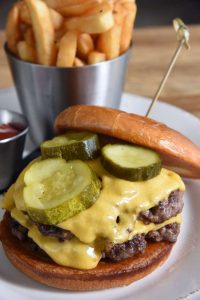 which McGarity sources from Ovation New Zealand. Conversely, a purely nostalgic and enduringly popular American double cheeseburger is fashioned from either Creekstone or Black Hawk Farms beef, both located much closer to Louisville.
Seared duck breast is accented by a pistachio and cherry crumble with cherry agrodolce — an Italian sweet and sour sauce. Another version of agrodolce reappears in McGarity's seared scallops, incorporating cucumber and golden raisins with polenta on the side.
McGarity clearly enjoys these multi-cultural touches, as evidenced by the sriracha powder and sweet chili vinegar used in his hot sauce-marinated fried chicken breast, which is served with Greek potatoes and greens.
"The fried chicken brings back growing up in the Deep South and eating it pretty much every Sunday," McGarity remembered, although his favorite example of updating traditional cuisine with modern flourishes is the Fat Lamb's recipe for oysters.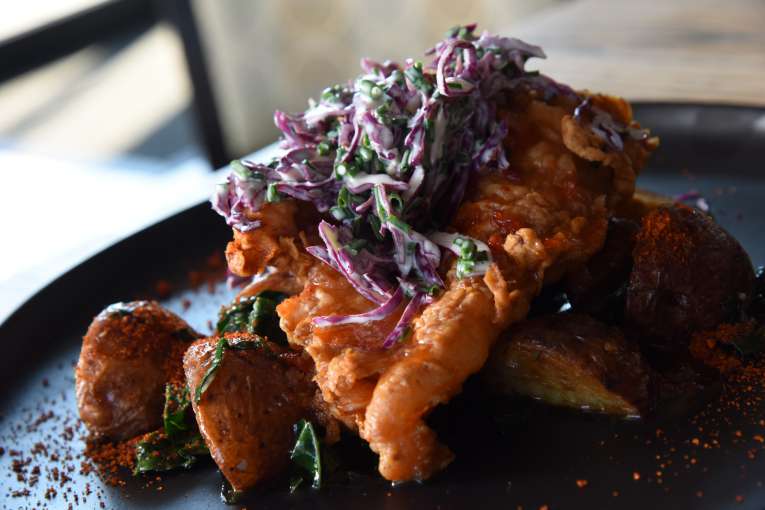 "They're southern-fried, cornmeal battered, and what I grew up eating every day, but here we serve them with tzatziki sauce, sumac and Kalamata olives. And it works together, the saltiness from the olives with the oysters and the creaminess like tartar sauce. It all hits that note – something familiar and something different."
Tempting Fat Lamb desserts typically include ricotta cannoli, and chocolate hazelnut mascarpone mousse. The sugared rum peaches with sweet ricotta are guaranteed to conjure memories of McGarity's South Carolina upbringings.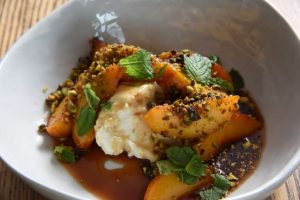 "The peaches totally remind me of my mom's peach cobbler. When I'd visit home, she would insist on making fried chicken and cobbler, so it's a memory of her every time I make them. The smell even takes me back. It's funny how olfactory can bring back memories."
The Fat Lamb is on the cusp of its second anniversary being welcomed as a valued addition to the venerable and vigorous Highlands and a success both artistically and commercially. However, it would be a mistake to imagine the seemingly laidback McGarity subsisting on a diet of press clippings of one restaurant alone.
McGarity recently crossed the Ohio from River City (Louisville) to Falls City (Jeffersonville, Indiana) and purchased the waterfront restaurant Portage House from its founding chef Paul Skulas and his partners at the Doers Restaurant Group.
"I'm going to change the menu, but I'm not really going to change the decor," McGarity told F&D at the time. "We'll stick to the southern flair, but we are going to mix in some Asian ingredients. I like playing with that: the sweet and the salty and the rich and fatty going on in the Southern stuff."
As though to place an exclamation mark on the Portage House's acquisition, McGarity next joined forces with the Butchertown distiller Copper & Kings to produce a "cookbooklet" titled Take Me to the River, featuring recipes using brandy. He celebrated the release of the booklet by preparing a special brandy-themed dinner at Portage House.
Through it all, McGarity remains convivial and unflappable in pursuit of the core ideals he forged along a career path from Orangeburg to Louisville. The menu at Portage House may be different than the Fat Lamb, but those ideals imply a desire for a delicate balance in his culinary endeavors.
"You need to be approachable enough that people come in and try something," he said. "And you also need to be a little bit different enough to where people feel comfortable trying THAT as well." F&D