Lithuania evidently lacks an Alcoholic Beverage Control agency.
After six excruciating weeks of being in a near lockdown, Lithuanian restaurateur Eimantas Lumpickas is relieved to finally have customers to serve again — but he's never done it quite like this. For the first time, all of the tables at Drama Burger, his upscale gastro café in the capital, Vilnius, are outdoors.
Some are in a newly created seating area on the sidewalk and others will soon be in a park down the street, 40 metres away, that's never seen table dining in the past.
"The restaurant is alive again," said Lumpickas, as he relocated the tables and chairs outside.
With a nod from infectious disease experts, who say it's more difficult to contract COVID-19 in outdoor spaces (with proper social distancing), the mayor of Vilnius concluded that his city should become one "big open air café," and early results are promising.
Yesterday in Louisville, Mayor Greg Fischer indicated he had reached a similar conclusion.
Temporary Regulatory Relief for Restaurants
As Kentucky restaurants begin to reopen on May 22, 2020, and because of limited allowable indoor seating capacity, Louisville Metro wants to help restaurant owners find solutions to increase their outdoor seating capacity.
Sidewalk/Right of Way Dining
On May 12, 2020, Louisville Mayor Greg Fischer announced that the Department of Public Works will temporarily suspend application fees for restaurants seeking a an encroachment permit to add or expand their outdoor seating on public property, including sidewalks. Restaurants will still need to apply for a permit online. To obtain a permit, the business will need to provide proof of insurance. If you have questions about the permit, please call Public Works at (502) 574-5810.
Outdoor Dining on Private Property
Louisville Forward is working with Louisville Metro Council to pass an emergency ordinance to suspend certain planning and zoning requirements to allow:
Restaurants to setup or expand outdoor seating on private property or in a parking lot without additional parking, landscaping or other requirements normally required.
Restaurants that are in compliance with the Land Development Code and that already have a liquor license to serve alcohol outdoors from their existing indoor bar.
But be aware that the city's cooperation is only the first step; local and state ABC authorities also have a say in the matter.
From the outset of pandemic shutdowns and restrictions on dining in, it has been suggested by purveyors of food and drink that it would begin to get interesting at the two-month mark. Accordingly, there are two permanent closings to report.
In a Facebook message, Verbena Cafe (10639 Meeting Street in Norton Commons) reported its decision to close after ten years as a popular breakfast spot.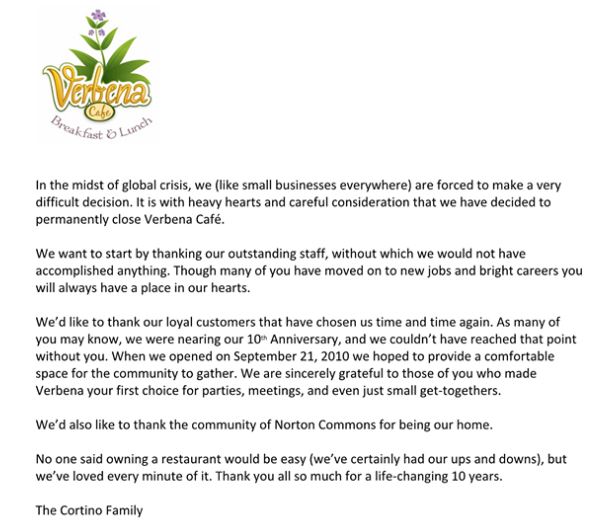 In Jeffersonville, Kobe Japanese Steakhouse (301 Southern Indiana Avenue #600) also has decided to cease operations, although issues with the lease are cited as the primary reason for closing.
We want to thank everyone for these wonderful 20 years of business. We are truly touched by everyone support and love that they showed us those years. We are truly upset at this moment to close our business due to the lost of our lease by the bank. This has nothing to do with the COVID-19 pandemic.
We will miss everyone who has came to our business and supported us. We hope everyone is healthy and safe during this time.
Thank you, from The Kobe Family
EDIT: To clarify things, the owner, Mrs. Dee is in safe and in good health ❤️ We appreciate everyone's kind and welcoming words.
Our cover photo credit goes to CBC (Canada). Ah, to be in Vilnius in May.