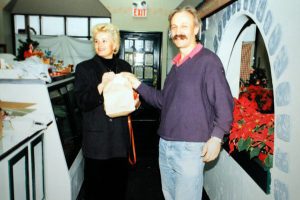 Gasthaus, which is the gold standard for traditional German fare in Louisville, celebrated its 28th birthday right before Christmas. The photo at right is from December 18, 1993, when the first customer was served at 4812 Brownsboro Center.
The restaurant's web site picks up the story:
"After months of remodeling, the Greipel Family, all born and raised in Germany, except the oldest daughter Simone (born in London, England), finally opened the 'Gasthaus' at its present location.
"(Today) executive chef/owner Michael Greipel together with Chef Justin Huber, create authentic dishes from Old World recipes. Annemarie Greipel, her daughter Nina and the friendly staff are responsible for taking care of the guests, many of them regulars.
"Since opening in 1993, the menu has grown from a few items to a large selection. Everything is made from scratch, using only the finest and freshest ingredients. Michael handpicks all his meats, fruits and vegetables daily. Annemarie and her daughter Nina make all the desserts daily, in house from family recipes."
When Gasthaus turned 25, Louisville Business First's Steve Kaufman wrote a quality profile: Building from scratch: Family, hard work help Gasthaus German Restaurant flourish for 25 years.
"The secret of our success?" (Annemarie Greipel) pondered. "I knew you'd ask me that. Hard work. Attention to detail. Not giving up once you start something.
"And we really love it. There's never been a day I woke up feeling I didn't want to go into the restaurant and be doing what I'm doing."
Today (4 January) Gasthaus returns from Christmas Break with specials that include Schnitzel Madagascar, which is the familiar breaded pork loin with a green peppercorn brandy cream sauce, served with spätzle.
Pro tip: When you phone Gasthaus for reservations, don't forget to reserve a Strawberry Napoleon, too. They go quickly.
advertising content
advertising content