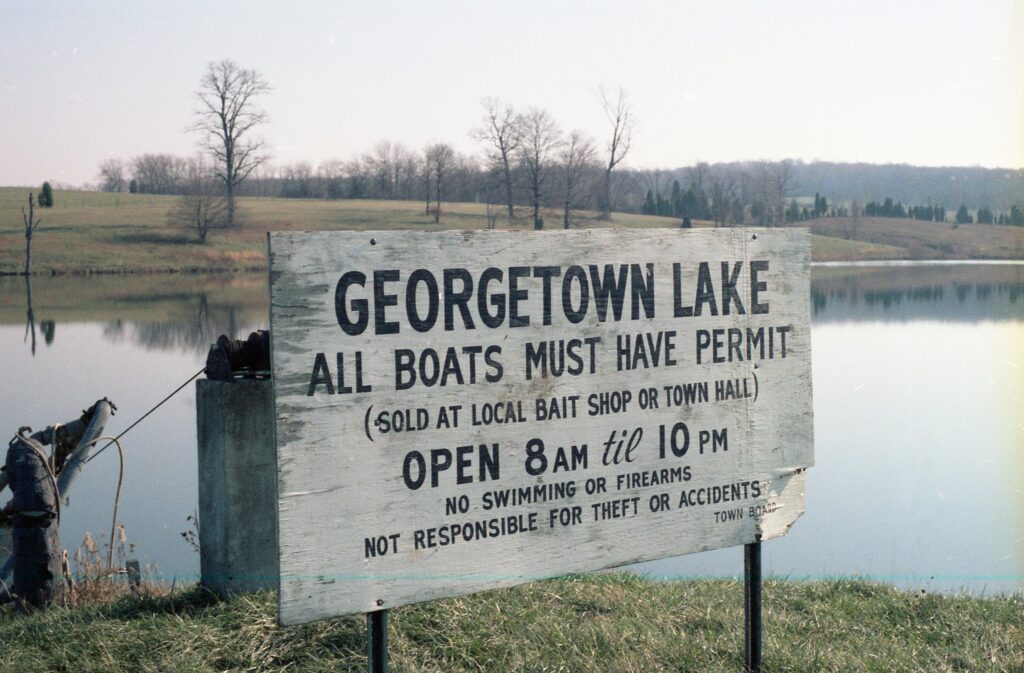 Your periodically diligent digital editor is a Georgetonian, born and bred.
I speak neither of the garden variety Georgetowns to be found in Queensland, India, St. Vincent and the Grenadines, Alberta, Malaysia or Guyana, nor of the Georgetowns situated in 33 other American states apart from Indiana, where there are five of them.
One of these is nestled in Floyd County, eight miles west of New Albany. That's the Georgetown I know, where I fished in the reservoir (above; since drained), rode bicycles, played Little League baseball and had my hair cut at Barney's Barber Shop.
If you're westbound on State Road 64, Baylor Wissman Road appears on your left just before you see the big screen of the venerable Georgetown Drive In, as named for my grandfather, George Roger Baylor, and a fellow farmer who resided beneath the crest of the ridge at the time the roads were given formal identities.
His name was Joe Wisman. Since I can't tell you which of them misspelled their name, the road or the resident, I'll keep moving toward the unified point of today's post.
The Georgetown Bakery recently relocated from its storefront in the center of town, which I seem to recall was the grocery store when I was a kid, to a newer commercial structure situated roughly a mile closer to the interstate (at 1116 Copperfield Drive).
I'm glad I saw Joel Schipper's story at WDRB-41, because I wasn't aware that the bakery's owners were intent on adding a restaurant in their previous digs, as well as a third food business across the street in a historic building where we did our banking back in the 1960s.
Owners of Georgetown, Indiana bakery planning to open more restaurants
The bakery is only one of their business ventures. The men are changing the bakery's former location on Main Street into a bar and grill. They also purchased a former bank across the street which will be turned into a deli and butcher shop.
"Hamburgers, chicken, fish and it will be supporting that spot. Plus it supports the ballpark behind it which we run the concessions down there, too," (Wade) Simon said.
Verily, these are the best sort of stories to pass along.
For the past week, much of the food and dining news in Louisville metro has been about "new to market" chains, the next trendy concept, this or that turnkey franchise, and in all, the sort of soulless business-for-the-sake-of-business fetishist's cookie cutter gobbledygook calculated primary to appeal to investment portfolios.
Independent small businesses haven't had as many headlines lately, and while I'll concede this is a cyclical sort of thing in terms of news coverage, it remains that implementing someone else's template never held much appeal for me.
Consequently, I root for indies.
I root for indies like The Georgetown Bakery. I like homegrown vision, as in the plans of the bakery's owners Wade Simon and Nik Hiner to establish other eateries in a town that needs them. And I'm happy the town is Georgetown, where I grew up, and which quite frankly has tended to suffer from a bit of an identity crisis ever since the high school was consolidated during LBJ's administration.
Let's hope the best is yet to come. Here's the coda, as reported by Libby Cunningham at the News and Tribune.
For the pair (of owners), it's important to create a spot that's a destination in Georgetown that also compliments the other businesses in town.
"We want to elevate everyone, not just ourselves and create a good environment," Hiner said. "Not only do they stay and eat in Georgetown, they shop in Georgetown. We believe Georgetown is the next stop for growth in Louisville and we are trying to establish good restaurants in Georgetown."
advertising content
advertising content