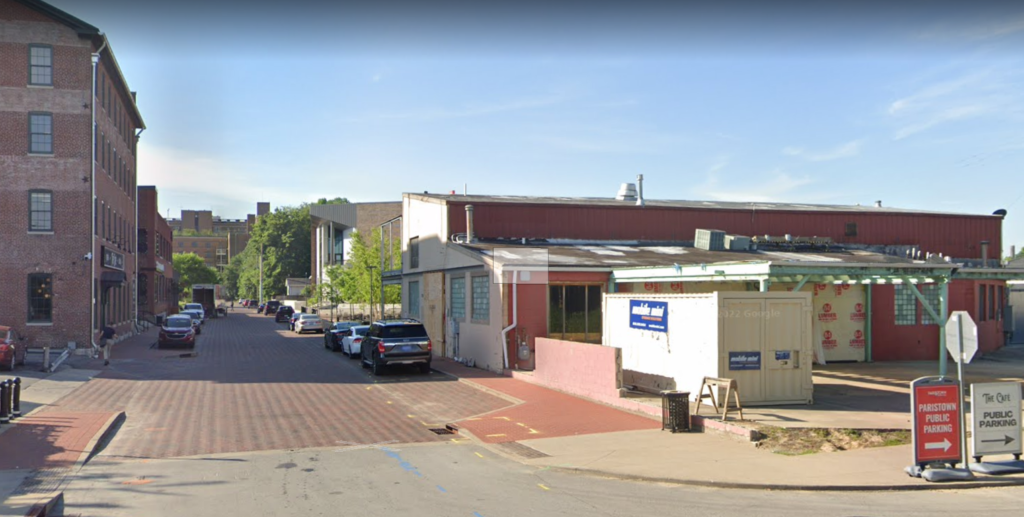 Located on roughly 7 acres along Beargrass Creek in between Germantown and downtown Louisville, the neighborhood of Paristown is composed of historic buildings, single-family homes, businesses, and Louisville's newest entertainment venue, Old Forester's Paristown Hall. Great care has been given to revitalizing Paristown, an authentic place that brings people together to celebrate life, art, and community. The neighborhood's remarkable character and unique attractions embody Paristown's commitment to providing a sense of belonging for every guest, on every visit.
— from Paristown.com
The Village Market project in Louisville's Paristown neighborhood is almost complete, and slated for opening later this summer.
The food hall at 72 Brent Street will feature five local restaurants as well as a bar with service both inside and outside, the latter for festivals, concerts, and events.
The building currently being renovated to house The Village Market formerly was used by The Café, now located across Brent Street at the Stoneware Art Building. Paristown Food and Beverage Group (PTFB), which oversees all food, beverage and catering operations at The Café, also heads The Village Market project.
Following are a few important points gleaned from a detailed information release.
The Village Market will be open seven days per week for lunch and dinner, with one restaurant concept open for breakfast.
There'll be open outdoor patio dining that flows into the adjacent Christy's Garden.
Developers have focused on attracting local restaurant concepts and entrepreneurs who "come from all walks of life, and are all experienced operators who have worked hard perfecting their food in small brick and mortar shops and even food trucks."
Restaurant owners will be able to benefit from collaborating with peers at The Village Market to improve sustainability with fewer delivery trips, a smaller carbon footprint, and experience less food waste.
Village Market also has announced Jeff's Donuts, a longstanding baker from Jeffersonville, Indiana, as the first vendor to begin operations in Village Market. For more about the growth of Jeff's Donuts, visit Louisville Business First: Jeff's Donuts is planning two new locations.
Previously at F&D:
It's a food hall: The Village Market, coming to Paristown Pointe in 2020