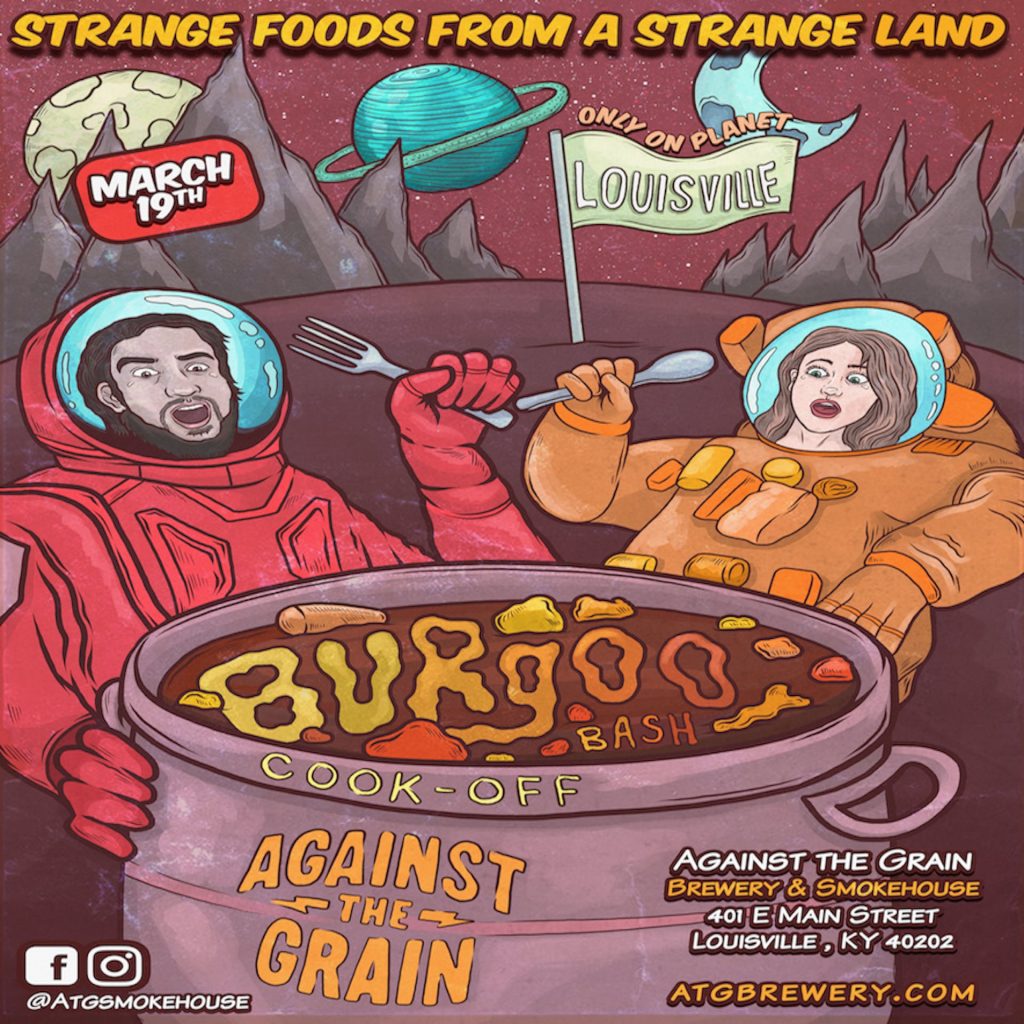 Herein beer is the weekly topic at hand, and yet the month of March always reminds us that liquid bread is a Lenten loophole, or so the 17th century monks at Cloister Neudeck ob der Au in Bavaria determined during the course of formulating the full-bodied, caloric, dietary supplement that eventually came to be known as Salvator, in the style of Doppelbock.
Then again, skirting carefully around personal religious perspectives, not everyone observes the 40-day fast for Lent, and consequently Against the Grain's inaugural Burgoo Bowl cookoff in years to come might resemble a veritable festivus for the rest of us (spring edition).
For those who have somehow remained unaware of Against the Grain's storied existence, AtG currently has six physical locations in Louisville encompassing three breweries, three kitchens, and three distinct food menus, alongside space enough for televised sports, poetry readings, Saturday Night Fever gyrations, and in a pinch, maybe even permission to crawl off into the corner and read a book.
Hip Hops: On old books, new beer labels and timeless bung-starters
On second thought, read THIS instructive manual first. It isn't a book, but a feature-length snapshot of AtG, local brewing's enfant terrible, which now is showing the unmistakable signs of rounding into a stable, settled and even stately middle age.
There is no other purpose for this week's beer column than to appreciate the forthcoming Burgoo Bowl, which strikes me as that rarest of perfect marriages between Old Time Kentucky Cooking and New Age Kentucky Brewing.
AGAINST THE GRAIN BURGOO BOWL COOK-OFF: March 19 3:00 pm – 6:00 pm
On Saturday, March 19th at 3:00 p.m., the ATG Smokehouse will be host to Louisville's first ever Burgoo Bowl, a Pro-Am cook-off aimed at bringing out the best amateur and professional burgoo makers in the region.
Burgoo, the uniquely Kentucky stew, is interpreted in a multitude of ways and they're all welcomed to be showcased at the Burgoo Bowl. Participants will compete for top honors in three categories: most creative recipe, people's choice and best in show. Prizes include trophies, gift certificates and more importantly, bragging rights.
The competition is open to the first 20 participants with 15 spots reserved for home chefs and 5 spots for restaurant entrants.
Several of AtG's aggressive house specialty beers seem perfectly calculated to match a burgoo so thick that one's spoon is held aloft by the viscosity: Citra Ass Down, Kentucky Ryed Chiquen and even The Brown Note.
The link to the Burgoo Bowl's rules, regulations and registration information is here. For those craving background on burgoo, F&D's Ron Mikulak had you covered all the way back in 2015.
Burgoo is among those regional dishes as legendary as cassoulet, cioppino, Brunswick and Mulligatawny stews, slumgullion and gumbo. These hearty, single-bowl meals date back centuries in some cases, varying with each generation and relocation and spurring heated debates about "authentic" recipes, even though the provenance of all such "recipes" is clear: All of these dishes surely began as communal efforts, composed of whatever might be available in local larders.
The rest of the story, as well as Ron's burgoo recipes, is only a click away.
---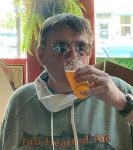 in 2022, Roger Baylor is celebrating his 40th year in beer as a beer seller, entrepreneur, educator, restaurateur, and commentator. As the co-founder of New Albany's Sportstime Pizza/Rich O's Public House (which later became New Albanian Brewing Company) in the 1990s and early 2000s, Baylor played a seminal role in Louisville's craft beer renaissance. Currently he is the beer director at Pints&union in New Albany and Common Haus Hall in Jeffersonville (coming Spring 2022). Baylor's "Hip Hops" columns on beer-related subjects have been a fixture in Food & Dining Magazine since 2005, and he became F&D's digital editor in 2019.