F&D's Fall 2020 quarterly print issue has hit the streets, and we're all excited to be back after a pandemic hiatus.
Let's keep the beer news simple and to the point this week by welcoming Atrium Brewing to the local craft beer scene. Located at 1154 Logan Street, Atrium opened its doors on Friday.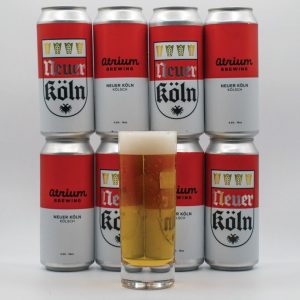 Atrium Brewing's brewers are Mark Rubenstein (co-owner and director of brewing operations) and Spencer Guy (head brewer). You may recall Guy from his recent stint at Akasha Brewing.
Interestingly, Atrium is coming out of the gate with beers that emphasize both balance and excess. In short, something for everyone.
Representing beer's historical roots are the two "oldies and still goodies": Neuer Köln (Kölsch; a quaffable German-style golden ale) and Lord, Yes!, a porter in the Anglo-American tradition.
Conversely, contemporary craft beer's newest styles are amply represented in the Atrium lineup: "milkshake" IPA (Peach Shakes); hazy double New England IPA (Two Nights Only); and a fruit/pastry/sour all rolled into one (Raspberry Boy).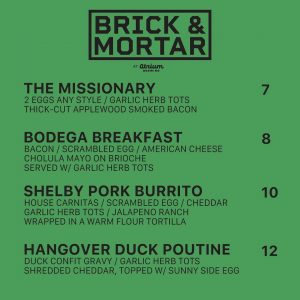 I haven't tried these beers yet, but look forward to a taste test when there's time. You'd think by now a drone delivery service to New Albany would be available.
Atrium plans to have the taproom open daily from 11 to 11, with food by the Brick & Mortar food truck.
As always with a new business's first weeks of operation, I'd advise checking social media for exact atmospheric conditions.
Also, don't neglect this more detailed write-up at Louisville Business First: "Atrium Brewing sets opening date for long-awaited Shelby Park brewery."
---
Roger Baylor is an entrepreneur, educator, and innovator with more than 35 years of hands-on experience and expertise as a beer seller, restaurateur, and commentator. As the co-founder of New Albany's Sportstime Pizza/Rich O's Public House (which later became New Albanian Brewing Company) in the 1990s and early 2000s, Baylor played a seminal role in Louisville's craft beer renaissance. Currently he is the beer director at Pints&union in New Albany. Baylor's "Hip Hops" columns on beer-related subjects have been a fixture in F&D since 2005, and he was named the magazine's digital editor in 2019.