An inviting barroom shifts the perspective of the traveler from the expansive outside world looking in, to the insider's viewpoint looking back out … at times, quite tightly.
From five thousand miles away, you enter a cozy room in a strange town and ask for a tankard of ale or lager. Your education commences. The late ward-heeling Bostonian politician Tip O'Neill rather famously commented that all politics is local, and in like fashion, my proclivities lead me inexorably to a conclusion, oft times verified.
All beer drinking culture is local.
In 1987 my friend Barrie and I visited the city of Cork, Ireland. In the throes of powerful thirsts, we entered the building situated at 108 Oliver Plunkett Street, climbed the stairs to the first floor (?), and beheld the atmospheric majesty of the Hi-B (Hibernian) Bar.
Somewhere up or down another set of stairs was the loo.
The bar was originally built on the first first floor in the 1860's because of the flooding which used to be far more frequent until the Inniscarra Dam was built in the 1950's. All our electricity sockets in the stores are at ceiling height to protect against flooding.
The Hi-B's owner and publican Brian O'Donnell was an Irish legend even then — in the 1980s, not the 1860s.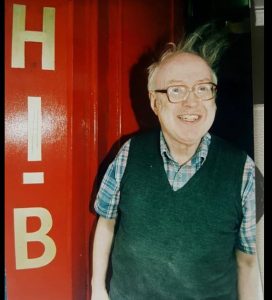 When O'Donnell died last December, the Irish Examiner's eulogy by Dan Buckley painted a picture of curmudgeonly eccentricity, undoubted erudition and sheer longevity; O'Donnell's parents had owned the bar since 1924 when he took it over in the early 1960s, and his wife and daughter continued the family tradition when age and ill health compelled him to retire.
Brian's daughter, Rachel, paid a brief and warm tribute to her father, recalling his enduring curiosity about the world around him. "He bought four newspapers every day," she told the congregation in her altar eulogy, before adding, with a flourish: "He was as mad as a box of frogs, but we loved him for it."
O'Donnell was so well known in Ireland that the Dublin newspaper also marked his passing.
His bar … made no concessions for food or modern attractions such as big-screen TVs. It was, as he once enthused, a haven for quiet conversation, a relaxing drink and good company. He had an aversion to mobile phones – and only a handful of close friends avoided being barred for using them while on his premises. Mr O'Donnell never hesitated to take those to task who threatened the cherished social pillars of his establishment.
Back in 1987 we actually passed through Cork twice, the first time in town staying at a ramshackle youth hostel and happily meeting one of my cousin Don's friends, a newspaperman at the Examiner named Tommy Barker. He's still at it. After learning that U2 would be playing a concert at Cork's soccer stadium in a week's time, we elected to wander the verdant Irish countryside and circle back to catch the show.
But first, Tommy helpfully pointed the way to the Hi-B; he had to run off to work and may have joined us later, although the memories are exceedingly elusive. Up those steps we went, and the subsequent merriment lasted the remainder of the day, until closing, as we drank pint after pint of stout with a succession of incredible characters — not to mention Brian himself, with whom Don later became such good buddies that they'd drink whisky and listen to opera together … before, during and after hours at the Hi-B.
One of our temporary drinking buddies that evening was a bearded, bedraggled veteran of Ireland's UN peacekeeping force of infantrymen stationed in Cyprus, circa 1970. When asked if he'd ever witnessed combat in the war between Greeks and Turks, he said no, not exactly; it had been his sensible expedient to turn and run whenever shooting broke out.
Another better groomed barfly at the Hi-B was a musician who modestly assured us that he'd played with every major pop and rock star of the sixties and seventies. His name didn't strike a chord, but there was a convenient explanation for this, because by his account, he'd always chosen to appear uncredited on albums, all the better to avoid tax and the prying eyes of ex-wives.
Our eyes were duly rolled, and yet the gift of gab is said to be an Irish birthright, so the conversation continued. As the bar tab piled up (the two guest Americans were delighted to do the buying, although we weren't aware of it until evening's end), I kept throwing names at this musician. From Van Morrison to David Bowie, and Rory Gallagher to Phil Lynott, he fielded them all effortlessly, complete with record dates and concert gigs.
Finally, I thought I'd stumped him: What about Pete Townshend of The Who?
He paused, then admitted he hadn't ever played music with Townshend, even once — although, come to think of it, there was the time he was driving on the motorway somewhere in England, and stopped to help some poor bloke who was trying to change a tire in the driving rain …
That's right. It was Townshend, of course, who gratefully offered the Good Irish Samaritan one of his pricey guitars in return, but no, who could accept payment for being helpful? So it went. We emerged in the wee hours reeking of cigarette smoke and walked back to the hostel, roughly 75 (Irish) Pounds lighter.
Here's a brief video showing the Hi-B's interior. That's the whole of it, just one room.
Currently the Hi-B is closed by reason of coronavirus. If you think Kentucky's and Indiana's COVID responses have been restrictive, consider the Irish timetable, and observe that in Ireland as in America, bar and restaurant regulatory semantics pertaining to nourishment matter.
A well-known Dublin publican says many pubs plan to be back serving pints as early as next month – more than a month ahead of the Government's schedule. Charlie Chawke said that many boozers which have restaurant licences intend to open on June 29 – the date pencilled in for eateries to reopen.
He told RTE's Liveline that he'll be reopening his pubs that have a restaurant licence on June 29th, saying that if people buy food, they will be able to have a pint, Dublin Live reports. Under the Government's five-phase roadmap to lifting coronavirus restrictions, restaurants and cafes can open in phase 3 but pubs, bars, nightclubs, and casinos have to keep their doors closed until phase 5, which begins on August 10.
This means a five-month hiatus for pubs in Ireland. So far it's been 65 days since my last sanctions-free pint in a licensed establishment hereabouts. We can only hope the O'Donnells and other families like them can persevere and return from the pandemic's grip. We'll be needing those barrooms to help make sense of it all.
advertising content
advertising content