"Come, Ahab's compliments to ye; come and see if ye can swerve me. Swerve me? ye cannot swerve me, else ye swerve yourselves! man has ye there. Swerve me? The path to my fixed purpose is laid with iron rails, whereon my soul is grooved to run. Over unsounded gorges, through the rifled hearts of mountains, under torrents' beds, unerringly I rush! Naught's an obstacle, naught's an angle to the iron way!"
Black Friday having mercifully concluded, join me in acknowledging the hopes and dreams of those intrepid explorers who risked life and limb to acquire their fair share of Goose Island's Bourbon County Stout 2021. AB-InBev's worldwide shareholders have expressed their gratitude in the form of enhanced dividends.
But seriously, every now and then a quick spin to one's local pub for a few pints of cask-conditioned bitter and a show by the friendly neighborhood Oasis tribute band turns into quarantine of the non-COVID variety.
Customers face fourth night snowed in at Britain's highest pub, by Maya Wolfe-Robinson (The Guardian)
Sixty-one people face a fourth night snowed in at Britain's highest pub with a best-dressed snowman competition planned on Monday to pass the time. Guests who had travelled to the 17th-century Tan Hill Inn in the Yorkshire Dales on Friday night to watch an Oasis tribute band have been trapped ever since as Storm Arwen hit the UK, with staff laying on pub quizzes, board games and karaoke for entertainment.
This wasn't the first snow-in for the Tan Hill Inn.
The pub, which stands 528 metres above sea level, housed staff and four guests for five days in 2013 after deep snow drifts cut off the road. Tracy Daly, the pub's then landlady, told the BBC that the stranded punters had helped out staff members and most importantly, the beer had not run out.
As a crow flies from the Yorkshire Dales, it's 595 kilometers by land and English Channel to reach a related but unique beer drinking experience (currently snow-free) at "brown bars" near Brussels.
Jump across the Brussels border for the best 'brown bars' in the land (The Bulletin)
In De Verzekering is known as a bruin café, or bruine kroeg, and it is one of many fabulously characteristic bars of its kind in the green belt around Brussels. Everyone can conjure up an image of a 'brown bar' – few windows, dimly lit, with a wooden or tiled floor and dark brown chairs and tables. It is a traditional style bar of Belgium, where beer holds court.
Closer to home, an offshoot of a local heritage brand is putting down roots at a brewery.
We'll have a permanent food truck at Our Lady of Perpetual Hops Brewery starting December 1st! Wed-Sun (hours TBA). Make sure to follow KingFish On The Rocks Food Truck! They made a special menu for us that we'll post soon.
Sticking to Hoosierland, there is welcome news from the Brewers of Indiana Guild (BIG): Winterfest is returning to the State Fairgrounds in Indianapolis on Saturday, February 12. After the 2020 edition of the event, BIG went into COVID-mandated hibernation, from which it has emerged only recently. During my previous life as a brewery owner, I spent seven years on BIG's board of directors, and I'll always be a fan of Indiana beer.
If you make the short trek to Indy for Winterfest or any other reason, don't forget the Kurt Vonnegut Museum and Library. After all, man does not live by white whales alone.
Cover photo credit: Susan Salaz, via Atlas Obscura.
---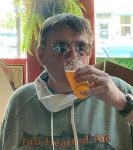 Roger Baylor is an entrepreneur, educator, and innovator with more than 35 years of hands-on experience and expertise as a beer seller, restaurateur, and commentator. As the co-founder of New Albany's Sportstime Pizza/Rich O's Public House (which later became New Albanian Brewing Company) in the 1990s and early 2000s, Baylor played a seminal role in Louisville's craft beer renaissance. Currently he is the beer director at Pints&union in New Albany. Baylor's "Hip Hops" columns on beer-related subjects have been a fixture in F&D since 2005, and he was named the magazine's digital editor in 2019.