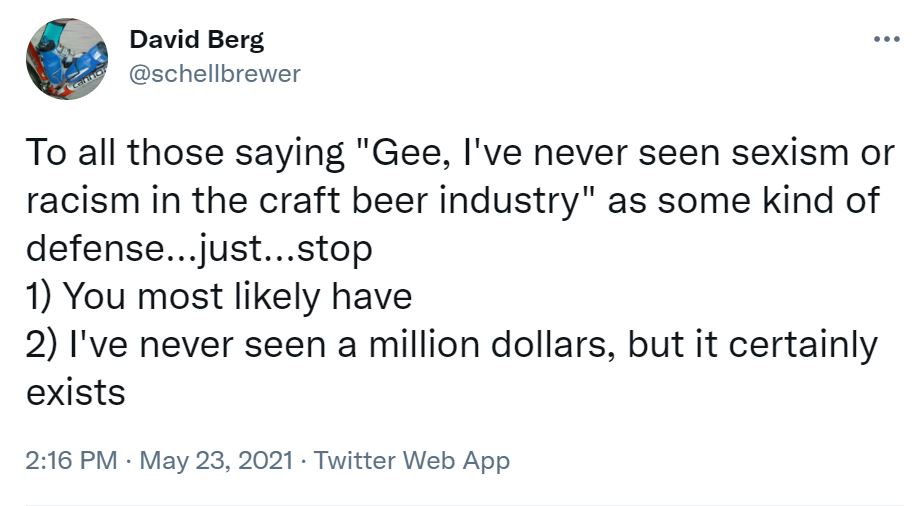 I asked Kindsey Bernhard to write a few words of introduction to today's links, which are self-explanatory. Kindsey works in the Louisville craft beer industry, is a writer and regional editor for PorchDrinking.com, and still finds time to produce "Boys Are From Märzen: A Women in Beer Podcast." 
Over the past two weeks, Brienne Allan has been using her Instagram to expose sexism, sexual harassment, misogyny and racism in the craft beer industry.
While I am one of the rare women in craft beer who have not been subject to major issues, I have been on the receiving end of sexist and inappropriate comments. There is no place in craft beer for any of it, no matter how small the comment or touch is. Women are tired of it, and we're finally fighting back. The reckoning is here and it's not going away soon.
As Tristan Chan, my boss and founder of PorchDrinking.com said, "the craft beer industry has been due for a reckoning," one that is unfortunately long overdue. As a team and through Tristan's leadership, PorchDrinking made the decision to exclude all breweries named in Allan's shared stories from further coverage until we can connect with them directly to hear their plans for meaningful change. We also did this in 2018 with Founders Brewing and its racial discrimination lawsuit.
As a writer for PorchDrinking, this made me proud. Proud to be part of a publication that stands for change and one that supports me as a woman in beer. I hope that other publications take the same initiative.
Here is the link and an excerpt from Tristan Chan's essay.
This is Craft Beer's Moment to Address History of Misogyny, Sexual Harassment and Abuse, by Tristan Chan (PorchDrinking)
(Brienne) Allan's collection of Instagram stories have felt like the watershed moment that craft beer has long needed to help unearth the long-neglected male toxicity that has always existed…I've spent much of this week sifting through these stories, but also reaching out to women peers in the industry, trying to gain deeper perspective and just listen. What I think I've overlooked most is the frequency and voracity at which microaggressions can permeate the workplace, yet also go unaddressed. And in looking back, I've certainly been guilty of standing by and laughing off an inappropriate comment or joke that I may have perceived as innocuous, but to the women in the room, probably felt like another drop in an ocean of "boys being boys" excused offenses. But if anything, this past week has reminded me of the importance of being more aware, having thoughtful dialogue, and earnestly trying to put myself in their boots to become a better ally. This post is just the first in our continued coverage on this topic, as we will continue to investigate claims of sexism and harassment in our industry.
Chan's piece includes these links to further coverage.
Sweeping Accusations of Sexism, Assault Rock The Craft Beer Industry – Beth Demmon, VinePair
Judgment Day — Outpouring of Beer Industry Sexual Abuse Allegations on Instagram Sparks Questions of Guilt, Innocence, and Legal Vulnerability – Kate Bernot, Good Beer Hunting
Buzz, Kill — The Physical, Psychological, and Financial Price Women Pay for Working in Beer – Beth Demmon, Good Beer Hunting
Tidal Wave of Sexual Harassment Allegations and Toxicity in Craft Beer Industry Lead to Terminations – Jessica Infante, Brewbound
And, to close, the statement released by Louisville Ale Trail; while the fledgling marketing and tourism organization does not officially "represent" local craft brewers, its sentiments are timely and well-stated. Click on the image to read the entire post, and as an addendum, be aware that I'm profiling Louisville Ale Trail in the upcoming Summer 2021 edition of Food & Dining Magazine.
---
Roger Baylor is an entrepreneur, educator, and innovator with more than 35 years of hands-on experience and expertise as a beer seller, restaurateur, and commentator. As the co-founder of New Albany's Sportstime Pizza/Rich O's Public House (which later became New Albanian Brewing Company) in the 1990s and early 2000s, Baylor played a seminal role in Louisville's craft beer renaissance. Currently he is the beer director at Pints&union in New Albany. Baylor's "Hip Hops" columns on beer-related subjects have been a fixture in F&D since 2005, and he was named the magazine's digital editor in 2019.