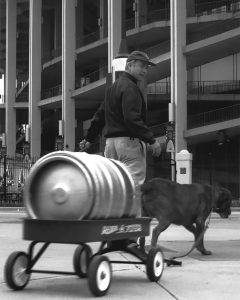 Baseball is back. In this flashback to 1997 (left) at the home opener of the St. Louis Cardinals, Schlafly Beer's owner Tom Schlafly made a clever point about better beer availability at the ballyard by wheeling a keg into the former Busch Stadium.
Now, that's distributing your own beer, the old-fashioned way.
Meanwhile it's only April, but so far the year 2021 has been a momentous for Kentucky brewers. Heading the agenda is bipartisan legislative relief in the form of Senate Bill 15 allowing self-distribution, with small breweries now able to sell and deliver beer (up to 2,500 barrels) directly to retailers, bypassing the wholesale tier.
At Louisville Business First, Against the Grain's Sam Cruz mentioned an under-appreciated aspect of this example of bipartisan legislative relief, signed into law by Governor Beshear.
Pointing out that AtG is large enough to need and maintain good relationships with area wholesalers, Cruz said the legislation also helps out by making is "easier for the brewery to distribute back to themselves."
"Our businesses are diversified in the sense that we have multiple restaurants, with intention of opening more," Cruz said, referencing Public House by Against the Grain in the Highlands, Against the Grain Brewery and Smokehouse at Slugger Field and a third location in the works in Downtown Louisville. "We can target and hone in the way that we're going to distribute the beers directly to our own businesses.
"Instead of having to rely on a brewery and a brewery license there in order to have our beer there, we can actually produce the beer in one location and then ship it to our other on-premise locations that we own. It's far more efficient and far more cost effective for us to do that."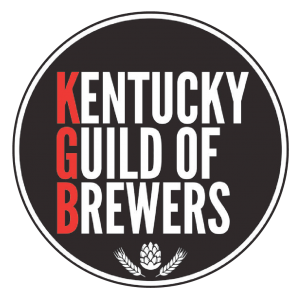 Self-distribution will be of critical importance to those Kentucky small breweries crafting only a few hundred barrels a year, which is most of the state's 90-odd producers (Brewers Association statistics for 2020 are here).
With more than 8,700 breweries now operating nationwide, a number that has increased during the pandemic, it has long since ceased making sense to compel artisanal brewers to align with wholesalers. Somewhere around 40 states have embraced varying models of self-distribution — and it's about time.
Kentucky actually has tripled the number of breweries from just five years ago, and as with many other states, what's truly transformational about this increase is the way it has dispersed to small towns and outlying areas where craft brewing previously hadn't put down roots.
Like Mt. Washington in Bullitt County, where Gallant Fox Brewing Company owners Roger Huff and Patrick Workman announced they will be launching a second outpost.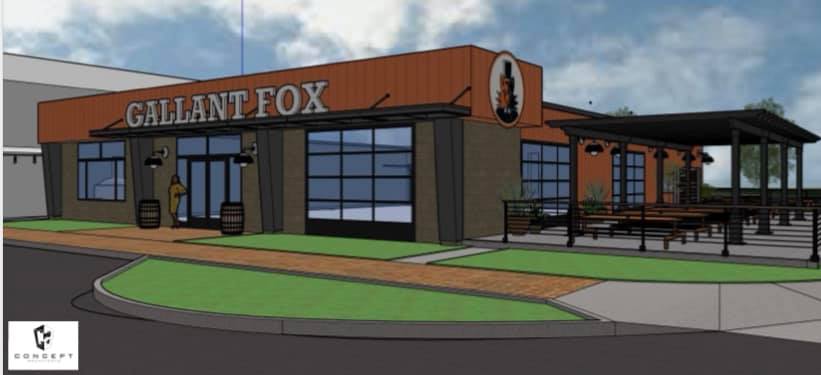 Gallant Fox will brew and run taprooms in both Clifton and Mt. Washington. Here's a excerpt from the news release, courtesy of Louisville Ale Trail.
"We are so humbled by the continued support of the Clifton neighborhood and the broader Louisville community in general," said Roger Huff, Gallant Fox co-owner. "It has truly been overwhelming. When we began discussing a second location late last year, we knew we wanted to bring our great atmosphere and our great Kentucky brewed beer to a brand-new community. We are thrilled to be working with the city of Mount Washington and Mayor Barry Armstrong to bring Gallant Fox Brewing to the community."
The new brewery and taproom will be located in downtown Mount Washington at 155 N Bardstown Road…Gallant Fox Mt. Washington will seat approximately one hundred beer drinkers inside, an additional sixty in the outdoor beer garden. The brewery will also feature a full bourbon bar, including vintage variants and Gallant Fox whiskey barrel picks.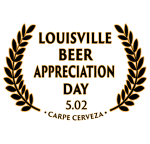 Speaking of the Louisville Ale Trail, which "serves to engage with Louisville tourists and residents about our local beer scene by encouraging city-wide tourism through the promotion of participating member brewery taprooms" (this being an admirably clear and concise mission statement), they've also provided this little bit of news to Hip Hops.
We are, with the city of Louisville, announcing the first Louisville Beer Appreciation Day. This will be recognized yearly on May 2nd ("5/02"). I believe Mile Wide will host an event on the day itself too.
Stay tuned for further information.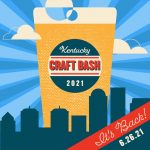 Concluding this week's beer survey, the Kentucky Craft Bash will return to Louisville Waterfront Park on Saturday, June 16, as hosted by the Kentucky Guild of Brewers:
Only pouring beers from breweries in the Commonwealth, the Craft Bash hosts over 60 local breweries and serves more than 150 different varieties of beer.
---
Roger Baylor is an entrepreneur, educator, and innovator with more than 35 years of hands-on experience and expertise as a beer seller, restaurateur, and commentator. As the co-founder of New Albany's Sportstime Pizza/Rich O's Public House (which later became New Albanian Brewing Company) in the 1990s and early 2000s, Baylor played a seminal role in Louisville's craft beer renaissance. Currently he is the beer director at Pints&union in New Albany. Baylor's "Hip Hops" columns on beer-related subjects have been a fixture in F&D since 2005, and he was named the magazine's digital editor in 2019.