Let's begin with a digression.
Why not beer for breakfast? You don't need to climb to the top of the nearest craggy mountain for a consultation with the resident guru to know that you can't drink beer all day if you don't start in the morning.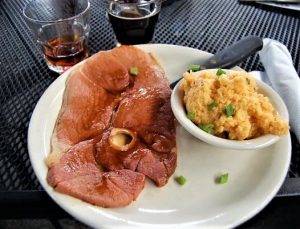 In mid-January of 2010, I participated in a beer breakfast at the old Brendan's Public House in St. Matthews. Tomatillo huevos rancheros, biscuits and red-eye gravy, glazed ham with cheddar grits, and Belgian waffle bread pudding were accompanied by Double IPA, Imperial Red Ale, Baltic Porter and English Bitter.
What's more, we staged this breakfast food and beer pairing chronologically, in the morning, at breakfast, and not later in the day. It was glorious, and also the entirely predictable prelude to a comfy, free-form afternoon's nap.
Our overarching aim at the time was to create new traditions and liberate beer from its hackneyed "something ice-cold to drink after work" millstone. We had so many lofty principles back then, before the leaden weight of hard seltzer crushed everything in sight.
However, attendance at the breakfast beer pairing wasn't very, and ultimately the biggest obstacle to advocating beer at dawn's early light is the widespread success of the marketing concept known as brunch, with all those mimosas, bloody marys and bourbon flights.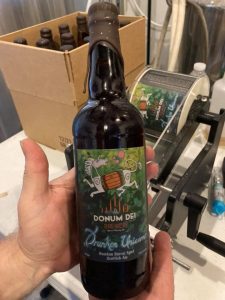 But on Saturday, September 18 there'll be another opportunity to enjoy beer for breakfast at Donum Dei Brewstillery (brewery and distillery) during its "Halfway to St. Patrick's Day" event (7:00 a.m. – 11:00 p.m.; 3211 Grant Line Road in New Albany).
The breakfast is full Irish and begins at 7:00 a.m., followed at noon by the Grail on Wheels BBQ food truck. It's the annual release of the brewery's Drunken Unicorn Bourbon Barrel-Aged Scottish Ale, with the distillery also debuting its Alice Brown Straight Bourbon Whiskey (cask strength).
—
Last week yielded an uncommon abundance of local and regional beer headlines, so here's a six-pack of links and handy topic sentences.
Against The Grain Opening Bar, Event Venue In Former Odeon Space, by Danielle Grady (LEO Weekly): "The former Odeon bar in Butchertown is under new ownership and has a new name: The Whirling Tiger, courtesy of the minds behind Against the Grain."
The inside story of how Southeastern Kentucky's only brewery found success through crowdfunding, by Haley Cawthon (Louisville Business First): "A tech executive and a real estate developer walk into a bar. No, that's not the start of a joke — it's the start of a business. The bar in question is actually a brewery, Harlan County Beer Co., and it's the first of its kind for that part of Southeastern Kentucky. The concept was created and co-founded by Gill Holland and Geoff Marietta."
'Scruffy Outlier': Kentucky breweries honor late Monnik head brewer with tribute beer, by Dahlia Ghabour (Courier Journal): "(Derek Selznick, executive director of the Kentucky Guild of Brewers) said the Kentucky Guild of Brewers' nonprofit arm, the Helping Our People (HOP) Foundation, is working with breweries and suppliers across the country to do a fundraiser for Hand's medical and funeral expenses. More than two dozen breweries will create a single-hop pale ale similar to the ones Monnik would rotate. On his Facebook page, Hand listed his position at Monnik as 'Scruffy Outlier,' Holton said. So the tribute beer is called the Scruffy Outlier Pale Ale."
Louisville Ale Trail Releases 3rd Edition of Passport, at Brewbound: "Louisville Ale Trail is releasing the 3rd Edition of Louisville's only brewery passport program on September 7. The new print features seven new trail stops which will include a mix of recently-opened breweries and familiar establishments. The passport, which retails for $10 and has previously been made available in member-brewery taprooms, will also be available for purchase at participating independent retail shops, bars, restaurants, and more for the first time."
A Sneak Peek Inside The Sprawling Noble Funk Brewery In Old Louisville, by Kathryn Harrington (LEO Weekly): "The former site of the Kroger on 922 S. Second St. in Old Louisville has been transformed into an impressive new haven for lovers of craft beer and a good time. Brought to fruition by husband and wife team Johnathan and Dominique Shrader, Noble Funk Brewing Co. will feature a range of beer as well as wines, liquor, a craft pizza area and a full kitchen."
TAILSPIN ALE FEST returns to historic Bowman Field for a SPECIAL SPOOKY EDITION on Saturday, OCTOBER 30TH: "We interrupt your regularly scheduled program to bring you a special spooky edition of Tailspin Ale Fest on Saturday, October 30th. We're moving across the airfield to a new location by the Central American Airways hangar."
Cover photo: Donum Dei's chili cookoff in January, 2018. 
---
Roger Baylor is an entrepreneur, educator, and innovator with 39 years of hands-on experience and expertise as a beer seller, restaurateur, and commentator. As the co-founder of New Albany's Sportstime Pizza/Rich O's Public House (which later became New Albanian Brewing Company) in the 1990s and early 2000s, Baylor played a seminal role in Louisville's craft beer renaissance. Currently he is the beer director at Pints&union in New Albany. Baylor's "Hip Hops" columns on beer-related subjects have been a fixture in F&D since 2005, and he was named the magazine's digital editor in 2019.