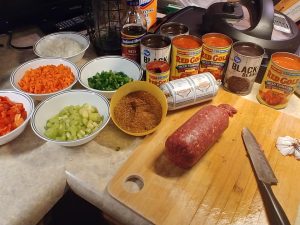 Before delving into grand old times in Czechia, this announcement.
APRON Inc.'s program of good works will be on the agenda when New Albany's Donum Dei Brewery (3211 Grant Line Road #3) hosts its 5th Annual Chili Cook-Off on Sunday, February 5, starting at 12 noon.
Suggested donations this year are $2 for a sample cup and $5 for a bowl, with all proceeds going to APRON Inc. Once again the organizers seek 12 chili-cooking contestants; past participants have first shot at slots, and all others are on a backup list. As of this morning a few slots remain. Contact Blake if you'd like to cook, or with any questions: blake.montgomery(at)outfront(dot)com. The overall winner will receive the traveling trophy, swag from Donum Dei, and a feeling of deep satisfaction at helping APRON lend a helping hand.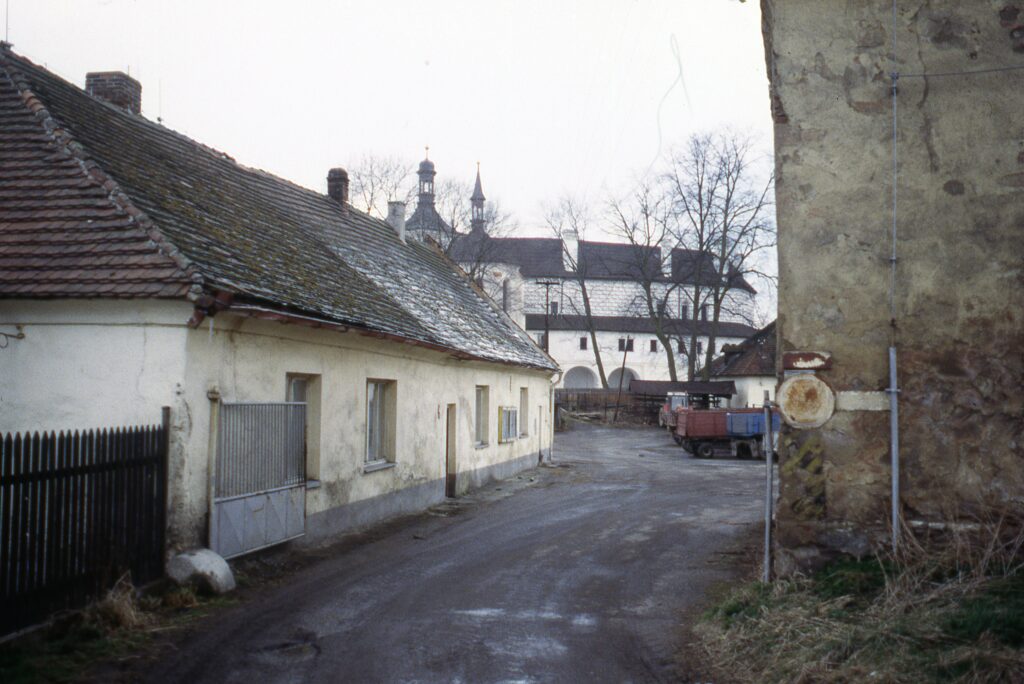 I remember being in Prague in the mid-1990s. We'd wander through downtown neighborhoods hunting beer, sometimes hopping trams, other times using the subway, but most often on foot.
The objective was to find draft beers from as many of the Czech Republic's breweries as possible, and having identified these beers, to sample them with dignoty and aplomb.
(When very thirsty, we'd dispense with decorum and throw them down.)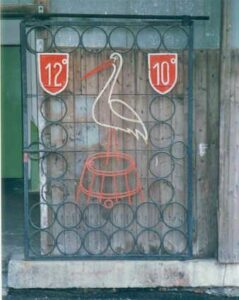 In retrospect, it isn't clear to me what sort of legal framework for beer distribution existed in the Czech Republic at the time. Something akin to a "tied house" seemed common, in that a pivnice (piv-nee-tsuh, or tavern) generally would serve beer from only one brewery.
These days, we'd probably decamp to a multi-tap and be overwhelmed by sheer choice. I've read that Prague now has such establishments boasting bountiful selections, as well as WiFi to enable the inevitable postings at Untappd, but this approach strikes me as tantamount to the king's gamesmen running the animals past his shooting stand.
It's also no way to conduct a drinking tour of a city, any city, especially when traveling overseas, where there's so much else to be learned quite apart from beer. The pursuit of the perfect pint should last a lifetime, and along the way, provide you with enough incidental knowledge to feign a successful incumbency on Jeopardy!
Two or more decades ago, many of Prague's pubs served beers from one of the city's "big three" breweries: Staropramen, Braník or Mestan, the latter two apparently long since deceased as independent entities.
Other breweries were well represented, too, and it seemed the closer their home cities to Prague, the better chance of finding them. Pilsner Urquell was a given. Gambrinus, Velkopopovický and Radegast also were around, though at the time of which I speak, the epochal Budvar was a bit harder to find.
Intriguingly, it remained possible in the mid-1990s to find watering holes in Prague that had hooked up with smaller breweries, or even larger ones further away from the capital. There'd be occasional appearances by Ferdinand (from nearby Benešov), Hostan (Znojmo), Regent (Třeboň) or Starobrno (Brno).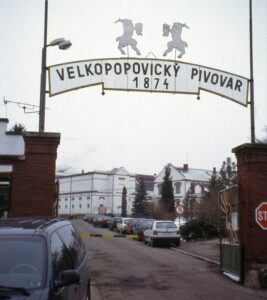 The trick was finding the places serving these beers, as they didn't always correspond to familiar addresses amid the prevailing tourist routes. Cell phones and the internet were both in their infancy, and so we'd forage down back alleys, through obscure archways and below street level in dark cellars, glancing periodically at notes I'd scribbled after reading a random Englishman's beer-finding tips in the Campaign for Real Ale newsletter.
An obscure brewery called Herold became an obsession for my band of beer explorers. It was founded in the countryside in 1506, surviving the threat of closure in the waning months of the communist period only because its stubborn plant manager sniffed the wind and refused to shutter the brewery as instructed by his overlords.
The authorities soon were erased, and the plant manager remained.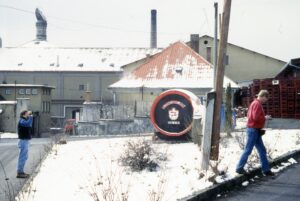 We traipsed over what seemed like half of Prague one evening trying to find the sole pivnice that we'd been told poured Herold, and stopping frequently for directions at other establishments along the way. These wayfinding tips generally came accompanied by beers of thankfulness, which might explain our ultimate failure.
Resolving to locate the Herold brewery itself, eventually we did so in 1997 with the help of a savvy travel agent in Prague, who secured a minibus and driver for a day's journey deep into the scenic Bohemian hinterlands.
First we visited the town of Velké Popovice for a Velkopopovický Kozel tasting, then Vysoký Chlumec (home of Lobkowitz lager), and finally the tiny town of Březnice, where a farmer on a tractor pulling a wagon overflowing with manure slowly guided our careful hired man at the wheel to the Herold brewery gate amid a complex of ancient buildings.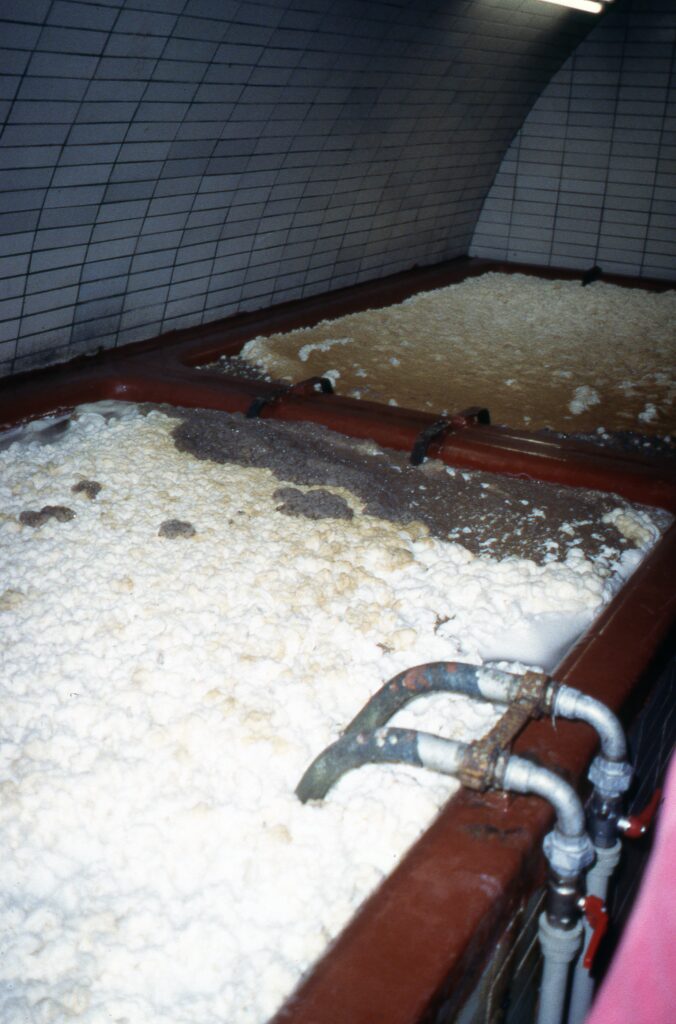 I'd contacted the manager (by fax, no less), but he had an untimely emergency and wasn't there, so his second in command made a hasty phone call, ran out the door, and soon emerged with a local schoolteacher in tow to serve as interpreter.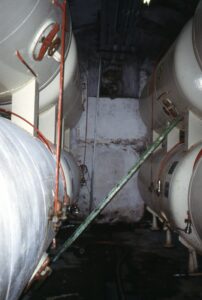 Our Herold brewery tour lasted all of 20 minutes, yielding to a considerably more intensive two-hour survey of the lagering cellar. By the end of our seminar below ground, we had absorbed so much wisdom that the ancient stone staircase leading back to the top began wildly undulating to the beat of non-existent music.
This magical motion very nearly kept us subterranean, which would have been just lovely by me.
Obviously since then much has changed in the Czech Republic, and everywhere else in the world. Many of the old-school Czech breweries are gone, and a new crop of "craft" brewers has arrived. Herold has survived, first under American ownership, and since 2008 under Czech control again. I haven't tasted Herold's beers for many a moon, and can only hope they're as good now as they were during our visit.
Granted, the range of beer choice in Prague used to be far narrower, but it was a beer paradise nonetheless, and while it may sound as though I'm waxing nostalgic for a bygone era – one I devoted a full quarter-century of my professional life to revolutionizing – it's very important to understand that yes, you bet I am … unless of course, I'm not.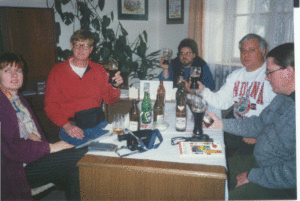 Just as trudging eight miles clothed in primitive bearskin through six-foot-high snow drifts helped transform a previous generation of mid-20th century schoolchildren into improved parental units, hunting beers the hard way had its merits.
Beers taste better when you work for them, and breweries, too; we'd follow a canal or rail line, sniff the unmistakable aroma of a boil in progress, and follow our noses to the goal line. The biggest problem was finding our way home.
Somehow, we managed.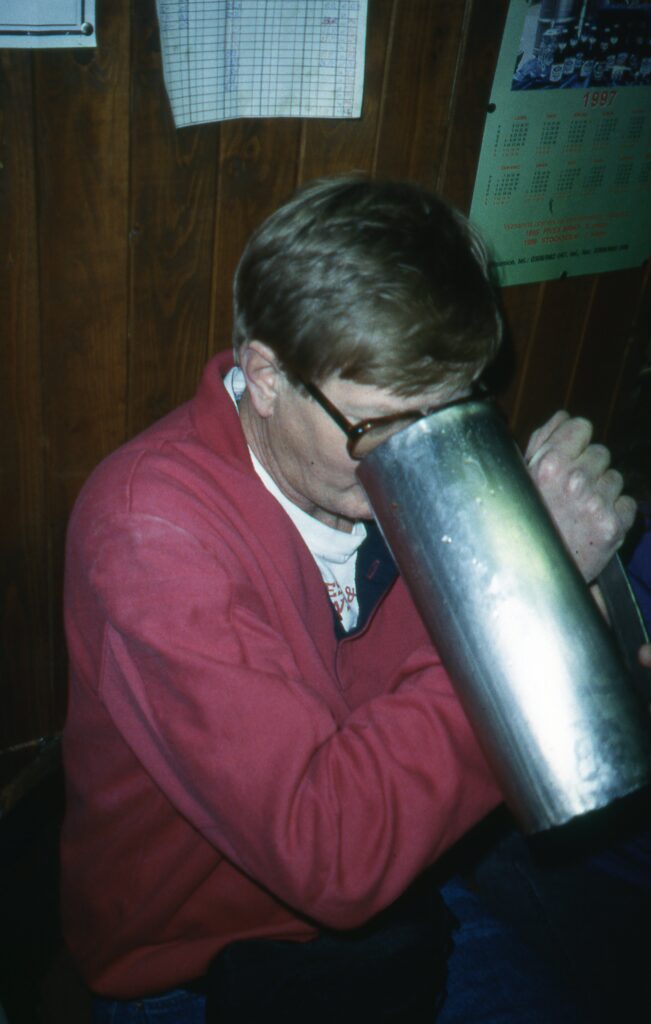 Photo credits: The author and Bob Reed. Other tour participants in spring, 1997 were Rick Buckman, Deneen Hooper and Joe Brower Sr.
---
Roger Baylor is an entrepreneur, educator, and innovator with 40 years of beer business experience in metropolitan Louisville as a bartender, package store clerk, brewery owner, restaurateur, writer, traveler, polemicist, homebrewing club founder, tour operator and all-purpose contrarian.
As a co-owner (1990 – 2018) of New Albanian Brewing Company Pizzeria & Public House in New Albany, Indiana – founded in 1987, 1992, 2002 and 2009 – Baylor played a seminal role in metro Louisville's contemporary beer renaissance. He currently is beer director at Pints&union in New Albany and Common Haus Hall in Jeffersonville.
Baylor's "Hip Hops" columns on beer-related subjects have been a fixture in Food & Dining Magazine since 2005, where he currently serves as digital editor and print contributor. He is a former columnist at both the New Albany Tribune and LEO Weekly, and founder of the NA Confidential blog (2004 – 2020).