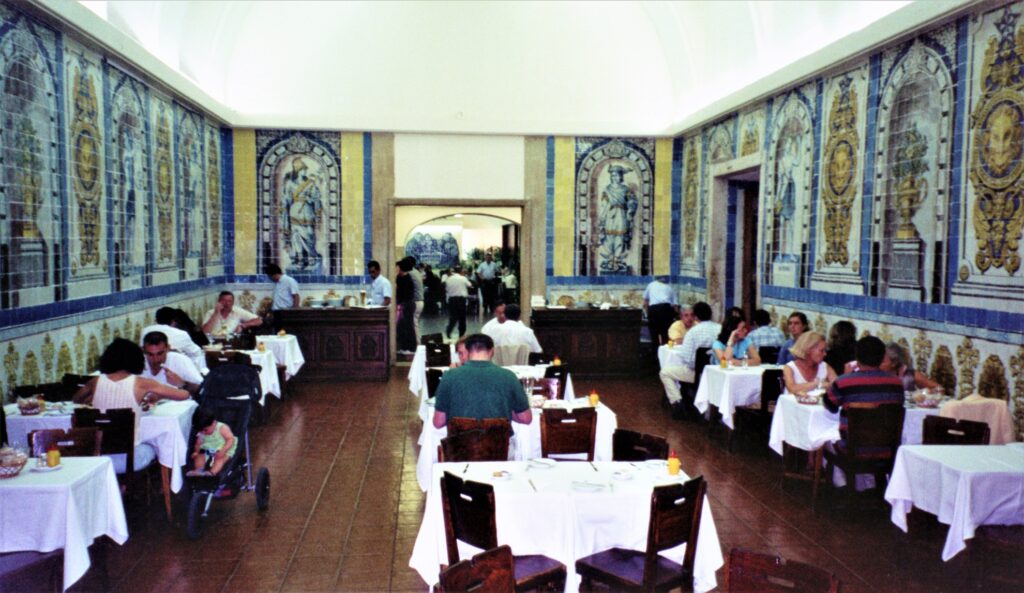 If the presence of a "craft beer scene" suggests we are to generalize the existence of small, independent breweries producing beer styles viewed as being outside the mainstream by the majority of local beer drinkers, as well as a surprising number of bars and restaurants nonetheless eager to stock and serve them, then Portland (Oregon or Maine) probably would be the place to go in search of such a scene and not Portugal.
This said, neither of America's bicoastal Portlands specializes in the addictive Francesinha sandwich, an artery-arresting stack of meat, cheese and gravy requiring a fork and knife, for which Porto, Portugal's second city, is famous.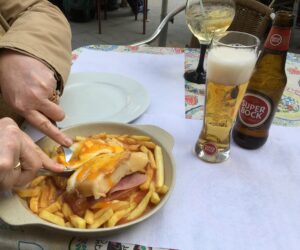 While visiting Porto in 2018, between consuming numerous Francesinha sandwiches and more than one Pastel de Nata (an addictive form of custard tart), we found craft beers at a few local bars, and the internet informs me these establishments are far more numerous in Lisbon, our current destination in 2022.
I'll try to find one or two of them and report back.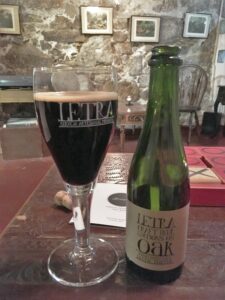 The back story of Portuguese beer is typical for the general vicinity of the Mediterranean Sea; as with so many other locales in Europe, there is sufficient evidence to persuade us that the notion of beer-making was brought to the lands we know today as Portugal by the legions of the Roman Empire.
Whether we'd find these early fermented batches palatable by contemporary standards of Peanut Butter Popcorn Cinnamon Braised Okra Pancake Sour is far less certain, although providentially there were no cans to inconveniently explode in Octavian's day, just periodic outbreaks of bubonic plague.
In terms of more recent beer history, the late 1800s were defined by the lager brewing revolution, which saw crisp, golden, bottom-fermented beers quickly radiate outward from Germany and Central Europe to a planet eager for this potable manifestation of progress.
The global lager tsunami reached Portugal in due course, with the eventual establishment of three breweries that remain operational in 2022: In Funchal on Madeira Island (1872), in Porto in 1927 (Super Bock) and in Lisbon in 1934 (Sagres).
The latter two brands remain the heaviest hitters in modern-day Portugal, abetted by the period of Portuguese history from 1933 to 1974 known as Estado Novo, a corporatist (read: conservative and authoritarian) form of government coinciding with the primacy of the schoolmasterly Prime Minister (read: humorless dictator) Antonio de Oliveira Salazar.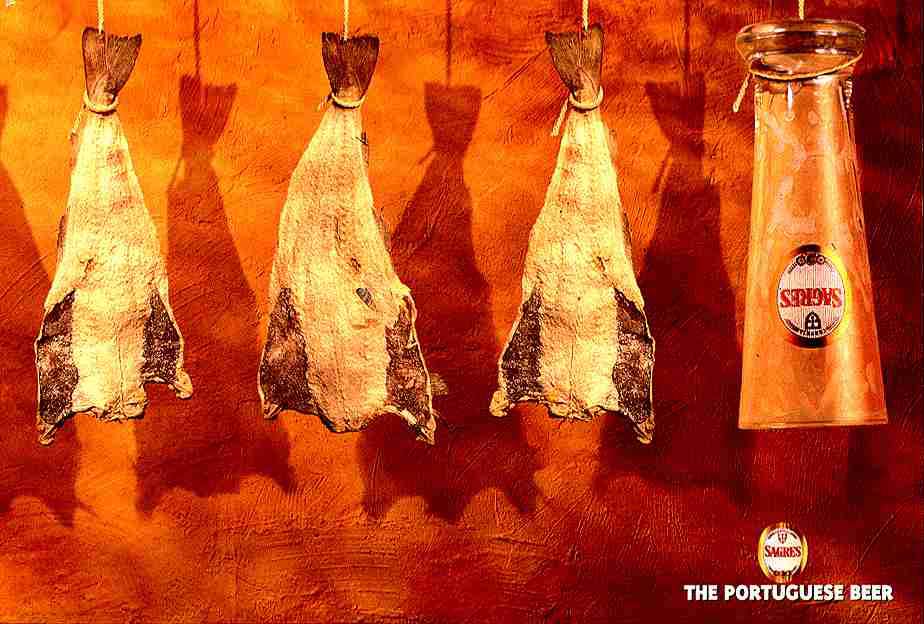 Under Salazar, Super Bock and Sagres were protected from foreign competition on the mainland and had the bulk of the domestic market all to themselves. Later, following the Carnation Revolution in 1974, they were privatized. Super Bock is still Portuguese owned, while Sagres is controlled by Heineken.
They divide the domestic spoils in the usual fashion, export to the Portuguese diaspora, and in recent years have expanded their product lines in response to craft beer's conceptual challenge.
Know that I come here today not to bury Super Bock and Sagres, but to praise them, and I also regard with similar kindness Coral, the official beer of the enchanting Madeira Islands.
That's partially the case because my copy of Richard Mayson's 1999 book Port and the Douro is smudged and dog-eared. The book came with me in 2000 during my first brief and extremely hazy journey to Porto, and what I remember, just as clearly as Mayson's explanations about Port wine, is his concession in this passage.
Some shippers pour white Port over ice and advocate a long drink let out with tonic water and served with a mint leaf, although a long cool Super Bock (the local beer) is a better thirst-quencher at the end of a hot day in the Douro.
Indeed; trust me on this one, because when you're taking a midsummer hike through vineyards clinging to the arid slopes near Pinhão, you're likely to be craving refreshment, not a glass of delicious vintage Port, which is meant for later, after a restorative nap, a dinner of feijoadas and kid goat, and a heavenly Cuban cigar.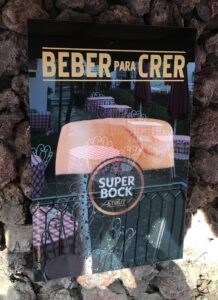 Super Bock is neither "super" nor "bock" (no, not even Maibock), but it has a place in the heart of any unrepentant Europhile, as does Sagres, and if I'm being hypocritical in touting Portuguese mass-market beers while in the same breath promising I'd never again let a High Life touch my lips, then it's a Europhile's situational, geographical inconsistency embraced with the sort of gusto previously reserved for Schlitz.
As for Sagres, I've consumed far less of it than Super Bock, although it is unimaginable to find oneself in Lisbon and fail to navigate to the Cervejaria Trindade, a Sagres-owned beer hall and restaurant housed in a 13th century former convent and brewery, suitably arrayed in ornate tile, with unique architectural flourishes that have the effect of elevating an ordinary lager to a loftier plane of existence.
(Alas, I'm told the beer hall is closed for remodeling. Very sad news.)
Speaking of planes, they're the quickest way from Lisbon or Porto to the Madeira archipelago, comprising four islands (two of them inhabited) and a handful of islets, situated in the North Atlantic 320 miles west of Morocco. Golfers might take note of the golf course on the island of Porto Santo, which was designed by Seve Ballesteros.
Madeira was discovered by Portuguese sailors in 1419 and is an autonomous region of Portugal famous for its namesake fortified wine, tourism-friendly mountains and beaches, and native footballer Cristiano Ronaldo.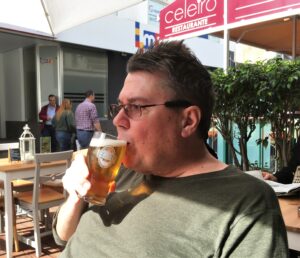 Groundwater is abundant on Madeira, the main island. Introduced in 1969, the Coral brand is brewed in the city of Funchal with malt and hops from the Czech Republic (according to its website), with Branca the primary Pilsner brand and Tonica masquerading as a "stout" (dark lager might be closer).
But Madeira's most famous beverage is its wine, not Coral's light beer. Madeira is produced like Port, but intentionally exposed to high heat during aging, oxidizing and "cooking" flavors into the wine, which has the effect of extending the shelf life of some to 100 years or more, even after opened.
I may or may not drink the water. I'll definitely drink the Coral, although Madeira wine is a priority.
Photo credits: Author's collection, except the Sagres codfish mashup.
---
Roger Baylor is an educator, entrepreneur and innovator with 40 years of hands-on experience and expertise as a beer seller, restaurateur and commentator. As the co-founder of New Albany's Sportstime Pizza/Rich O's Public House (which later became New Albanian Brewing Company) in the 1990s and early 2000s, Baylor played a seminal role in Louisville's craft beer renaissance. Currently he is the beer director at Pints&union in New Albany and Common Haus Hall in Jeffersonville. Baylor's "Hip Hops" columns on beer-related subjects have been a fixture in F&D since 2005, and he was named the magazine's digital editor in 2019.